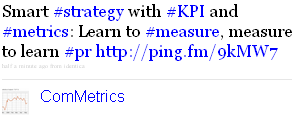 One of my recent posts entitled Measuring ROI: Why it fails provoked the following comment from esteemed expert Olivier Blanchard:
Urs, I'm a little blown away by this post. If you had written it six months ago, I would understand the confusion. But we're way past this. Incidentally, DELL has demonstrated that their social media activities did in fact generate millions in revenue. I don't mean to be harsh, but just because YOU don't understand how to do it doesn't mean it can't be done. I have been delivering ROI on projects and programs for 15 years, and Social Media is no different than any other type of medium or business activity. The fact that you don't seem to understand the relationship between business activities (social or otherwise), deltas in revenue and profitability makes me wonder why you were invited to present on this topic to begin with. http://smroi.net Cheers.
Below we outline why we agree to disagree with Mr. Blanchard and how to leverage this insight to secure more funds for social media from your company's budget committee.
What's the deal?
First, check a dictionary or an accounting/financing text for definitions and uses of ROI:
Return on Investment (ROI) is a measure of a company's profitability, equal to a fiscal year's income divided by equity and long-term debt; and,
ROI measures how effectively an organization uses its resources to generate a financial profit.
Strategically speaking, if I want to get my social media (SM) budget approved next time around, I definitely need to present the facts in terms used, understood and accepted by those who make the decisions.
Social media: Scientific, consulting or business community?
According to Kuhn (1970), the term paradigm refers to the values, beliefs, and techniques shared by members of a scientific community.
Research indicates that in general, members of fields with higher levels of paradigm development such as physics, finance and psychology show attitudes and activities reflecting a great deal of consensus over theories, research goals, methodologies, and curricula.
The domain of SM suggests that paradigm development within the discipline is in its infancy. There is little consensus but much confusion and disagreement on methodologies.
For instance, work trying to assess cost-benefit issues regarding SM is struggling to find some common ground.
Disagree on ROI, but agree on the benefits of social media
Gattiker (1990, p. 258) suggests that paradigm development is an important ingredient for advancement in any discipline. Hence, in social media, agreement is required regarding:
1. How we measure benefits and costs; AND,
2. Which methodologies and standards should be applied to get the numbers.
Does using Twitter improve profits or sales? MAYBE
Tweeting a discount coupon to followers of one of Dell's Twitter accounts might help get them to buy a bit quicker.
Unfortunately, tweets involving sweepstakes and discount codes can:
Does this represent higher sales? Maybe, BUT these people might have purchased a Dell product anyway.
Dell has not provided public or proprietary information to convince its finance committee and investors that tweeting increases profits.
So focus on moderators, such as how SM supports customer retention, support, and more, but stay away from ROI unless you don't mind snickering while making your case to the budget committee.
More resources on paradigms, revolutions and measuring cost-benefits for SM:
Bottom line
We don't ask for the ROI for our office furniture, BlackBerry, iPhone or air conditioning. Why? Because it makes no sense; the same goes for social media.
Beating one another over the head, belittling other experts or claiming that only we know what ROI really is does not seem very helpful either.
What is required is that we put social media activities into a cost-benefit framework with clear strategic objectives. By providing the necessary Key Performance Indicators (KPIs) and baseline measures, we can convince the budget committee to fund such activities.
Others have shown the way. For instance, human resource departments put their activities into a cost-benefit framework. It helps illustrate how spending resources on such things as training or recruiting helps the company's bottom line. Stakeholders are willing to support such initiatives because HR experts succinctly explain what costs and benefits will accrue if such an initiative is funded.
By New Year's Eve we will once again have resolved to better measure our SM efforts in 2010. You could start now with these pointers.
Take-aways
1. Use language your finance people understand: Remember, your focus is to get resources for SM to achieve its strategic objectives as measured by KPIs – communicate with decision-makers.
2. Develop a cost-benefit framework for 2010 SM activities: Be they clicks, views, sales, re-tweets (RTs), customer retention or other – establish your strategic objectives, including the KPIs required to demonstrate performance for 2010. This task must be done before Christmas 2009, so you can watch the 2010 trends go in the right direction.
3. Demonstrate impact of SM for the c-suite: The challenge here is to Keep it Simple, Stupid (KISS) with SMART metrics (Specific, Manageable, Actionable, Relevant, Trending) and KPIs relevant to your stakeholders.
4. Using Dell's claim of making $3 million on Twitter could backfire with your boss: Why, because it runs the risk of encouraging the use of broadcasting via social media as being THE model for engagement in conversation. However, Dell has other Twitter accounts that focus on interaction and engaging not just broadcasting a discount coupon for one of its products.
Please, leave a comment! We love to hear your thoughts: how do you think costs and benefits from SM activities should be measured? Here is a chance for anyone with first-hand knowledge (this means you!) to share your insights.