Every week we tweet about a lot of fascinating stuff, highlighting great content that is of interest to social media folks and corporate bloggers. This weekly compilation provides you with our top tweets for the previous seven days.
Our top stories include how eBookers fell into the spam trap using Twitter, why Google should be pushing open source with Chrome OS, an illustration of why ROI fails with social media, how Twitter groups tell something about your reputation, why LinkedIn is losing against Viadeo and how Xing beats both by making more money. Plus, check out some free Twitter tools to better manage your brand on social networks.
In case you missed the last six weeks' best links:
ComMetrics weekly review: BarCamp to Morgan Stanley via eBay for week 43.
ComMetrics weekly review: White House to Google Groups for week 44.
ComMetrics weekly review: Xing to Picasso via MoMA for week 45.
ComMetrics weekly review: Google to Barcamp Liechtenstein via Amazon for week 46
Don't miss the upcoming week! Sign up with your email right now to get it first:
If you are a #Xing member (Europe's LinkedIn – if not, you can join for free): Recently, we launched the Social Media Monitoring group – be one of the first 100 inaugural members! Your personal invitation is here #measure #publicrelations
B2B – Luxury Labels, Manufacturing and B2B
#usability => VERY USEFUL: 6 reasons users hate your new product feature
#things2read – Measuring ROI: Why it fails
FREE Tools for Twitter, blogs and Facebook: Tips and tricks
#tips2follow ComMetrics Footprint: Technorati nixes blog rankings
1 => #Reputation + brand = #Twitter lists you are on – take a copy of the lists your Twitter feed is on and copy it into the 'input' box here #tools2watch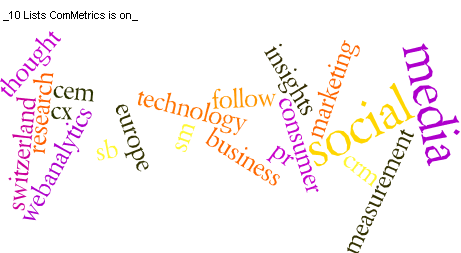 2 => #Reputation + brand = copy converter output you get from link above, and click on create your own to get your graphic (see image at right) #tools2watch
3 => #Reputation + brand = word cloud shows words used to describe YOU on #Twitter #tools2watch
Benchmark social media – best practice
VERY USEFUL: Google Trends for Websites – do you trust it? neat analysis by @MichaelNotte #metrics2watch
#bcli09 Soziale Medien für gemeinnützige Einrichtungen: Wie nutzt man diese besser – Slides ONLINE inklusive Checklisten und Links zur Umsetzung (how non-profits can use Facebook, blogs and Twitter – slides and contributions made during session by Barcamp participants – very insightful).
RT @dkasrel @michelelinn Social Media: It's about engagement, not pageviews @diannahuff #metrics2watch
READ – Viadeo, LinkedIn & Xing are fighting it out – who do you think is the winner: #Economist says…
White and research papers – presentation slides – trendwatch
#trendwatch #tips2follow: People don't buy products and services, they buy solutions to problems.
Interesting A/B test: 54 percent improvement on email newsletter sign-up page.
Social Media – information security, privacy
MUST READ – All Your OS Are Belong to Google – Why Aren't We Worried? WE ARE! #threats2watch #things2patch
Cases – failures – how you don't want to do it – Social Media 101
#SM101 #trendwatch 1 #Continental started the #sweepstake #spam mania #pr #publicrelations #badgovernance
#trendwatch 2 #ebookers CH failed the SM101 test by following #Continental down the Twitter spam trail. All those who re-tweeted spammed their followers, or was it just their greed that got the better of them? => #reputation mgmt 101 : users spam followers to get a chance to win a voucher worth Sfr. 500 #pr
What did we miss this week? Please add your tweet about what we missed in a comment below. Thank you.
Interested? You should follow us on Twitter.