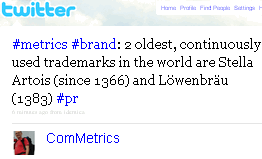 Every week we tweet about a lot of fascinating stuff, highlighting great content that is of interest to social media folks and corporate bloggers. This weekly compilation provides you with our top tweets for the previous 7 days.
Our top stories include the biggest tweetup ever – by Ford (go figure) and using banner ads since 1994 – HotWired, why cost-benefit analysis beats ROI hands-down when showing SM's bottom-line effects, why you should join us on Facebook – AGAIN, and distrust all studies claiming Twitter will do wonders for your business, an invitation to the Social Media Monitoring group on Xing (if you want to know what Europeans are up to regarding web or social media analytics, you'd better join). Plus, check out some free Twitter tools, and more to better manage your brand on social networks.
In case you missed the last three weeks' best links:
ComMetrics weekly review: Google to Barcamp Liechtenstein via Amazon for week 46.
ComMetrics weekly review: eBookers to Twitter via Google for week 47.
ComMetrics weekly review: ROI to porn via Facebook for week 48.
Don't miss the upcoming week! Sign up with your email right now to get it first:
If you are a #Xing (Europe's LinkedIn) member: Recently, we launched the Social Media Monitoring group. Your personal invitation is here (If you're not a member yet, please join NOW.)
Also, if you are on Facebook, please join:
B2B – Luxury labels and manufacturing
RT @UdiDelgoshen: #things2read – 4 rules for social media success: Luxury brands
FREE tools, code for Twitter, blogs and Facebook: Tips and tricks
Twitter #analytics – why both quantitative AND qualitative #metrics could still fail you
Benchmark social media – best practice
#things2read – Budgeting for Social Media (SM): Cost-benefit analysis vs. ROI
Smart #strategy with #KPI and #metrics: Learn to #measure, measure to learn #pr
RT @deborahdrake Best and worst SEO practices for designing high-traffic websites #metrics #tools2follow
White papers – trendwatch
#things2read – Of libraries, doctorates and Web 2.0 – how the British Library outsourced a study and the outsourcer failed research 101.
The first banner ads on the Web (1994) => history in the making – in the US, of course:
#trendwatch FT reports: US newspaper article notes that, on average, each is paper is published 4.4 times, either full or partial content, by unauthorized websites.
#trendwatch see graphic Google accounts for 53 percent of ad #revenue being run alongside unlicensed stories.
Social Media – information security, privacy
#threats2watch2009-12-08 – Final Patch for 2009 on Tuesday. Microsoft will release six security updates #things2patch
Cases – failures – how NOT to do it – Social Media 101
35 percent of firms claim improved customer engagement with Twitter in 2009 – how did they #measure? By surveying people about their activities on Twitter and asking them if it was a success: a sure way to bias the results.
#first2move Ford organizes the biggest tweetup ever => blog post by @PamDyer
BUT WHY would any smart consumer fall for this – except to party and have Ford pick up the tab? Free booze always gets some people's attention.
What did we miss this week? Please add your tweet about what we missed in a comment below. Thank you.
Interested? You should follow us on Twitter.