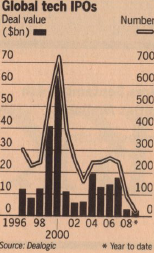 Short link blogging coming your way this week – interesting material to gain insight instead of hindsight.
In case you missed the last six weeks' best links:
Very useful links: Wiki to YouTube for week 27.
Very useful links: Qwerty to WEF for week 28.
Very useful links: Facebook to Morgan Stanley for week 29.
Very useful links: White House to Adobe for week 30.
Very useful links: Nikon to Wii via Yahoo! for week 31.
Very useful links: Friendfeed to Berlusconi for week 32.
Social Media TOOLS and GUIDES, Best practice
Corporate blogging for the bottom line – Lessons 14 – 17: Authenticity and quality are key and Lessons 18 – 20: Improving blogging effectiveness #tips2follow
Will Twitter and Facebook save UBS? #trends2watch
Trendwatch – WHITE PAPERS
Copenhagen Consensus urges cost cutting – states that overambitious CO2 goals of 450 parts per million result in unreasonable costs. Means => 12.9 percent of global GNP = $68 tax per tonne of CO2 worldwide from 2010.

Critics of report say early emissions cuts would be cheaper or even have negative costs. Plus, taking action NOW is easier than removing carbon from the air or carbon-intensive infrastructure later #carbonfootprint #eco-footprint
EU carbon emissions trading will add €1-2 Zurich-Amsterdam air ticket price & €20 for a London-Singapore ticket (see chart at right) #metrics2watch #carbonfootprint #eco-footprint
Social Media MARKETING BUZZ
#first2move Monday Aug 8 => 225 GM dealers & Ebay join forces for sales drive in California to regain market share (in Calif market share = 13 percent compared with 19.5 percent nationally) => buyers may now haggle with dealers online – promotion runs until Sept 8.
Economic CRISIS AND POLICY
#trends2watch US healthcare reforms – this is a hard sell BUT spending increases are a serious problem that must be tackled => 1960 (4.8 percent of US  GDP spent on healthcare) – 2007 (16 percent of GDP spent on healthcare costs) #bettergovernance (see chart at left). Still, most protesters know little about the reforms and have no intention of rectifying their ignorance = uphill battle for Obama.
Trabant – once derided as a drab symbol of Communist inefficiency, set for comeback – launch of battery-powered version at Frankfurt's international motor show in September.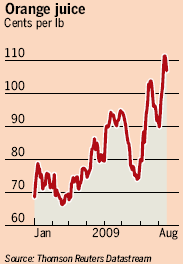 Global benchmark for orange futures pushed above 110 cents/lb 40 percent higher since beginning of July on concerns for Florida's crop (see graphic at left) #trends2watch
InfoSec
Google marks your domain as malware risk – what you can do – we wuz hacked – Twittercism #threats2watch #bugs2fix
Okay, now it's your turn. Did we miss anything important? Please add it below as a comment, along with a link. Looking forward to hearing from you!