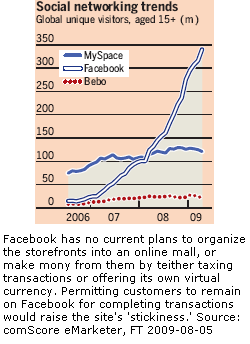 Since 2002, Technorati, a blog content index, has indexed over 133 million blogs in 81 different languages.
When customers blog negatively about some product feature, it is usually because they feel strongly. They want their comments to be heard by the vendor, distributor and/or manufacturer. But is a company in crisis like UBS better off with a social media presence like a corporate blog, Twitter account or Facebook page? (By the way, on Facebook UBS is already claimed by a UK charity – the other UBS – the Universal Beneficent Society.)
What Fortune 500 companies do
PR firm Burson-Marsteller recently released data about a 'study of Fortune 100 companies' to the media reporting:
Only 17 percent use all three mediums… Twitter, Facebook, and a blog.
Of the Fortune 100 companies on Twitter,
a) 94 percent use it for news/announcements,
b) 67 percent for customers service, and
c) 57 percent for deals and promotions.
Twitter is Top Social Media Platform at Fortune 100 Companies
Group CEO Oswald Grübel is no disciple of the blogosphere for explaining how and why his efforts to staunch the current debilitating outflow of client assets should work. Put differently, Grübel's medicine cabinet's content and how it will take effect at UBS are neither discussed on a corporate blog nor a Facebook page, since UBS does not have one, nor Twitter (might somebody be Twitter-squatting using the UBS acronym?). But does anybody care?
Reality calling
While blogs and social media such as Twitter give organizations a chance to listen and engage, these developments do not make a company better governed, as the example of UBS might suggest. In fact, maybe less than one percent of readers take the time to write a comment regarding a blog post. Thus, any conversation between readers and the writer(s) of a blog occurs with only a small minority of readers.
Nevertheless, some PR and social media experts may argue that companies need to ensure that they are monitoring conversation taking place about them in the blogosphere. Of course, the appropriate processes must be in place to react to complaints fairly and openly.
In spite of the above, while Facebook, Twitter and Friendfeed offer ways to participate, they are also superficial. Successful companies have managed to deliver what customers want – value for money. Unfortunately, it remains unclear how having a policy to respond to every angry post on Twitter or negative blog post will help in providing better value or customer service.
Accordingly, corporate blogging and micro-blogging make for neither innovative products nor well-governed companies. Nevertheless, they can help improve customer service and transparency regarding corporate governance, among other things. As well, a corporate blog would definitely make it easier for Grübel to communicate his recession antidote to customers to regain their trust in the viability of the bank.
Bottom line
Corporate leaders must decide whether a company should use Twitter or have a corporate blog . Seeking to mirror or parrot customers' opinions is not the best way to a better product. Applying good judgment to the issues may bring more than tweeting or focus groups.
Having Comcastcares on Twitter allows quick relating to clients. On the other hand, careful reading of these tweets suggests that Twitter is some customers' last resort to get the company to resolve problems that could be due to shoddy service and/or faulty technology.
Asking clients simple questions that can be answered with a 'yes' or 'no' – whether they want certain features or a price reduction – will yield honest answers. Unfortunately, there is no way such answers add up to a coherent product development program.
Twitter may be the latest hot marketing tool, but companies must ensure that their product provides value. Positive blog commentary is great for supporting a company's efforts in that area, as well as building their reputation. We believe in corporate blogging (see our benchmarking tool) but have our reservations regarding the effectiveness of Twitter for corporations (unlike a small business like our own). Nevertheless, we urge Oswald Grübel to start blogging: he might be surprised how positively clients (retail and others) will respond. It's usually totally worth the effort. Just call us, we can help.
Okay, now it's your turn. What would you recommend Oscar Grübel do: tweet, blog or just continue ignoring social media as he does now? How do you suggest he implement your suggestion(s). Did we miss something? Agree, disagree, shout with joy, cry with pleasure… please share your thoughts.