Short link blogging coming your way this week – interesting material to gain insight instead of hindsight. In case you missed the last six weeks' best links:
Very useful links: George Soros to US Homeland Security for week 25.
Very useful links: OECD to Twitter, Google via Coca-Cola for week 26.
Very useful links: Wiki to YouTube for week 27.
Very useful links: Qwerty to WEF for week 28.
Very useful links: Facebook to Morgan Stanley for week 29.
Very useful links: White House to Adobe for week 30.
Social Media TOOLS and GUIDES, Best practice
#tips2follow: Twitter's search archive doesn't go very far back in time => Solution: Use Friendfeed instead.
VERY USEFUL Nikon case study – learn from it: Nikon's antisocial media relations at BlogHer '09 #trends2watch
Social Media MARKETING BUZZ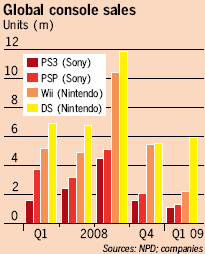 – weak hardware sales suggest price cuts on Nintendo's Wii and Sony's PlayStation 3 to stimulate market (see graphic at left) #metrics2watch #trends2watch
TOP 100 funniest one-liners:  #humor
VERY USEFUL Top 10 Things the Microsoft/Yahoo! Deal Changes for SEO #trends2watch #metrics2watch
Economic CRISIS AND POLICY


– Chapter 9 bankruptcies, which cover US municipalities, are rare and usually involve small towns. Such filings can be disadvantageous => a Detroit bankruptcy would be a whopper & set a disturbing precedent => VERY USEFUL – Motown – Detroit: population trends 1890-2008 – unemployment 25% compared to NYC, LA, etc. (see chart above) #metrics2watch
Trendwatch – WHITE PAPERS
– The Exploding Internet 2008 (click here for expandable graph) BUT besides Mandarin, Russian and Hindi => English, French, German, Spanish & other languages will be used…
Actionable Metrics and Standards – Best Practice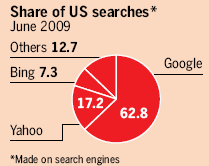 – #metrics2watch => Yahoo! stockholders were alarmed that it may be surrendering its technology position while gaining $275 million in cash flow – far less than the anticipated annual savings of $1 billion (see image at left) #trends2watch #bettergovernance.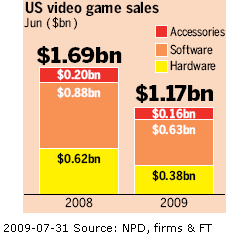 – US video game sales dropped drastically from June 2008 to 2009 (see graph to right)  #trends2watch #metrics2watch
– Testing Twitter: profile foto + targeted following => people are more likely to follow those similar to themselves than others #metrics2watch
InfoSec
– Hackers can launch iPhone, Google Android or Windows Mobile attacks via SMS => attacks will likely be used to send spam #things2read #threats2watch
Okay, now it's your turn. What important links to insights discussed in a blog post this week did we miss? Please add it below. Thanks much.