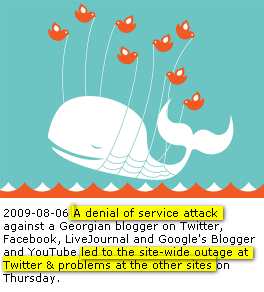 Short link blogging coming your way this week – interesting material to gain insight instead of hindsight.
In case you missed the last six weeks' best links:
Very useful links: OECD to Twitter, Google via Coca-Cola for week 26.
Very useful links: Wiki to YouTube for week 27.
Very useful links: Qwerty to WEF for week 28.
Very useful links: Facebook to Morgan Stanley for week 29.
Very useful links: White House to Adobe for week 30.
Very useful links: Nikon to Wii via Yahoo! for week 31.
Social Media TOOLS and GUIDES, Best practice
#trends2watch => #tools2watch search Google Twitter WolframAlpha and Flickr via heaper view results for search #metrics2watch – it works quite well indeed.
#tips2follow #tools2watch REPLACE FRIENDFEED – Set up your own custom Lifestream page with LifeStream WordPress Plugin.
Will Twitter and Facebook save UBS? #trends2watch
Social Media MARKETING BUZZ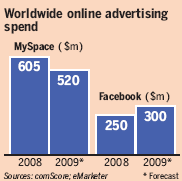 #trends2watch => online media advertising – Facebook's share is going up against MySpace (see graphic at right).
#trends2watch – 1-800-Flowers, Sears & Threadless (T-shirt seller) let users add items to their shopping cart on Facebook see graphic here.

Trendwatch – WHITE PAPERS
#trends2watch – Japan: # of working age (20-64) people per person aged 65 or above => 1950/1975/2000/2025/2050 = 10/7.7/3.6/1.9/1.2 #aging #retirement – a growing burden on fewer shoulders.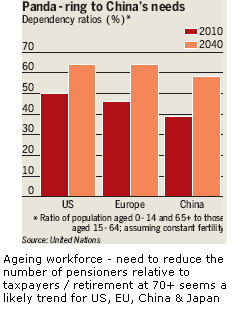 Total Fertility Rate – children per woman TFR – Japan 1.37, China 1.77 – prospect of retirement age rising as high as 70+ #trends2watch #metrics2watch
Country's Dependency ratio = proportion of children & retirees to working population – worsening trend is getting China to consider a partial rollback of its one-child policy (see chart to right).
#things2read 30% (08=55% [40%] to 50% [46%]09) of UK adults (15-24 [25-34] yr olds) have online profile (e.g., Facebook, Bebo, MySpace, etc.) OFCOM study reports. 12% use Internet for phone calls. #trends2watch
#trends2watch Teens care about their real-life & online friends => use Facebook, Bebo and MySpace but NOT really Twitter, which is not really news – user stats confirm teens do not tweet.
Economic CRISIS AND POLICY
#Bettergovernance => Cash for clunkers distorting car prices could scupper any nascent recovery in car markets Who pays for what & how much (see graphic at right)? #trends2watch
WSJ reports some Big Apple coffee shops are pulling the plug on laptop users who nurse 1 cup while surfing the job boards to make room for the lunch crowd. – #trends2watch
Actionable Metrics and Standards – Best Practice
#metrics2watch => House prices rose as much in Europe during the boom as in the UK – just slower but now dropping – see graphic below.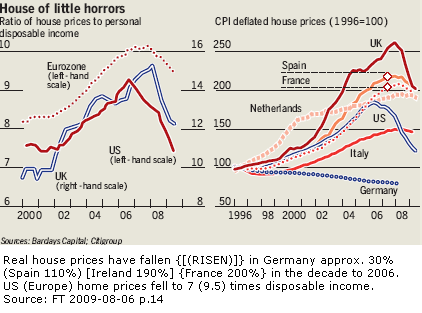 Cash for Clunkers average US subsidy $4206 BUT saving 9.6 miles per gallon AND payback period 7.6 years – what about energy used to scrap those clunkers? Spare parts cannot be recycled – does this make sense? #carbonfootprint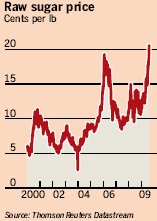 Global benchmark for sugar pushed above 20 cents a pound highest in 20 years beating previous peak of 19.73 cents in 2006 (see graphic at left) – will the sugar laborers get a raise? DOUBTFUL. #trends2watch
InfoSec
MICROSOFT flags UAC flaw with Windows 7 as malware – but refuses to fix it – WHY!? #threats2watch #bugs2fix
Humor/Satire
Snapshots from Berlusconi's and Putin's summer vacations – what a difference (see image below)! #things2view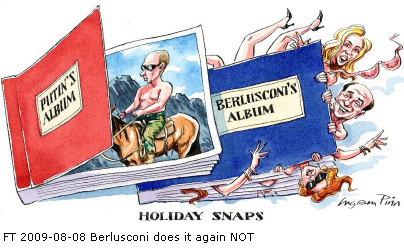 What corporate bloggers should watch out for – final two posts coming your way August 12 – meantime, please brush up your skills here:
– 1) Lessons 1 – 4: Starting your blogging off on the right foot (2009-06-03)
– 2) Lessons 5 – 7: Setting the stage – ready – go (2009-06-03)
– 3) Lessons 8 – 11: Whatever domain, home you choose – beware
– 4 – Lessons 12 – 13 – getting the basic SEO issues right
Okay, now it's your turn. Did we miss anything important? Please add it below as a comment, along with a link. Looking forward to hearing from you!