Strategy and new media experts cannot seriously answer management's question of whether 'social media works' without first asking themselves some more fundamental questions about what the company should be doing with social media and what it should leave alone.
Pepsi, Coca-Cola and Dell have deep pockets when it comes to social media marketing. Hence, this makes it difficult for smaller companies to copy their strategies (Social media: What is so special).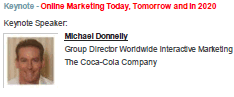 At the recent iStrategy 2010 Conference in Berlin (9 – 10 February), Michael Donnelly talked about 'Online Marketing Today, Tomorrow and in 2020′. Considering that 2010-02-04 marked Facebook's sixth birthday, who can predict anything more than a year in advance these days? Predicting 10 years into the future seems like trying to read tea leaves.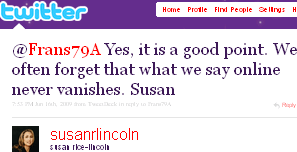 At the same conference, Susan Lincoln, Europe's self-proclaimed social media expert taught a 90-minute workshop about social media using 166 slides. No kidding. (Read how she uses Twitter in 4 steps to Twitter success.)
The question is whether global brands' approaches to social media or so-called experts' interpretations can be replicated by a SME (small and medium enterprise), the Davos-Kloster tourist region (site of the recent WEF Davos) or your favorite bakery. Below we will address what can be done.
Step 1: Invest 10 hours in understanding social media
Some people will tell you that social media is a way to build trust, others suggest it will foster better engagement with clients, while some claim it helps build brand. Some try to tell you that it affects their company's bottom line (as in Return on Investment (ROI) – cost-benefit analysis).
It can do all of these things but to get a better idea you must educate yourself and discuss what you have learned with people whose judgment you trust. Ask these individuals what they and their company are getting out of all this. This should yield strategies to copy and some ropes to skip.
Rule 1: Buckle down and teach yourself about social media in order to concisely respond to what purpose social media will serve for your company.
Incidentally, as the slide show below indicates, the presentation by Michael Donnelly left me hanging regarding the next 10 years (forget 20). Considering how many millions of dollars the company spent on social media marketing the question remains: Is it money well spent?
Step 2: Decide what purpose using social media fulfills for you
So we can all agree, most companies will never have the resources of Coca-Cola, Pepsi or Dell at their disposal. Hence, our social media splash will be far smaller. Nevertheless, we can still do it better and smarter than they can.
It is essential to determine what exactly you wish to accomplish (objectives, goals, dreams, etc.):
a) What is the purpose of social media for your company?
b) What is social media's value proposition?
c) What results must be achieved with social media and in what context?
d) Besides a strategy, what is required for effective benchmarking?
Remember that progressing through the learning curve might suggest a change in focus is warranted down the line.
Rule 2: Figure out your purpose for social media and what should be achieved. Be specific and write it down. Set your objectives, which will then allow performance-tracking.
A free webinar that could help: How benchmarking improves social media performance – March 11
Step 3: Learn to crawl before you walk, and then start running
Imagine someone who has never touched 'real' snow in their life that you take to the Whistler Olympic venue. On your way there, you discuss the virtues of snowboarding, tobogganing, skiing, bobsledding, etc. Their head might explode from information overload.
Social media is the same. Start slowly, such as by launching a corporate blog. Make sure new content is posted every other week (i.e. same time, same workday – consistency is critical).
Rule 3: Easy does it – using social media effectively takes time and resources. Invest a limited budget wisely and start blogging with content that suits your target audience.
A conference that could help: Social Media Influence 2010 conference – June 23, London UK (discusses strategic and hands-on issues)
Step 4: Follow best practice and measure smartly
To do well with social media, performance must be assessed to see if targets have been reached. Start by establishing a baseline right away to have an idea where you started from.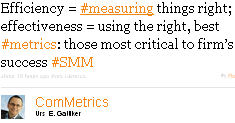 Using the company's baseline measures, set objectives and start tracking performance. A social media appraisal will have to be done every quarter to illustrate how you can improve your performance.
Finally, focus web analytics or blog metrics by looking at a few metrics instead of the whole gamut. There are only so many hours in the day, so do not spend more than an hour on this. Instead, clinch the next sale or get another contribution for your charity.
Rule 4: Measure for accepted management best practice, such as performance-tracking, target-setting and channel appraisal regarding your social media activities by using FREE tools such as My.ComMetrics (register yourself – benchmark your blog(s) => improve performance), Google Analytics, and so forth.
A conference that could help: Monitoring social media bootcamp – March 31, London UK (VERY hands-on)
More resources about metrics and benchmarking – what is it worth to you?
Bottom line
Pepsi spent millions on Facebook to promote activities to improve its brand and reach. So did Coca-Cola. Unless you have such vast resources, do not try copying their strategy.
Instead, find your purpose, write it down, set objectives, and start benchmarking against:
– your past performance (are things improving and if so why), AND
– your competitors or best in class examples (e.g., company blog or Twitter account).
Social media is not about selling but fostering social engagement.
At this point nobody knows what is best when it comes to social media. What you have to figure out is what is most effective for your organization. This is something no one else can do fo you without you contributing important insights (so you might as well do it yourself).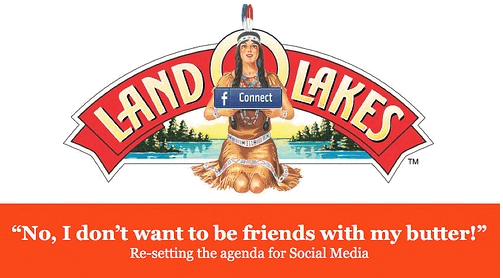 Finally, don't believe those who try to convince you that we are moving away from campaigns to constant engagement. Who wants to be engaged constantly with their butter brand? Please, get real.
I cannot stress enough that one has to benchmark social media activities. It is hard work, and is not qualitative or anecdotal, but quantitative. What action are you taking now and what will you do in the future? One does not just measure to improve performance; making sure you stay focused and on-message is critical.
Please, leave a comment! We love to hear your thoughts: how do you feel about social media and your business? What is your experience with this subject? Have any tips to make sure we use social media channels more effectively on a shoestring budget? Please share your insights.
P.S. – Visit My.ComMetrics (register yourself – benchmark your blog(s) => improve performance). You can get updates for this blog on Twitter by following @ComMetrics or get a free subscription by RSS, or get new posts via email:
Article source: ComMetrics – 4 ways to success: Pepsi and Coca-Cola
Our international staff  (Canada, Germany, Jordan, Switzerland, USA) demanded a social media policy that fits on a napkin: ComMetrics Social Media policy that fits on a napkin – short and straightforward – approved by our associates
As the video below shows, Coca-Cola is still struggling to create a unified social media policy that is simple enough to be remembered and followed by its associates around the globe, in spite of its vast resources and social media investments (see above slide presentation).