Update 2010-07-12 – After just seven weeks on the market, Microsoft pulled plug on Kin "socialphone".
Are you sure that your company's cross-media campaign is working? Besides using Twitter, Identi.ca, Naijapulse and so forth, is your advertising money well-spent?
If you want to know more, we outline four tips that will help improve your experience below.
You can get updates for this blog on Twitter by following @ComMetrics, get a free subscription by RSS, or get new posts via email:
Missed this week's webinar, if you hurry, you can still join next Wednesday's webinar.
Defining cross-media marketing is difficult, but we can define cross-channel marketing using four characteristics:
A. It plays across platforms, such as publishing an Information Security (InfoSec) advisory on a webpage, distributing it via email and producing a podcast and/or video, as well as printing it in a daily.
B. It offers special content, like additional material related to a TV show or a handbook that can be watched online or read on a corporate blog.
C. It encourages more engagement with the brand, such as inviting TV viewers online to write the story for next season's opening episode after a season finale.
D. It enables sharing of content, for example, users may re-edit content such as videos, and re-distribute it.
But how does this work for the Microsoft Kin smartphone, Swiss PostBus (the yellow postal vehicles we love), NBC (making your brand's promotion with social media a contest) and Toyota (re-building its brand and reputation for quality)? We outline these four cases and their mixed successes below.
Microsoft Kin – will it sell? An answer to the iPhone? NOT
Microsoft tried using various social media means and platforms, including live concerts. A month after its launch, the episode below had about 6,000 views.
I find this and other episodes interesting, since discovering if online acquaintances are true friends or just jerks is an issue for most of us. The video is a clever way of promoting a product across platforms with the help of special content.
Matthew Gain – Microsoft Kin social media marketing – a case study
But its microsite loads too slowly: Kin – the campaign's online hub
Tip 1: Do not focus on one particular channel. This special content definitely plays across platforms, offers special content and allows sharing (categories A, B & D). But the question is whether the campaign will help convince clients to purchase the Microsoft Kin. The answer is not clear to me at this point.
Swiss PostBus – just advertise your Facebook page in print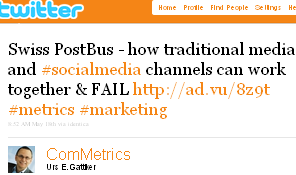 Recently, I was riding a beautiful yellow PostBus (part of the Swiss public transport network) and saw an ad (about the size of a sheet of paper) about its summer sweepstakes, including many interesting prices. The promotion also mentioned the organization's Facebook fanpage, launched on March 7, 2010.
This is a good example of cross-media where print and online merge. However, it does not guarantee immediate success.
Finally, without a clear purpose (besides giving away prizes), a Facebook fanpage does not make much sense, nor are the benefits of becoming a fan obvious to me. And the Swiss PostBus marketing crew has not managed to adjust the campaign for better leverage before summer descends.
SM Media Monitoring group – Swiss PostBus – fumbling with Facebook
Tip 2: Start small and constantly test it out. While it offers special content to Facebook fans and sweepstakes participants, it does not seem to work that well across channels (e.g. Facebook page not integrated with corporate webpage – category A), nor foster greater brand-engagement among customers (category C).
If things do not work as planned, remember to always have a plan B, like a reserve parachute. Be ready to revise and improve your strategy DURING the campaign – not after.
Toyota – just trust your ad agency… NOT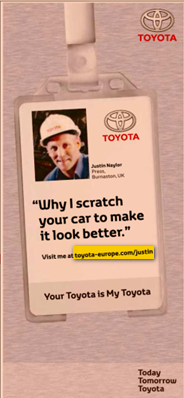 We all know how Toyota managed to recently destroy its brand. Now it has embarked on a costly media campaign to restore it to its former glory – good luck!
The ad at the right was published in the lower right-hand corner of the front page of the Financial Times, as well as a follow-up ad on page three of the same issue in the UK, Europe and Middle East editions.
The link provided points to a webpage with a video, which takes too much time to load and whose message is clear but not necessarily convincing (i.e. why should I care about paint when the brakes are the problem?). Worst is that the narrator's accent is hard to comprehend for most of the people who see the ad.
Tip 3: Keep it relevant to your target audience. This is special content (category B) offered across platforms (category A). However, it fails to increase customer engagement (category C), since the message is hardly convincing considering the company's tarnished reputation for quality. It is also unlikely that customers will try to share this content (category D).
ComMetrics – Toyota: How to commit brand and reputation suicide
NBC and Tasti – affinity and loyalty programs that could damage your reputation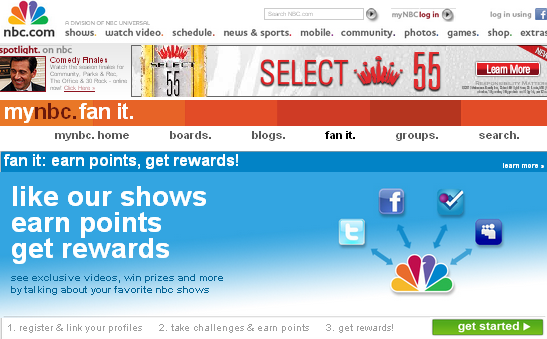 For those of us who do not know, NBC is one of the four major US TV networks and is owned by General Electric. 'Fan It' is an initiative aimed at turning social-media users into an ad hoc promotional team for the network.
The so-called affinity program provides exclusive incentives and rewards for fans in return for promoting, interacting with and discussing all of the network's new and returning 2010-2011 programs. The program, which utilizes social media platforms including NBC's own myNBC as well as Facebook, Twitter, MySpace and FourSquare, launched May 17, 2010.
SM Media Monitoring group – NBC and Fan it – will it work or just be another nuisance?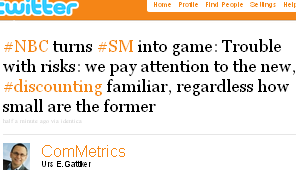 Tip 4: Adapting and re-inventing the old stuff could flop badly. What NBC does certainly plays across platforms like MySpace or Twitter (category A) and viewers can also share a link that leads to somewhere particular to view more exclusive content or backstage video footage (category B).
However, I am not sure if tweeting about a TV show is what I understand under improving engagement (category C). And even without an affinity program, viewers were able to share content easily (category D). Having a friend promote a show is one thing. Seeing such promotional tweets on my Facebook wall may seem like spam. The risk for NBC and potential damage to its brand must be managed and it is unclear whether NBC or Fan-it have addressed that.
P.S. – Tasti D-Lite, a dairy-based soft serve frozen dessert, was the first to offer such a loyalty program.  Customers who enroll in the Tasti D-Lite program can sign in online and connect their Twitter and Foursquare accounts to their myTasti.com loyalty account.
Whenever they use the loyalty card, they get points AND this information gets posted to their Twitter and Foursqure accounts. Will some people get upset about receiving such tweets? I certainly don't need to know that you just bought a myTasti.com product and got points for doing so… Do I?
Take-aways
Following the above suggestions and exhibiting similar characteristics in our networking lives means being liked, and if you are liked you can be more effective.
2. Turn that noise off! Using cross-media marketing (see Adobe/Apple ad fight) can work, but negative publicity may splatter a bit of dirt on all involved parties. Apple will offer Adobe Flash if customers just demand it, otherwise it will continue to refuse, regardless of what Adobe wants.
What is your take? How do you see these issues? Have you tried to apply any of these approaches to any brand you manage. Are you participating in such kind of loyalty programs?
Worked, failed – share, please! Please let us know in the comments!
Article source: ComMetrics – 4 roads to success? Microsoft, NBC, Toyota and PostBus
Also, please check out our upcoming complimentary ComMetrics University coffee break webinars and register yourself for the next one – Twitter: Glorified messaging autoresponder?