Update 2010-01-20: This morning (lunch time GMT) the Twitter whale is showing again. How reliable a technology is and how this affects our business is another issue we could have addressed here. But we did not.
In the meantime,  anyone curious about why their CEO fails with Twitter, or whether better (Twitter) micro-blogging might give your company a more personal voice and better client-engagement, this post is for you. This article will clarify where Twitter could fail you miserably and why social media experts may try to sell you snake-oil.
Context!?
Smaller companies like ours simply do not have the resources to be active everywhere. Nevertheless, so-called social media experts tell you that being active in at least 10 channels is a must. Get real!
The opportunity costs could simply be too high for you. For instance, instead of spending another two hours on Facebook, why not talk to one or two clients?
Lesson 1: Regardless of what 'experts' tell you, focus on a maximum of two channels (e.g., Naijapulse, Identi.ca, Twitter), drop the time-wasters and focus on doing a good job wherever your customers participate.
Doing a good job speaks louder than tweets
These days, an increasing number of self-styled experts want to teach you the indispensable tricks to Twitter success: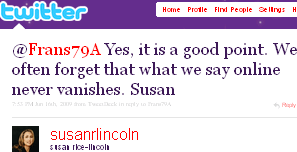 Lincoln (Europe's self-proclaimed leading Social Media specialist) tells companies to:
– Find daily interesting information about what you do.
– Develop a list of jokes and tips to share on a daily basis.
So why doesn't she take her own advice? It's been 61 days since her last tweet on November 20 and dry spells of 30 days or more seemed to be a common occurrence in 2009. Usually, there is a spurt of tweets just before she holds a webinar or a workshop and not much after.
Lesson 2: Don't just believe what others says will succeed, find out for yourself. One tweet each workday about something and at a time that your clients find valuable is a smart way to build a network of weak ties on Twitter.
Relationships are reserved for family and friends – others need not apply
Everybody insists that Twitter is great for relationships, but not really for most people in Europe.
"The only way for a company to earn attention and loyalty is to develop an authentic and relevant relationship."
"Trust is the life-force of successful relationship marketing, and trust is developed and strengthened through relevant communications through relevant channels at relevant times." ((White Paper: Relationship marketing 3.0, p. 2))
The above gave me pause.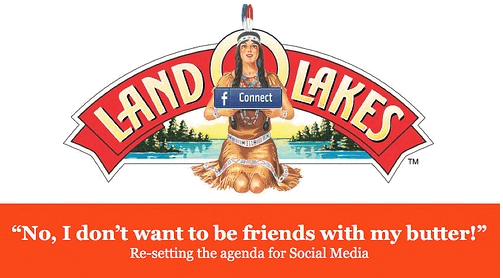 As @richmeyer points out in one of his tweets (see right) – most of us don't want a relationship with Nespresso, except maybe George Clooney. We are satisfied with good value, and fast and courteous service.
Most important, I need to be able to trust the claims made by a brand in its advertising, product catalog or on its webpage (e.g., money back guarantee).
Lesson 3: Answer this key question – why be on Twitter? To find information that helps your clients solve their problems quicker or helps you work smarter.
The follow/unfollow syndrome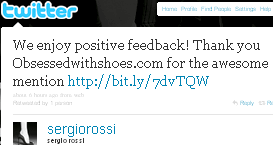 I recently came across the Sergio Rossi shoe brand and got curious and was amused by the tweet that my monitoring tool picked up, stating that the brand was enjoying positive feedback (see image at right).
So, I visited the site that gave Sergio Rossi a positive review and left a comment:
Dear Administrator,
I am wondering how you addressed the disclosure issue when doing this product review as required by the FTC? See here: http://commetrics.drkpi.ch/articles/sheer-transparency/
Did you get samples from Rossi? Did you take these pictures or images yourself or receive them from Rossi to be used?
Can you clarify this please?
Thank you.
Cordially
Urs @ComMetrics
Here is what happened:
a) The comment never make it onto the website – not good, and
b) Rossi followed our Twitter account @ComMetrics for two days and then dropped us again, because we did not follow back.
Trash the idea that because you follow me, I need to follow back. Following back is earned. As customers we want to follow suppliers' or brands' tweets only if we find they add value.
Lesson 4: Using Twitter is not about blatantly selling, but about building a social network of weak ties. @SergioRossi sure failed that test.
More resources about Twitter, metrics and benchmarking – what is it worth to you?
Bottom line
You can say one thing and do the other when you use Twitter, but in the digital world, nothing is forgotten. As a business person, you need to figure out your company or product's best social media channel for yourself. Before you start micro-blogging or a Facebook fan page, you seriously need to examine the purpose of the exercise before you adopt a new technology as part of your goal-driven business.
Take-aways
I have been micro-blogging since late 2007 – a bit earlier than some people, definitely later than the geeks. As CEO of a small company, I have developed the following four insights:
1. Twitter is not scalable, so following 150 people is my limit: If a person averages three tweets a day, I need to scan 450 tweets or ignore most of them. But if I do that, am I not misleading those I claim to follow?
You might say, "I use TweetDeck and I screen and search for the best tweets using hashtags." Good for you, but can you afford the time it takes to search through 8,000 tweets each day? "Yes," you say. "When I ride an hour into the City every morning and back every evening… plenty of time to check and tweet."
Is spending two hours on Twitter everyday the best use of your time? (See also saving time on Twitter.) Maybe it would be smarter to talk to a fellow commuter, nap, read important papers or a great novel…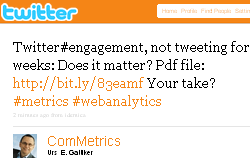 2. Serious conversations happen elsewhere: If somebody wants to chat with me they may send me a direct message, but experience has taught me to move it to email, the phone or a face-to-face meeting to get to the heart of the matter faster.
3. Forget the sales game: No, we don't sell things or promote a TV show. We sell software as a web-based service, as well as advisory work and coaching.
Our clients are mostly businesses, industrial buyers and professional bloggers. Our best-case scenario is what happened one afternoon last week, when a Twitter follower called me from another country. The conversation went something like this:
"Urs, I follow you on Twitter." …3 minutes later… "I have a client… and I thought about you."
The rest is history and yes, my bottom line is making me smile. Twitter has gotten us business directly twice so far and people talk to me at conferences about my tweets, resulting in business relationships.
Stop worrying about the number of followers versus RTs and such. Instead, find one customer who finds your tweets valuable and build your list of followers from there… Kimberly Castleberry suggests you use vanity metrics for your Twitter account – please don't!
4. Twitter can be useful if you have a purpose and stick to it: Having said all the above, I would not want to miss Twitter. The 75 smart people I follow provide me with know-how that I might otherwise not come across.  Most follow back. In turn, they benefit from my quality tweets that help them benchmark smarter to perform better.
As my esteemed colleague Paul W. Reidl put it:
"For those of us who are old enough to remember client development before Al Gore invented the internet, I think that potential clients today have much, much more information available to them about potential counsel. That's why having a positive social media presence is so important." – @TMguy
For me, that means Twitter, LinkedIn, Facebook and Xing – for you it may be different. Just remember, unless your client or business partner believes you provide value and follows or connects, why bother?
Please, leave a comment! We love to hear your thoughts: how do you feel about Twitter and your business? What is your experience with this subject? Have any tips to make sure we use Twitter more effectively? Please share your insights.
P.S. – Visit My.ComMetrics (register yourself – benchmark your blog(s) => improve performance). You can get updates for this blog on Twitter by following @ComMetrics or get a free subscription by RSS, or get new posts via email:
Article source: ComMetrics –  4 ways to Twitter success