The Deepwater Horizon oil spill in the Gulf of Mexico is a disaster that has lowered Barack Obama's standing with voters and, as importantly, BP's image has landed in the toilet while its shareholders have incurred massive losses.
Such a disastrous situation begs the question: Do social media mentions and consumer or product reviews really make a difference?
1. US targets $20 billion BP pay-out – when the crisis hits, forget social media monitoring

As the Toyota case illustrated, during a crisis the fumbling of a press conference by the company chairman may be what matters most – social media mentions are not even a blip on the screen.
But will this cripple the brand or can the company's reputation be restored?
BP's share-price tumbled more than 9 percent this past Monday. US Democratic senators called on the multinational oil company to immediately inject US$20 billion into a ring-fenced fund to clean up the spill in the Gulf of Mexico.
Spending about US$50 million on newspaper and internet ads to improve BP's image has garnered an icy response from US consumers.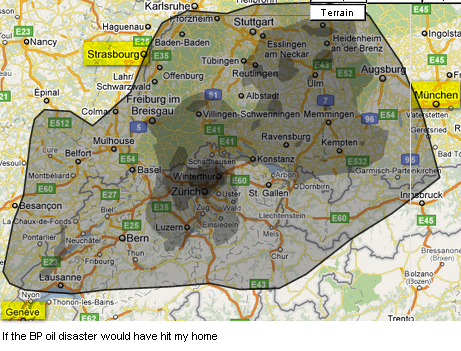 Today, BP faces a bill that analysts say could run up to US$40 billion (€33 billion). The oil spill is so big that a major part of Alsace (France), Switzerland and southern Germany would be covered if it had happened in Europe (see graphic).
ComMetrics – BP's Texas City refinery disaster suggests that plenty of regulation was in place, but the devil is in the details
My take: If you have a major disaster on your hands, stay low and for God's sake fix the problem yesterday. The rest is peanuts.
2. Defamation or free speech
T&J Towing towed Justin Kurtz's car from his apartment complex parking lot, despite his permit to park there. Mr Kurtz went to Facebook and started a new page called "Kalamazoo Residents against T&J Towing". Within two days, 800 people had joined the group, and by June 14 it was about 14,000.
T&J Towing filed a defamation suit against Mr Kurtz. In the suit the company claims the site hurt business and seeks US$750,000 in damages (see below).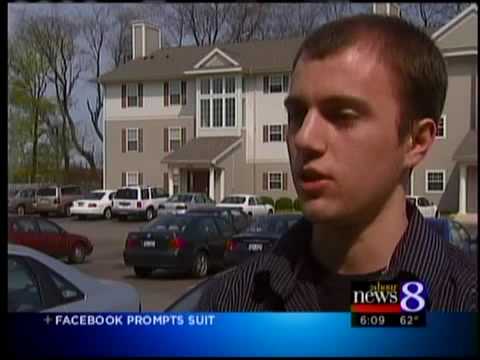 The issue seems to be one of free speech for consumer or defamation against business. In the US these lawsuits are called Strategic Lawsuits Against Public Participation (SLAPPs). These are civil complaints or counter-claims against either an individual or an organization in which the alleged injury was the result of petitioning or free speech activities protected by the First Amendment of the US Constitution.
My take: If Kurtz loses this case more consumers will get sued in the US. In turn, they will try to use fake identities or permission-based social networks to reduce the risk of getting named in a lawsuit.
I don't believe that consumers complaining about a company on Facebook, or writing reviews about its sloppy customer service can be stopped with lawsuits.
P.S. – Germany has another form of this called Abmahnung, which is basically a cease-and-desist order or consent decree. We reported:
ComMetrics: Frankfurt court issues cease and desist order (see Saturday section)
News channel 3 – T&J Towing responds to allegations of shady business practices (2010-02-11)
3. Fake reviews or how to remove an unfair review
Peer reviews are seen as more objective than the company line. Recent research in the US indicates that reaching teen influencers means taking advantage of earned-media opportunities and word-of-mouth through highly trusted friends. Apparently, teenage influencers on myYearbook tend to be more likely to recommend various products to their friends than others.
Professor Orlando Figes is an expert on Russian history from Birkbeck College, London University. He admitted to posting anonymous reviews on Amazon's UK site criticizing the work of such authors as Robert Service and Rachel Polonsky, while lavishly praising his own book.
Did his review lower sales of the books and authors he attacked? We cannot know for certain.
My take: Smaller businesses that trade heavily online or rely on word of mouth must be concerned with online reviews. For instance, a really negative review on travel website TripAdvisor of a family-owned and managed hotel's breakfast buffet can be a devastating blow to bookings for the next few months. So the impact can be huge.
Nikolaos Korfiatis – Evaluating Content Quality and Usefulness of Online Product Reviews (2008-07-07)
Take-aways
The above indicates online reviews and testimonials matter to many businesses, but may be a lesser concern for large brands. In cases of a disaster they might even be completely useless.
1. Things are mostly unfair – that is life ! The US administration saw a political advantage in being perceived as rough, tough and even arbitrary. Last week President Obama announced he would 'ride herd' on BP and that he was trying to find out "whose ass to kick".
Of course, the public has forgotten Occidental Petroleum's Piper Alpha platform, which exploded in 1988 in British waters due to poor safety precautions, killing 167 people. The media has failed to recount this disaster.
In cases like these, social media monitoring or collecting social media metrics might not reveal much new. But trying harder to fix the oil spill instead of trying to influence the conversation could be the only answer that matters for the company's long-term survival.
3. Anonymous critics can be devastating! Tracking down an individual that sent a negative tweet or left a negative review on some website can be tricky. The server might not be in your jurisdiction and if it is, a court order might be needed to get access.
If you find out that the comment was written at an Internet café, then only studying the closed-caption TV (CCTV) tapes may reveal the identity of the posters.
For social network participants – considering the chances of a defamation lawsuit  – this tells us that one should not post anything online that one does not stand by.
What is your take? How do you see these issues? Have you tried to apply any of these approaches to any brand you manage? Do customer reviews really make a difference in times of crisis?
Please let us know in the comments!
Article source: ComMetrics – How BP shrugs off negative reviews
Also, please check out our upcoming complimentary ComMetrics University coffee break webinars and register yourself for the next one – 2010-06-23 ComMetrics University – turning metrics into dollars