You may remember our recent discussion of Isaiah Mustafa's commercials for Old Spice. Some considered them brilliant, especially combined with in-store promos that actually helped increase product sales. Now we have an attempted encore in Old Spice's efforts to get back on the map through more videos with attitude.
Article source – Going viral or selling product: ROI anyone?
A German version of this post is also available – Virales Marketing als Verkaufsfoerderung: Wo bleibt der ROI?
Of course, Old Spice's campaign is geared for the North American market, but it's advertising copy with a kick and worth checking out (Old Spice – see Thursday).
Before you miss out our next post addressing further social media return on investment (ROI) matters, sign up here with your email:
First came the 30-second television commercial 'Man, Your Man Could Smell Like,' featuring the ironic model of manliness portrayed by Isaiah Mustafa. This was amplified with widespread online exposure that prompted a three-day YouTube campaign in which the actor responded to messages from fans (see Social Media Monitoring group on Xing: Old Spice crew produces 87 short comedic YouTube videos).
The agency tried a repeat performance in July 2011 using this template, but this time, 52-year-old Italian model Fabio Lanzoni played the Old Spice model of manliness. His acting career has included tv series such as Mr Romance (2005) and Acapulco H.E.A.T. (1990s).
For the campaign's high point, Isaiah Mustafa returned to face off against Fabio. The ad agency's idea was to let fans vote on who was the manliest of spokesmen. Here is new Old Spice guy Fabio's challenge video:
Isaiah Mustafa responds here:
And, Fabio ups the ante here:
What's the point?
This virtual duel definitely garnered millions of views on YouTube and led the charts in August 2011. Fabio even has his own Twitter account.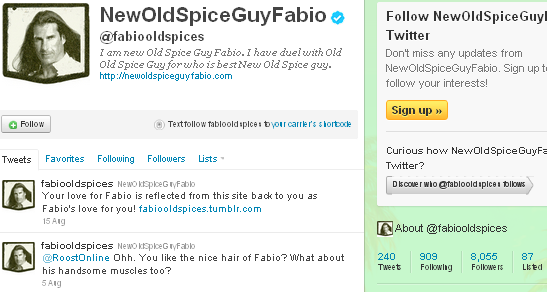 Unfortunately, Fabio (or the ad agency people doing it for him) stopped posting after August 15, 2011. Our analysis of the 240 sent tweets rates it a flash in the pan, without continuous engagement, and little, if any thoughtful conversation.
Fabio also started a Tumblr account, the fastest-growing platform among 18- to 34-year-olds in the US. I don't think Fabio was the right guy to reach out to this group, but maybe their parents' generation. Moreover, the few pictures and videos do not encourage visitors to engage, hang around or return. So, why the effort?
The advertiser even tried to make the public believe Fabio was winning the challenge, but comments in various forums suggest otherwise.
As a finishing touch, the campaign's kick-off commercial is called 'Smell Better Than Yourself', and promotes the Red Zone product range. It features a naval captain fighting a sea monster and drowning in gold coins (not slick, funny, or smart, but definitely boring).
Tip: Get more posts about the My.ComMetrics 2011 trend briefing series by adding ROI ComMetrics to your search. Do better than Old Spice – benchmark your social media footprint. Measure for impact, use My.ComMetrics.com and improve your social media hub's performance.
Celebrating yourself without selling product
If you believe Old Spice owner Procter & Gamble, Fabio is not replacing Mustafa. The bigger question is whether showing consumers your brand's self-love serves a sales purpose. Besides creating buzz, you want to sell product, or at least increase people's commitment to the brand, which will hopefully result in a future purchase.
The first campaign with Isaiah Mustafa was combined with various promotions (newspaper and online coupons, in-store promotions, etc.) that helped sales. This time the campaign seems focused on going viral, without trying to sell product, and while it builds on a successful template this attempt seems forced.
Of course, word of mouth is hard to measure. Nevertheless, would you or your friend purchase Old Spice next time you need a men's fragrance?
We previously published Why did Toyota ignore successful Old Spice?, outlining a few tricks the car manufacturer could have used for their own viral marketing attempt. Unfortunately, Procter & Gamble needs to do some review of their own on this one.
Paying for an engagement campaign that ends with the video, assuming you even finish watching it, seems a waste of resources.
What do you think? Thumbs up or down for this viral campaign? Would your business (if it could afford such a campaign) go for this type of viral marketing?