Last week we posted Social media marketing: Can I trust you?, about trust in marketing. This week's post focuses on business ethics, disclosure, social media marketing and the LeWeb conference (see Twitter hashtag #LeWeb).
LeWeb touts itself as one of the more important conferences in Europe. It claims to bring together those who believe they know what the future holds in social media marketing, web analytics and whatever other buzzwords are current.
'Official' LeWeb bloggers
Bloggers can apply for a free pass to attend the conference – a €1,500 value. According to Stephanie Booth, 'blogger programme curator', the criteria used for selection are:
"- their geographical and linguistic location (ever thought of language as an online 'place'?)
– their readership and influence – their motivation and the value they offer the conference by their presence – when they made their request (yes, there is an element of 'first come, first served' in the selection).
Selected bloggers will be asked to display a badge on their blog up to the conference date and blog about it at least once before mid-November. They will be listed in an official blogroll on the conference site and will be given a 'blogger accreditation' to attend the conference and cover it."
At first glance, the above rules appear specific, but on closer inspection, they are actually rather vague.
– Does readership mean absolute number or type of readers? – Does having teen-aged readers matter more than retirees? – How is their 'motivation' criterion measured as applies to 'value'?
Finally, how each criterion was weighted and used in making the final selection remains a mystery.
Disclosure: Like other unselected bloggers, I was offered attendance for €600, instead of €1,500.
LeWeb selection and FTC guidelines
In order to make blog sponsorship and endorsement more transparent, the US Federal Trade Commission (FTC) adopted a guide on December 1, 2009 just prior to LeWeb '09 Paris (December 8-9). What is of particular interest for bloggers are statements such as:
"If that blogger frequently receives products from manufacturers because he or she is known to have wide readership within a particular demographic group that is the manufacturers' target market, the blogger's statements are likely to be deemed to be 'endorsements', as are postings by participants in network marketing programs." (page 10)
Because one criteria used for selecting LeWeb bloggers is readership and influence, this falls under endorsements, according to the FTC. Accordingly, best practice for attending bloggers is to disclose freebies whenever blogging about LeWeb:
Public relations expert and CEO Marcel Bernet neglected to reveal this, though he dutifully posted two stories as required for LeWeb '09 Official Bloggers, keeping his chances open for re-selection in 2010:
For US LeWeb '09 Official Bloggers, compliance with FTC guidelines requires that this 'endorsement' be disclosed when blogging about the conference. For instance, Irene Koehler remembered to add a kind of disclosure to LeWeb bingo. Watch and play along!, but neglected to do so in another blog post.
If the shoe fits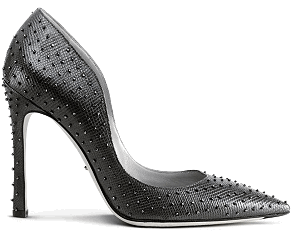 Why should the whole disclosure issue matter? It is difficult to manage justly and ethically, since nobody expects or requires a TV or print journalist to disclose a free conference attendance. So why is it required from bloggers?
Plus, a journalist is not required to publish two articles about a conference and post its logo on the newspaper's website to get a free pass. Some bloggers discharged their 'duty' by writing posts of limited depth and quality. Of course, not everybody gives free conference attendance to the press. Choices must be made.
Andrea Varscellari demanded free registration, but also wanted the organizers to pay his travel expenses plus a fee for podcast interviews of presenters and blogging about the event.
Although this is unheard of for journalists, bloggers are generally self-employed, not paid by a publisher or network to cover such events. Christian Leu found a different solution to this issue. After being informed of his selection, he found a sponsor to defer his travel expenses (Reisesponsoren an die #LeWeb gesucht).
More resources about LeWeb 'endorsements', disclosure, ethics and trust
Bottom line Being ethical comes at a price; it requires following best practice, striving for quality and adhering to full disclosure, while complying with applicable legislation.
Choosing a blogger is not necessarily about being ethical or producing quality content. From a business point of view, reader numbers, influence, and visibility are vain metrics. They make you feel great, but we focus on actionable metrics instead, such as how many customers read our blog, how many new leads the blog generates and what percentage of this ultimately yields profits.
Even a thousand readers might be enough, as long as they are the right ones. But in most cases, including the LeWeb Blogger program, vanity metrics rule and are used to determine what blogger warrants which freebie.
This is the same conference that tries to convince start-ups to participate in its start-up venue for a whopping €1,500 (vanity metrics – unless the start-up gets what it came for – funding). This case illustrates that submitting to the conditions as stipulated by LeWeb may affect the blogger's brand and personal reputation.
Of course, the price of ethics is not to submit to the stipulated conditions, or at least disclose them. Your readers' trust in you as a blogger requires no less.
Most people are trustworthy, but maybe my grandmother was right: the key to following your moral compass in business is to respect, but also suspect. Take-aways There are some crucial things to remember when considering business ethics, disclosure, transparency and 'endorsement' issues in social media (e.g., blogging, podcasting).
1. Disclosure and transparency for bloggers: Regardless of whether you should accept a freebie you might keep afterwards or not, treat your readership with respect and let them know that you got to attend LeWeb for free. No harm done and besides, compliance requires it of US bloggers.
2. Better governance and best practice require disclosure for advertisers and sponsors: If you find a blogger important enough to justify providing them a sample or freebie, treat them like any journalist (hint, don't demand things you would never dare to from another journalist) and make sure they disclose this 'endorsement' somehow.
Please, leave a comment! We love to hear your thoughts: how do you feel about getting freebies as a blogger and public disclosure. What is your experience with this subject. Tips to stay out of trouble? Here is a chance for anyone with first-hand knowledge (this means you!) to share your insights. P.S. – You can get updates on this blog in Twitter by following @ComMetrics. You can also get a free subscription by RSS, visit My.ComMetrics.com (register yourself for benchmarking your blogs) or get new posts via email: