Update 2010-04-18: A bewildering range of apps (the abbreviation for software applications) has evolved spreading fast on the latest generation of smartphones. The are almost ready to make the leap to other devices including tablet PCs and so forth.
The vast number of apps is transforming users' demands of software, while forcing companies and developers to adapt or else loose the fight for revenue.
Apple boasts 185,000 apps in its App Store, while Twitter developers have built more than 100,000 applications that operate on the site and interact with tweets.
75% of Twitter's traffic happens not on Twitter.com but through other applications like Tweetdeck or Ping.Fm to mention two.
Twitter now boasts 106m users and wants to make money from its 55m daily tweets.
Now both Apple (i.e. Iad) and Twitter have announced their own systems of advanced multimedia advertising that should allow them to generate more revenue from users using their hardware and/or services (e.g., iTunes):
Update 2010-01-27: Apple accounted for 2% of the 1.1bn mobile phone units sold globally during 2009.
Steve Jobs unveiled the iPad – a touch-screen tablet computer… stating that it would fill the gap between smartphones and laptop computers. The iPad weighs 0.7kg, has 9.7 inches display and boasts 10 hours of battery life.
Apple's total revenues from mobile gear – including its iPod and iPhone lines – now exceeds that of Nokia… Jobs said "We're a mobile company. That's what we do."
The technology consumers love most has been pared down: bells and whistles are out and simplicity rules. For instance, people love Apple's iPhone and iPod more for their sleek design, than their full range of features. Search giant Google has stuck to a mostly white page with a single search box since its start.
Apple and Google have become dominant forces in their respective market niches. What this means for consumers, manufacturers and regulators is discussed below.
Apple strategy: Tightly controlled devices with fully integrated hardware and software
Apple has focused on offering users a device with closely controlled software and hardware integration that is relatively expensive device. That integration helps improve user experience and Apple's revenue stream.
Microsoft tried to get a computer on every desk during the 1970s and 1980s in order to charge for software. Apple lost to Microsoft by the 1980s because it continued to offer computers that ran mostly Apple software. Microsoft entrenched itself by getting others to use the Windows platform.
Apple has changed its strategy ever so slightly these days, so as not to repeat past mistakes. For instance, Apple is trying to get part of operators' revenue from iPhone users by insisting on an iPhone revenue sharing deal with telecoms.
Contrary to the 1980s, Apple now allows outsiders to develop applications that will run on its iPhone. Of course, these have to be approved by Apple before being distributed. This results in:
a) a better user experience through more choice in iPhone applications, and
b) the application developer and Apple share in revenues generated by downloads.
Lesson 1: Apple protects its competitive advantage by keeping the core technology a closed system. Access is opened at the fringes to improve user experience, and the revenue streams are shared with Apple, better protecting against competitors.
Google strategy: Commodify hardware by achieving a platform monopoly
Google's strategy differs markedly from Apple. For instance, the Nexus One phone uses the open Android operating system, which is bundled with other free Google software.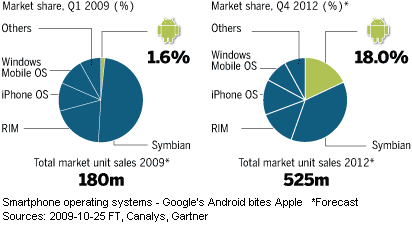 An important new market for Google's Android is the smartbook, which is a marriage of smartphones and netbooks that has numerous advantages over a netbook. Examples include all-day battery life, constant internet connectivity through 3G (not WiFi), plus lower costs that encourage operators to offer free equipment to subscribers.
Microsoft seems unsure of the economics of developing and offering a cheaper version of Windows for smartbooks.
Meanwhile, manufacturers of smartbooks are turning to free open-source operating systems. Right now, Google's Android has the most 'sex appeal' with US retailers.
Here's why Google says only some of its software is open source:
"While we are committed to opening the code for our developer tools, not all Google products are open source.
Our goal is to keep the Internet open, which promotes choice and competition and keeps users and developers from getting locked in. In many cases, most notably our search and ads products, opening up the code would not contribute to these goals and would actually hurt users. The search and advertising markets are already highly competitive with very low switching costs, so users and advertisers already have plenty of choice and are not locked in.
Not to mention the fact that opening up these systems would allow people to 'game' our algorithms to manipulate search and ads quality rankings, reducing our quality for everyone."
Jonathan Rosenberg, Google – The meaning of open
Mr. Rosenberg claims that giving away Google's proprietary search code would not advance openness and "would actually hurt users". Do we believe this? NOT SO MUCH.
Accordingly, Google protects its competitive advantage by keeping its search and advertising technology a closed system. However, keeping non-core technology like Android open assures wider use (or market diffusion) by getting manufacturers to incorporate it in new hardware.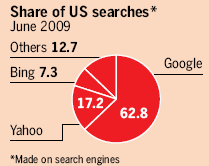 Lesson 2: Google's search advertising technology – its money spinner – is as closely guarded as the recipe for Coca-Cola. Making Android a success by keeping it open will support Google's continuing efforts to achieve market dominance (see image at right) and serving more ads to Internet surfing smartphone and smartbook users.
More resources about Google, Apple and open systems
Bottom line
Both Google and Apple try to keep their core technologies close to the chest to avoid losing market share, and play important roles in the marketplace: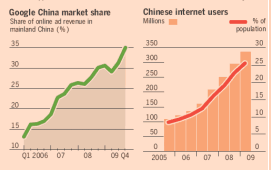 – Google being number one in internet advertising – using 'free' software (e.g., Google Chrome), applications (e.g., Gmail, GoogleTalk), operating systems (e.g., Android), and so forth, making sure it remains the search leader regardless of how you surf (e.g., home, car or plane). In turn, it continues to be able to serve more ads to Internet users than anybody else in most countries. One exception is China. As the above graphic shows, Google's share of online revenue in mainland China is about 35 percent (Sources: Google, Analysis: CNCC, FT).
– Apple continues as a major player in providing hardware (e.g., smartbook), digital content and applications we crave serving its user base through its proprietary platform.
Take-aways: 3 ways to protect your competitive advantage smartly
1. Simplicity – subtract the obvious and add the meaningful – Google and Apple may use different strategies to grow their revenue stream, but ultimately they offer Keep it Simple, Stupid (KISS) technology and applications that make people love their products.
2. Don't incur regulators' wrath – two years ago the US Federal Trade Commission (FTC) could not take privacy issues into account when deciding whether or not to block Google's acquisition of DoubleClick, since its merger authority extended only to competition issues.
It is obvious that the FTC will have to study the risk that less competition would damage 'non-price' factors such as privacy, before clearing the AdMob (mobile advertising group) acquisition by Google.
If the FTC fails, it may once again be left to the European Commission to check into such issues as inadequate notice or opportunity to opt out of data collection and targeting children 13 and over.
3. There is no free lunch – Apple has chosen the high price road by cleverly managing its ecosystem to ensure it gets more revenue. But even free applications offered by Google come at a price, such as behavioral advertising and users' privacy.
Please, leave a comment! We love to hear your thoughts: how do you feel about Google and Apple becoming ever more dominant in their markets? What is your experience with this subject? Have any tips for our regulators to make sure we stay out of trouble? Is another company improving customer choice?
Please share your insights.
P.S. – Visit My.ComMetrics.com (register yourself – benchmark your blogs => improve performance)
You can get updates for this blog on Twitter by following @ComMetrics or get a free subscription by RSS, or get new posts via email:

2009-01-17- Update: Read white paper: Mac vs PC people: Personality traits & aesthetic/media choices – via @LilAmalia