So many social media platforms, so little time…
We have already discussed some issues regarding time-optimization for using social media platforms and networks:
In this post we discuss four points to keep in mind when trying to develop or improve your social media strategy.
The points below should be considered from the beginning and get revisited six months later.
1. What types of social networks do we belong to?
All of us belong to several types of social and virtual networks. Below I have sorted social networks into five categories according to the continuum of weakest to strongest social ties:
a) Virtual network: These are the people who are your Facebook friends, Twitter followers and so forth. They might follow your updates to gain information or just want you to follow back.
b) Knowledgeable ideas crowd: These are the people who live and work in different worlds. We respect them for their knowledge, as well as feedback and comments left in forums like this one.
c) Support and coaching team: These are the people you work with, trust… and ask for advice. You respect them, and email or speak with them from time to time. Most importantly, your relationship is close enough that you take their feedback and criticism seriously – i.e. taking action to remedy a problem someone points out to me here.
d) Rescue team: These are the people prepared to ride out with us, so when things get really tough you can expect a quick response to your email and understanding for your problem… They provide support and help – I might have about five people in this group. I try to talk to members of this group via phone or meet face to face if geographically feasible.
e) RECHARGING BATTERIES team: This is a real physical place with real people who know and love you. Getting together, sharing dinner or going for a sleigh ride makes all the difference in feeling connected… This one is important to each of us and an ever greater challenge for people in cities who might feel a bit lonely.
Quite likely your Xing or LinkedIn connections belong to group A. You might be able to move some people from your LinkedIn network of connections into group B or C, but you will never really know some of your Twitter followers or follow back their tweets. They remain part of your virtual network without really being connected to you. In fact, they might not even read your tweets.
Having close or strong social ties with more than 150 people, including family, is difficult. Hence, some of us use asymmetric follow (see 4 ways to Twitter success) to keep the number of status updates to scan at a manageable level on Twitter, Facebook and other networks.
The challenge is knowing whether your 100,000 Facebook fans, Twitter followers or LinkedIn group members can become closer connections by moving from your virtual network of a relatively anonymous mass of people to the more personal support and coaching team.
It is certainly possible, and it is key to getting the necessary volunteers for future fundraising. However, few will take a risk and stick their neck out to come to your rescue in a forum if you or your brand are getting attacked by some nasty follower on Twitter or friend or fan on Facebook.
3. Is our strategy working?
It is obvious that some people need to be identified and moved along the continuum to strengthen ties. In turn, these individuals may write a helpful review about your product, an insightful comment on one of the corporate blog posts or participating in discussions with the company's group on Xing.
The above examples support the company's reputation with clients and help get new ones, no doubt about it. But when it comes to tracking these effects, things get fuzzier. For instance:
our fans on Facebook have increased from 1387 to 1447 in two months, and
our group on Xing now has 2113 members.
BUT
– What do you do if your boss wants to know what these numbers mean?
– Did the new members purchase something?
– Did engagement efforts on your social networks do your brand any good?
Needless to say, unless we started with a precise strategy and objectives before launching on any social media channel, it is difficult to show how our efforts supported the company's activities.
While having weak ties with millions of people is great for a consumer brand, we know that this might not make a difference in the capital goods business, such as manufacturing container ships or managing harbors.
In these cases, stronger ties with fewer people who are or could become your clients (e.g., engineers, regulators, and energy suppliers) could be more beneficial. Hence, the challenge to manage is how close your relationship with Xing group members or Facebook fans is.
4. How do we know we are succeeding?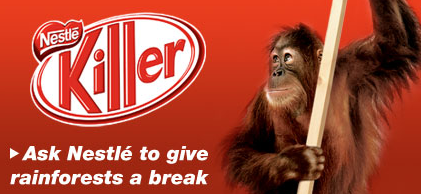 A safe way to find out whether things are working is measure them. Here it is helpful to outline your success criteria, including metrics, before embarking on your strategy. Moreover, these criteria and metrics must be understood and agreed upon by you, your co-workers and stakeholders.
And unless we try things out we are unlikely to discover if things worked out or not. As a luxury brand, selling more watches, bags or sweaters thanks to your Xing or Facebook group is highly unlikely. But a small group discussing issues, providing advice or inspiration to people in your target group can help foster greater engagement and customer satisfaction.
Having a presence on the networks that your clients hang use is a start. However, some may not want to engage with your brand on certain platforms, such as Facebook, but the client may be happy to do so by joining a LinkedIn group.
To illustrate this further, our owners are happy if we can report back that some of our clients got to know us first through social media channels like our corporate weblog or Xing group on SM monitoring. This may have happened months before they signed on the dotted line.
Take-aways
1. Setting a strategy with goals to be measured through actionable metrics is a good start, but unless you take many small, frequent steps while measuring to see if they have an impact, it will be hard to show progress.
2. THE best strategy for small companies is word of mouth: focus on getting 100 people tweeting praises about your organization, because that is far more beneficial to your bottom line than having 100,000 passive followers. The latter likely will not catch and read your tweets or ever write a comment on your Facebook wall. Nor will they tell others good things about your customer service over coffee.
More resources
What is your take? How did your team develop your company's social media strategy? How was progress or failure in realizing the strategy on time measured? Did it work? What needed changing? Share, please! Please let us know in the comments!
You can get updates for this blog on Twitter by following @ComMetrics, get a free subscription by RSS, or get new posts via email:
Article source: ComMetrics – 4 things Mom forgot about social media
ComMetrics University – coffee break webinars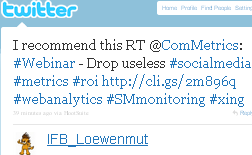 Webinars are held every Wednesday at 8:45 AM CET AND now also at 4:00 PM CET for no more than 20 minutes – the time you spend on a coffee break.
Why not sign up for next week's webinar – Wednesday, May 5, 2010 – right here:
==> Reversing the razor and razor-blade model: Learning from Gillette & Apple