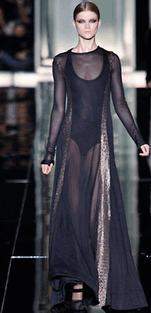 The public's greater demand for transparency in financial markets also seems to resonate with designers presenting their wares in Milan during Fashion Week.
Instead of doing the talking, they were showing the goods.
Lesson 1 => In fashion terms, see-through garments are generally a message about direction, and maybe even intention, but not actual wardrobes.
The appearance of see-through does not usually move beyond the runway. However, it does confirm the truism that, no matter how much people talk about transparency, it is not always really what they want.
Bonus Tip: Unless you have the right high heels, things just don't look right – Why women buy black high heels: the guide for everything.
BP
It has been four years since BP's biggest refinery exploded in Texas, killing 15 people and injuring hundreds in the worst US industrial accident in more than a decade. But an OSHA audit by the US Department of Labor's Office of Audit revealed that deaths since 2005 should have led to implementation of its "enhanced enforcement provisions". This would have resulted in greater enforcement efforts, including enhanced follow-up inspections and more stringent settlement terms.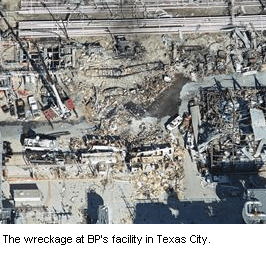 Lesson 2 => better governance requires streamlining of regulatory tasks, as well as putting the right procedures into place.
BP's Texas City refinery disaster suggests that plenty of regulation was in place, but the devil is in the details.
Bonus Tip: Fashion demonstrates that the more you tell, the less you show – BP Texas Refinery Accident Lessons Learned – John Mogford, BP Senior Group VP for Safety and Operations had a good teacher.
US Federal Trade Commission (FTC) and bloggers
As the above indicates, neither fashion houses' clientele nor BP seem to appreciate transparency that much.
In order to make sponsorship and endorsement regarding blogs more transparent, the FTC released a guide to be adopted by December 1, 2009. What is of particular interest for bloggers are statements like:
"… postings by a blogger who is paid to speak about an advertiser's product will be covered by the Guides, regardless of whether the blogger is paid directly by the marketer itself or by a third party on behalf of the marketer."
"… If [a] blogger frequently receives products from manufacturers because he or she is known to have wide readership within a particular demographic group that is the manufacturers' target market, the blogger's statements are likely to be deemed to be 'endorsements' [within the meaning of the Guides]…"
"The Commission acknowledges that bloggers may be subject to different disclosure requirements than reviewers in traditional media. In general… the Commission does not consider reviews published in traditional media… to be sponsored advertising messages. Accordingly, such reviews are not 'endorsements' within the meaning of the Guides. Under these circumstances… knowing whether the media entity that published the review paid for the item in question would not affect the weight consumers give to the reviewer's statements."
Download FTC Guides – 84 pages, pdf
Enforcement starts December 1, 2009
All things being equal, the above indicates that if the blogger gets product samples, tests them and/or writes a positive review (considered an endorsement), public disclosure is necessary.
Also check out:  US FTC – Nov 08 guidelines or the UK's rules regarding fair dealings.
If we agree that such disclosure is desirable, why not also apply it to traditional media? It is often hard to believe that journalists who receive product samples and are invited to press junkets can legitimately claim independence and do not need to disclose such relationships (see also Bottomless goddy bag for journalists
Lesson 3: Regulators' intentions to improve transparency regarding endorsement, sponsorship and getting paid to blog about a product are admirable. But in reality, this means more costly administrative work for bloggers and sponsors alike, as well as more litigation, even as things remain opaque.
Bonus Tip: Online and offline content is increasingly merging (e.g., Business Week spent $16 million to build their new social network,

Exchange)  ==> TV Guide and Business Week: Twins?
Bottom line
Transparency is fine in theory, but difficult in practice, as demonstrated by the appearance on transparent fashion – but only on the runway. No woman really wants her undergarment on display, anymore than she wants to reveal her motivations.
As the BP Texas City refinery case illustrates, regulation neither assures compliance nor better safety for workers and consumers, unless proper audits and enforcements are also put in place.
The FTC's new guidelines for bloggers clearly illustrate that treating one group differently than another without cause starts things off on the wrong foot, creating an unfair double-standard.
From a better governance perspective, as well as fair justice, the FTC's "Final Guides Governing Endorsements, Testimonials – Changes Affect Testimonial Advertisements, Bloggers, Celebrity Endorsements" are not worth the paper they are written. Except that they will cause a flood of litigation.
More resources about corporate transparency, blogging, etc.:
Bono, Gore and Schiffer join contest
now Queen of Screen blog – Ellen Simonetti
, former Delta Airlines flight attendant,
Paris Fashion to organize Davos 2010
BP fails to comply with safety standards
Office of Inspector General — Office of Audit: 2009-03-31 Employers with reported fatalities were not always properly identified and inspected under OSHA's enhanced enforcement program.
Report number 02-09-203-10-105
Got an idea? Leave a comment! We love to hear your thoughts: are you for or against paid blog posts? What about celebrity endorsements? When and how should a blogger have to disclose a commercial relationship?
This is a chance for anyone with first-hand knowledge (this means you) to please share any lessons learned!