UPDATE 2009-10-13 – Bloomberg wins the bidding war – purchases Business Week for $1 – $5m (will the comment section on Business Week articles now be closed, who will be fired and will the $16m expensive Business Week Exchange online community continue to thrive?) – we predicted that a takeover would happen in the story below and explained why, so please read on.
Both magazines – TV Guide and Business Week – are part of the newspaper world's neuroses about their diminishing role in news distribution and the information superhighway as social media continues to grow in importance. Still, the starting point of any big news story from the blogosphere is often a front-page article in one of the major dailies such as Le Monde, the Financial Times or Business Week.
Unfortunately, headline stories have failed to compensate for the large drop in advertising and print subscription revenues during this financial crisis. And no, digital subscriptions will probably not offset those losses, as we outlined here:
So what exactly do TV Guide and Business Week have in common? Apparently, both are only worth a dollar, because OpenGate just bought TV Guide for that amount and publisher McGraw-Hill is considering giving away Business Week for the same. The 80-year-old financial magazine recorded increasing losses during the last few years.
What went wrong?


As a print business heavily exposed to financial advertisers, Business Week was hit hard by the financial crisis. According to the Publishers Information Bureau, its advertising revenues fell by a third to $77.8 million during the first half of 2009. Nevertheless, Business Week claims a circulation of 936,000 and 4.8 million readers, which is nothing to sneeze at.
But somehow things just don't add up: expenses for its editorial content exceed its revenue obtained through advertising and subscription fees. To make things worse, Business Week is not alone out there: at least two more magazines target a similar market (Forbes and Fortune). All three have a decidedly US focus, both in terms of reporting and target audience; therefore they cannot try to offset primary market losses by going after a more global audience. The Economist has pursued this avenue with some success, claiming growing subscription rates and a smaller drop in advertising revenue.
Challenges posed by social media
Unlike many others in print-media, Business Week saw the writing on the wall a while ago and took action. For instance, it was one of the first print publications to dip its toe in the internet waters by establishing Business Exchange, a platform for business people to share ideas and connect with others.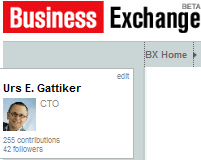 We participated in the Business Exchange during alpha- and beta-testing (Fall 2008) and it has been an interesting ride, to say the least. For me the question was always what the platform might add to others such as LinkedIn.
The platform's motto seemed promising: "Join Business Exchange to access the most relevant content for you, filtered by like-minded business professionals."
And yes, some interesting reading was pointed out through the platform and it even sent some readers to this blog or our web-based blog benchmarking tool (My.ComMetrics.com). But will those additional readers subscribe to our emailed posts, RSS feed or, most important, start using our software? If not, should we care about this additional traffic?
I cannot claim to have an answer yet.
User-friendliness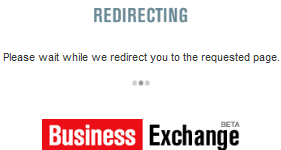 Recently, we addressed usability and the KISS (Keep it simple, stupid) principle when it comes to operating systems or browsers. Sadly, Business Exchange does not follow these principles. For instance, as you log in, the screen to the right comes up while you are connected to another page. Then you get to download plenty of additional stuff, including advertising that teenagers hate. If you are stuck using a 56 kb modem or its equivalent, the whole process is a nightmare, because your connection is too slow to download the additional flash codes, etc., meaning several attempts must be made to get in. A real waste of time for the user.
We did a field test with some of our staff and visitors up here and they lost patience trying to complete the process, so they clicked away from the page. This means another potential client lost because of a login procedure that is too cumbersome and overburdened with unnecessary code that eats up bandwidth you might not always have. Why?
Bottom line
Auctioning a print business heavily exposed to financial advertisers during a worldwide recession will be a challenging task. While digital subscriptions are unlikely to offset falling revenues from advertising, a social media adventure like Business Exchange does not appear to do much better. Poor execution means the venture did not get the traction the Business Week folks might have hoped for.
What is the value proposition for Business Exchange? Why do I need to invest time and resources to participate? Are the contacts, know-how or added value I get with this platform not available elsewhere or through other means (e.g., LinkedIn and Plaxo)?
Okay, now it's your turn. What is your experience with Business Exchange compared to other platforms – has it added value for you that others could not? Are such platforms another way for print-media to stem the tide of revenue-loss? It's okay – be honest. We want to hear what you think, and yes, we can take it. Thanks much.