This week, even your fellow commuter may have spoken with you about WikiLeaks, the whistle-blowing website at the center of a political furor following its release of secret diplomatic cables.
While the dispatches have angered many they reveal little evidence of US skulduggery. And the conflict of interest between officials' need for discretion and the public's need for knowledge might never be resolved, assuring a lengthy debate on the ethics of potentially the greatest leak in history.
In this ComMetrics weekly review, we share some interesting things we learned about social media monitoring DOs and DON'Ts regarding blogging by politicians, trademark and property rights violations on Facebook, and Fortune 500 blogging efforts.
1. Facebook and intellectual property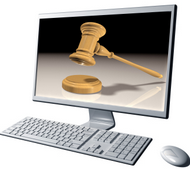 Although electronic data storage has made life easier in many ways, the fact that we store much larger volumes of data is not without significant costs. And things have also gotten worse for users, because whatever we say can become evidence in a legal proceedings.
There can be an issue if an employee makes up a Facebook page with the company logo – meaning the group is 'owned' by the individual, but using a company's name and trademark or logo.
Of course, one could sue the employee, or Facebook to have it taken down, get a false designations of origin, fair use and so forth. But there are better ways, since Facebook's policies are analogous to those used by internet services providers (ISPs) and other large Internet companies (e.g., eBay).
You can submit a copyright policy problem directly to Facebook:
In case of a non-copyright complaint, such as your hypothetical trademark violation, you can submit here:
Of course, this is not a moneymaker for Facebook, so staff in this department are a bit overworked. Nevertheless, they seem to do pretty well when it comes to addressing complaints.
2. The Japanese prime minister's blog
Mr Kan became prime minister in June 2010, but the first blog post did not appear until Thursday, November 18th, 2010.



The blog is called 'Kan-full Blog', a combination of his name and the English word 'full', referencing his full-on communications efforts. The blog's side-bar further explains that it is also a pun meaning 'camphor' (to inject), for revitalizing Japan.
The first post, which was not written by Mr Kan himself (this is clear given the style and how his title is used), explains that the blog will feature three categories, namely:
– Kan-full TV, a type of post that includes a video such as an interview with the prime minister or part of one of his recent public speeches,
– Daily overviews of activities giving readers a list of pertinent links to important resources in and around the government (e.g., new white papers, laws, discussion pieces, etc.), and
– Kantei Zakkichou (the notebook or online diary), with daily notes from the prime minister's team
Does Mr Kan engage his constituency? Obviously this blog does not offer the prime minister's personal voice, since his team is responsible for the content.
Unfortunately, the blog does not offer a way to comment, nor are trackbacks listed. There is a feedback form for readers to send in opinions or suggestions. However, it does offer RSS 1.0, RSS 2.0 and email subscriptions for the content and the mobile version can be accessed via URL or QR Code.
Oddly, one is asked to list one's gender, age and place of residence (prefecture 'oversea' for overseas).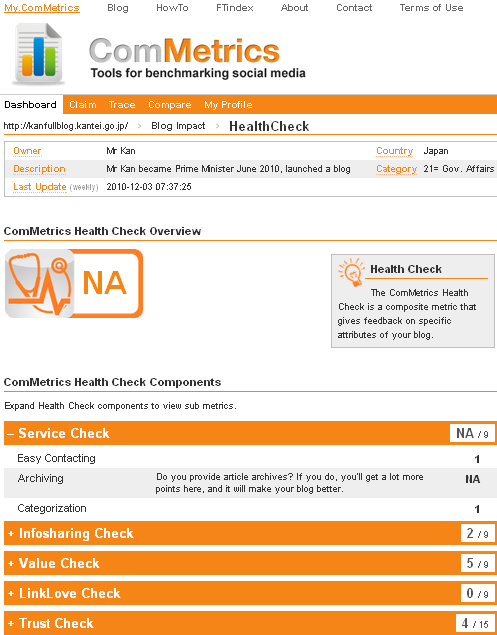 While you can share the blog's content/posts using bookmark services such as Google, Hatena (number one in Japan) and Delicio.us, other services popular in Japan, such as Yahoo! Japan, Buzzurl or Livedoor Clip, are not listed, nor are Mixi Check, Twitter or Facebook Like buttons.
According to the ComMetrics Health Check index(see above image), the blog scores quite low, with only 13 out of a possible 51 points. The numbers indicate that neither engagement efforts nor trust and credibility building efforts are being undertaken to make this blog an effective tool for improving relationship management with the Japanese public.
Apparently, Mr Kan chose to discontinue the email newsletter that previous prime ministers used as an effective tool for reaching out to voters.
By the way, former prime minister Yukio Hatoyama had a Twitter account, but he is using it even less frequently since stepping down.
If you can read Japanese, what do you think of this blog? Does it engage, is it personable? Your opinion counts.
3. Who uses social media – Fortune 500 companies
Please note that, because it no longer fits in ComMetrics weekly review: Cloud computing, Wikileaks and Amazon, we have moved this story here.
We came across a new study of Fortune 500 companies' adoption of blogging and Twitter. Here are some of the highlights:
1. 108 (22 percent) posted within the last 12 months; of these, 90 percent take comments, offer an RSS feed and/or email subscription option,
2. About 40 percent of the top 100 companies (19 percent of the Fortune 500 list) blog, AND
3. 19 percent (up from 16 percent) podcast and 31 percent (up from 21 percent) use video on their blog sites.

As the graphic shows, fully 45 percent of the fast-growing Inc. 500 firms are blogging, compared to only 22 percent of Fortune 500 companies.
Final point
Please sign-up for our latest webinar by visiting:
Else send an e-mail to ComMetrics.University at gmail.com to get all the details via eMail, you'll be glad you did!
Okay, now it's your turn. Why do you think Inc. 500 companies with fewer resources would be so much more likely to take up blogging? What about Facebook and your property rights, logos and trademarks?
Did we miss something? Agree, disagree, shout with joy, cry with frustration… please share your thoughts.