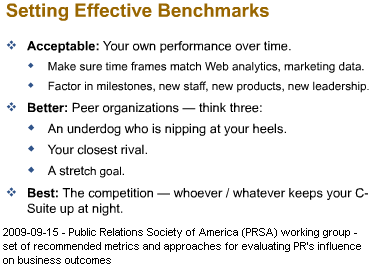 Short link blogging coming your way this week: our top stories include Toyota's Lexus issues major recall, Internet ad spending surpasses TV, the Public Relations Society of America (PRSA) shows us the way for social media benchmarking. Plus, check out some free tools, including email marketing secrets.
In case you missed the last six weeks' best links:
Very useful links: UBS to Levi's via CBS for week 34.
Very useful links: Microsoft vs. Facebook vs. SAP for week 35.
Very useful links: Data-theft to tweet-deaths via free tools for week 36.
Very useful links: NFL bans Twitter, now with adverts for week 37.
Very useful links: Real Madrid to GM via Twitter for week 38.
Very useful links: Audi to Ecofootprint via PlayStation for week 39.
Not an email subscriber yet? Want the scoop first? Just leave your email address in the field below.
Social Media TOOLS and GUIDES that make a DIFFERENCE
VERY USEFUL =>#trends2watch – study suggests four change drivers shifting control within the ad industry. As consumers exert increasing control over how and when they view advertising, advertisers demand more individual-specific and involvement-based measurements. This is putting more pressure on the traditional ways we measure advertising success using the mass-market model.
VERY USEFUL => Email marketing – testing subject line scenarios. What a difference this can make to your bottom line! #metrics2watch
Social Media MARKETING BUZZ – Building or Damaging Brand
Recently four people died in a car crash involving a Toyota Lexus whose accelerator pedal got stuck. 2009-10-01 Toyota instructed 3.8 million US vehicle owners to take the floor mats out of their cars, trucks and SUVs to check…
View measurement results, including graphics about how this affected the Lexus brand in the social media realm. P.S. — Toyota expects to lose ¥450 billion this year.
Nice for our collective ego => ComMetrics joins another list of top social media blogs – see also logo to the right on our blog's homepage.
Social Media FIRST to Move – TRENDWATCH
#trends2watch => Mashable and TIME fail hard: Twitter won't change business
#first2move #trends2watch => in the UK, internet ad spending surpassed television in Q1 2009 for the first time ever, anywhere in the world.
Sixty percent of all online ad spending in the first half of 2009 went to searching, which now tops £1 billion. Online classifieds are still experiencing rapid, double-digit growth and reaped £385 million or 22 percent of all online ad spending. The weakling of online advertising is display ads, where spending fell by 5.2 percent. View BBC video.
I am sick of the noise on Twitter! Would you pay for it? Here is why you should say yes. #trends2watch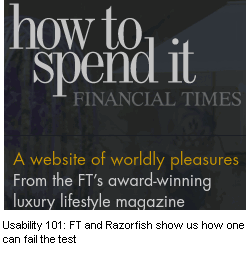 FT and Razorfish fail web usability 101: This term is usually described as the degree to which websites have been designed keeping user needs in mind, in contrast to those of the designer or the site owner.
Because of users not being willing to wait, having a quickly loading page is an overriding design concern. In turn, keeping page size as small as possible is helpful while making navigating, printing and so forth easier – all challenges designers must master.
Finally, social media has changed the web, whereby users want to participate, share and contribute in one way or another, including but not limited to comments (leave one for this post, please). So what gives, you might ask? Well…
2009-10-03 howtospendit.com was launched promising us daily updates, weekly columns and exclusive content. But as one visits the site and explores its content one wonders how newspapers intend to charge for such content, since surfers won't stay around long enough to enjoy, much less pay. The website makes one yawn and get lost. Will you ever re-visit after your first visit, thanks to this post?
Actionable Metrics: Standards, Testing and Trends
RT @DebbieWeil ==> If you missed it, @ComMetrics and FinancialTimes' May 2009 scoring of top 75 corporate blogs #metrics2watch
What PR practitioners can and should take to the C-suite to explain exactly how PR helps the bottom line. Documenting The Business Outcomes (see also image at top left).
What did we miss this week? Please add what you found that was of interest in a comment below. Thank you.