The Ups, Downs, Ins, and Outs of corporate blogging at a Fortune 500 –  at least as far as size is concerned :-). Another example how one can do it smartly but has to use creative ways to make it work.
Volvo, China Mobile, Nike, Starbucks, Apple, ABB, Swisscom and more – case studies about corporate blogs
Before You Start a Corporate Blog, Tie Your Shoe Laces Properly
happy birthday Daimler – blog that rocks
In the past we have discussed different approaches used by FT Global 500 corporations in managing social media and blogging in particular. For instance, Daimler has its employees blog away with gusto, while American Express chose to pay journalists to write specifically for its branded platform called Open Forum
Here we discuss the case of the Royal Bank of Canada – that has chosen 6 students and one employee to write about their lives and things of interest.
PS. While the Royal Bank of Canada struggles with today's financial markets and has to raise another 2 billion dollars to bolster its capital structure, things look far rosier at the social media front as the case study below illustrates.
selecting the team
Of interest is that the Royal Bank of Canada had a competition to select the bloggers for this venture. The competition was open to students all across Canada. The bank selected six students to write content for the blog for one year. I do not know if these students will continue to contribute after this period or new ones will be selected.

The blog was launched during January 2008.
what this blog does very well
There are quite a few lessons we can take from this blog. To begin with, it is clearly targeting itself to people who are between 17 to 25 years old. It focuses on a target audience that consists of students that require student loans and banking services. However, financial matters are not at the core of this blog's content with some exceptions. For instance, when a post describes why the arrival of the bank on the UCB campus in Vancouver was so a good thing, I am not sure how many will be interested besides those attending UBC, of course :-).
Besides having a clearly identified target audience, the blog carries posts that are of interest to its target group. Topics may range from,
– environmental issues,
– consumer affairs,
– good study habits,
– mobile communications, and
– planning your holidays (e.g., Christmas or Reading week)
possible changes
This blog tries to cater to teenagers and early 20s folks who are, most certainly, social media savvy. And whilst we are offered a page that allows one to 'access each blog,' in reality it is one blog that offers one to read each author's posts (see here bloggers go life). So every author is also accessible as a category.
Unfortunately, the media savvy audience is not given the opportunity to get each author's contributions as an RSS feed or receive content by choosing one or two categories to be put into a feed. We have discussed this issue in more detail here: why RSS fails with my readers.
Another interesting result is that the blog does not offer readers an option to get posts via email. A bit surprising considering that maybe no more than 20% of Canada's students use RSS.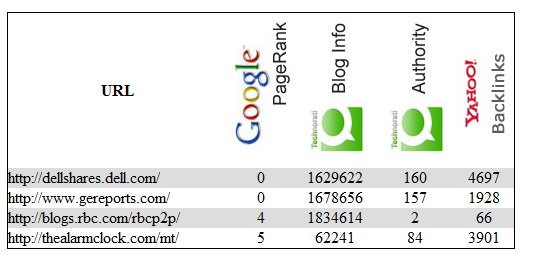 I went to My.ComMetrics.com and entered the URL to get some preliminary statistics as shown to the right. PageRank with 4 is satisfactory for the Royal Bank blog. However, the number of backlinks seem a bit low. Maybe the difficulties outlined above regarding RSS feeds and lack of e-mail subscription option could be one explanation that the blog is not reaching as many as it otherwise could.
Digging a bit deeper with the My.ComMetrics.com tool one can calculate a few more statistics, such as:
As we have pointed out previously it is the trends that matter. Therefore, we are interested how the above statistics look over a quarter or six months. I can inform you that looking over several months the findings look similar. For instance, July has 24 posts as well, about the same number of comments and 0 comments with URLs embedded in them. While the blog had 11 comments for the month of November, 5 were from one post and did add little if any value – hi nice post – were the kind of comments we collected. Nevertheless, our statistics show that the trends for this blog look upwards… good show!
The above preliminary findings indicate that when it comes to engagement, the blog still has some room for improvement.
bottom line
This blog has a clearly identified target audience made up of Canada's unversity and college students. As importantly, bloggers are themselves members of the audience the blog is supposed to serve. Others prefer to use professional writers or journalists as does the OPEN Forum blog.
The blog is being used to build the bank's brand and it does this quite successfully by letting the contributors focus on issues that matter to their peers. In turn, the bank's products are featured rarely if ever. Hence, any student in Canada (a potential client – of course) might want to read the blog because it is interesting. This in itself is quite an achievement.
We should also take into consideration that this blog is just about 11.3 months old. So while there is room for improvement as outlined with the return on engagement indices above, this is to be expected with such a new venture. Hence, I congratulate the RBC team for their blogging efforts – keep up the good work and continue posting interesting stuff.
If you have a chance, check out their blog. Please let me know your take – do you agree with my conclusions?
Did I forget anything? Are you aware of another corporate blog where the bloggers are students? Do you have the URL? Please let me know your thoughts by leaving a comment below – I am curious and want to know your take on this. Thanks for your help.