The Ups, Downs, Ins, and Outs of corporate blogging at a Fortune 500 –  at least as far as size is concerned :-).
Beck's (an InBev brand besides Stella Artois and Budweiser) provides a good example for how not to do it – ropes to skip – the entire blog site is in Flash – making navigation a headache
This post explains why beer lovers will not want to re-visit this blog – read and learn.
Volvo, China Mobile, Nike, Starbucks, Apple, ABB, Swisscom and more – case studies about corporate blogs
Before You Start a Corporate Blog, Tie Your Shoe Laces Properly
happy birthday Daimler – blog that rocks
Earlier this week we reviewed a great blog with a new approach (getting students to write for students – novel approach it ain't but surely novel for a bank – check it out):
FT ComMetrics Global 500 blogs – case study – Royal Bank of Canada
The above blog will be included in the FT ComMetrics Global 500 Blog Index. So will the one we are discussing today. It is:
Beck's beer – a blog that violates a few social media best practice guidelines
Beck's brand is owned by InBev, the Belgian brewer who also owns such brands as: Stella Artois and Budweiser.
We and other social media folks were told that Beck's marketing agency and staff interviewed more than 1,000 indivdiduals. After all this work they decided on the British standup comedian Darius Davies to serve as the voice of the brand.
I went to My.ComMetrics.com to check how things would look. They look great as far as Google PageRank is concerned – 6. I am quite surprised how this site could have such a high rank. If you dig deeper with our tool, few if any links exist to the site.
The comedian Daruis is supposed to be capable to bring truly engaging content to this blog venture. The content is supposed to be relevant and of interest to the beer's target audience.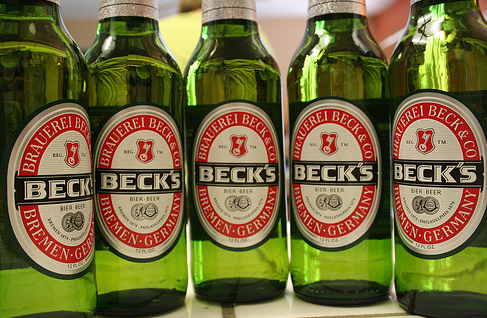 Unfortunately, some social media people have taken issue with this new blog. For instance, the tone of the blogger is bit hard to take. Neither do I know nor can I be sure that the type of content the Darius comedian is serving on this blog is really of interest to beer lovers.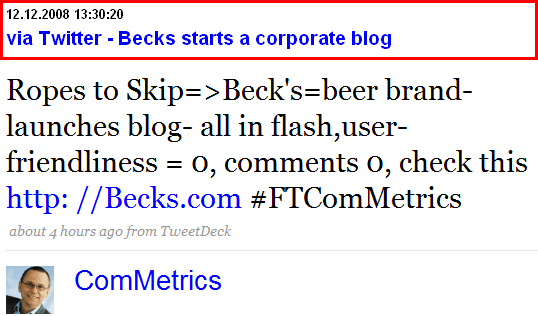 The blog was launched during December 2008.
Unfortunately the entire blog site is in Flash. This is not a very user-friendly platform to create a blog that requires some navigation.
You cannot use your mouse to go through some text nor can you right click or navigate back easily.
Neither can you link back to some image or text. You would have to use Print Screen to use the image and than just link to Becks.com – not really the way you want to do it.
As well it is not really possible to link to a post, image or a particular area of the site because for anybody go gain access you must jump through the age verification hoop and the browser works poorly with Firefox or Opera.
I find that coming up with a reason to return to this blog is difficult for me.
Luckily the RSS feed remains a simple point and click and does not require Flash :-). But even here, if you want to read everything, you have to click on the headline. If you use Firefox …. and the Flash horror starts all over again.
Hence, not even low tech RSS will completely shield you from the horrors of this site. But you can have a look here how the RSS feed will give you trouble if you intend to click on a headline/title:
Incidentally, if you search for Beck's beer blog on Google you will not find the corporate blog coming up first it is a long way down – not very good:
Several sites have already commented on this disaster, here is one example:
another joke plaid on Beck's – Saturday Night Life
Bottom Line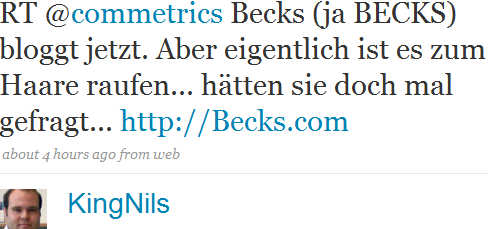 My colleague @KingNils said it much better (see to the left) when he did RT my tweet. Freely translated:
"It is so bad you can tear your hair out and why did they not ask for advice from us."
An exercise that costs tons of money and will ultimately not deliver the bottom line results Beck's and its parent InBev hoped for.
I keep watching how this case will develop during the next few months. I expect some drastic changes. Let us hope it is not too late. A lot of damage to the brand has already been done.