Definitions, examples and cases of success are everywhere in business. Like your social media guidelines and accounting standards, they are the first line of defense for managing risk.
If you fail to define which operating metrics and objectives you want to influence with social media marketing, you might be left with US Supreme Court Justice Potter Stewart's famous, but ultimately vague application: "I know it when I see it."
Social media must be defined succinctly and simply for the uninitiated, such as:
Social Media encompasses any tool or service that uses telecommunication technology, including digital media, to facilitate production and exchange of information and action.
But how do we illustrate the above with cases so skeptics can see that it could work for your company?
Article source – 10 case studies: Is management on board?
I came across a great post from Mashable, 15 Case Studies to Get Your Client On Board With Social Media, that tries to illustrate what social media is if you do it right. Unfortunately, the cases are all very large organizations with plenty of social media officers on staff and large budgets, such as Booz Allen Hamilton, Dell, US Army, Johnson & Johnson, The New York Times, Google, and Comcast.
What can a small organization or non-profit learn from these cases? We know that:
– 99 percent of all companies in the EU have 250 or fewer employees, and
– 96 percent of all companies in the US have 100 employees or less.
Before you copy another Fortune 500 success story, ensure you cover all the bases:
1. Context matters. A small company will not have the budget to copy a large organization's strategy, will it?
2. Culture makes a difference. Are US examples transferable to France or Spain?
3. Learn from past mistakes. Can I learn more from other people's mistakes than from repeatedly-used successful examples?
So I found a few more disasters that might just be useful to smaller companies.
Stay tuned, get the next great blog post first in your email inbox by signing up right here:
The largest company below employs less than 400 people, while many have fewer than ten on staff and some have just one employee, the owner.
Social media is about interaction, so regardless of which tool you intend to use, emphasize the importance of generating leads and reaching new clients with your chosen platform. The issue is not about trying to convince your boss that blogging is a great strategy, but showing top management how it generates leads.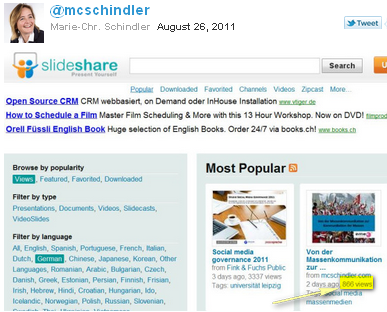 Tip: To find out more about the tips and tricks we have on this blog about social media and more effective marketing include the words CyTRAP and ComMetrics in your search.
Instead of spewing buzzwords, the above examples show B2B and service companies, as well as small consumer brands' successes and flops that illustrate what can be done with social media. Finally, ensure you use the tools properly, and don't confuse weblogs with static webpages.
Do you know of a great example that I missed? Leave a comment!
Just one question I hope you will answer: 
What is your best example of great social media use by a small business
? 
I look forward to your comments below
.