Why headhunters will still have a job tomorrow
Is social media recruitment a flop or stillbirth? Join our poll.
==> Please
read the comments
 (click on link).
As a reminder, the dictionary states, "transform: to alter or be altered radically in form, function, etc. Besides that I do not believe social media reacially altered recruiting for new staff, here are some more factors that make social media difficult to use in recruiting.
Are you interested in this debate and what it means for your company's recruiting efforts?
Read on, but first, sign up for our blog to get the next social media recruitment update first.
What is social media recruitment?
At the core of Recruitment 3.0 is that premise that everyone is a candidate, and we must not wait, but create candidates.
Social Media Recruiting is based on the assumption that there are those that actively search for a new job and those that might consider changing employers (passive candidates) if the job is attractive enough. It is up to us to reach out to both active and passive candidates through channels such as print or social media (e.g., corporate webpage, blog, Xing, Facebook and/or Twitter).
Reaching qualified active and passive candidates
Job description done, what now to ensure the qualified applicants come?
Social networkers to the rescue
What we need is to get our close connections to help. By reaching out to their close connections, some of whom might be qualified and interested in our job, we increase the number of qualified applicants. So how do we do this in practice we explain below.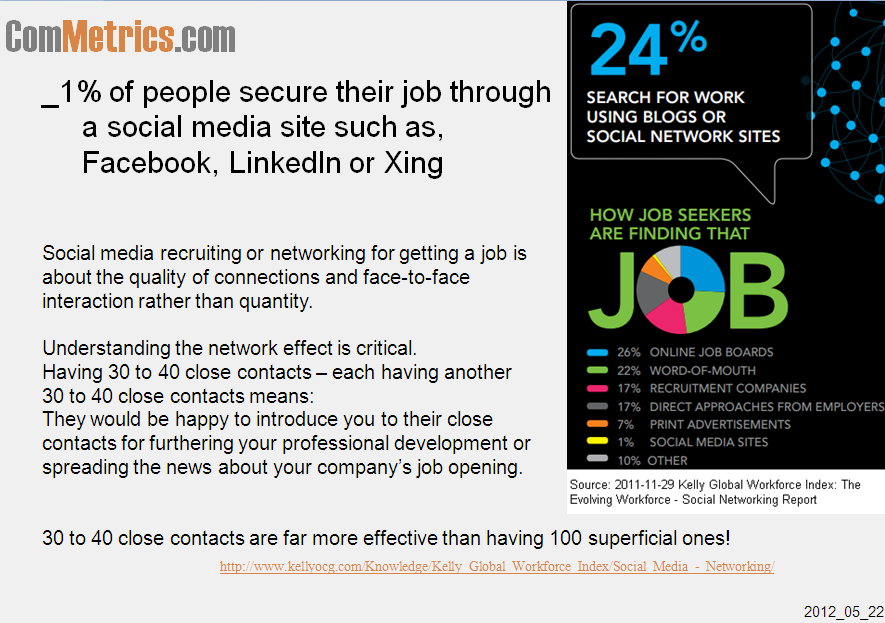 Social recruiting or how to reach out
As discussed before, Oxfam has taken to social media like a fish to water, including having an area on its website listing job openings and using videos to communicate what the job is all about.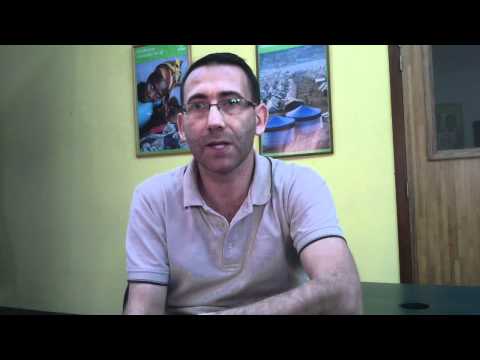 Unfortunately, for the last 11 months Oxfam has not posted any new videos. Looks like patience for this new channel has run out. Nevertheless, better 100 highly interested viewers of your job video – of which two apply for the job – than thousands who just watch but are neither interested nor qualified to apply!
Being more stiff about reaching out
VBZ (Verkehrsbetriebe Zürich or Zurich Public Transport) is trying to embrace social media. It has a jobs area on its webpage – clicking on the job title opens another window to watch a video.
To avoid turning smartphone users off, however, it would have been more user-friendly to embed the video on VBZ's homepage or blog as we did here:
By the way, the choice is yours! Oxfam's low-cost version (3 minutes) or VBZ's slick one (4.35 minutes). Which do you think is more likely to reach the target audience? Your opinion counts – please comment and cast your vote in this poll!
Bottom line – take-aways: How to win the championship
The short answer is – NO, social media recruiting is not a flop. However, it is neither a panacea nor a wonder drug. It is one more tool you can use. We would suggest these four tips and tricks to make it work for your small- or medium-sized enterprise (SME):
1. Use your blog to engage candidates: Post a sensible job description on your blog, then embed a two-minute video featuring team members talking about it. Get the discussion going – if necessary, ask a team member to add a comment or a close connection to add a thoughtful question. Then, REPLY THOUGHTFULLY.
2. Engage with your close contacts: Get your close connections to read the job post, ask them for support by informing their close connections via email or during another event where they meet. Or, get your close connections to connect you with people that might be interested in or suitable for the job. Follow up with these leads by calling them – ask, discuss…
3. Nobody wants to hire a disappointment: Most would agree that a pre-qualified referred candidate from a high-performing co-worker is a good way to recruit. However, this requires that our staff connect and share not just the job in relevant groups and on various platforms, but most importantly their know-how, insight and knowledge (be visible before you have a job). Enlist staff's help, get them involved in the hiring process. This could yet bring in the best applicant you never thought would apply.
4. Engage passive candidates in social networks: Post in groups that have a forum that permits job postings. Again this requires you share your know-how, insight and knowledge, thereby being visible before posting the job. That way your job posting is likely to get a response from some passive candidates (i.e. those that thought they were not in the market for a new job) who read the listing, might comment or inquire privately to get more information.
What will not change is that smart talent acquisition – hiring skilled and motivated employees – starts with leaders that know how to connect with people, care about the organization's team and culture and want to build a strong community. What is changing is that we must take better care in getting our close connections involved to attract better qualified and motivated applicants.
Unlike that of the Internet, the future of social media recruitment is not guaranteed. It may not live up to its hype and, most certainly, best practice will continue to evolve. Nevertheless, under the right conditions, it just might help your SME get the talent needed to compete successfully.
Incidentally, employee branding is a critical part of social media recruitment. Put differently, we must build the employee brand before expecting too much from our social media recruitment efforts. Having a strong brand as an employer will naturally result in a greater resonance when we recruit.
More resources on social media recruitment:
– Is YOUR blog a failure – use it for online recruiting?
– 10 Rules for Success in Social Recruiting – some work, some will not for a SME
– Vom Employer Branding zum Social Recruiting – Strategisches Vorgehen (2) [From employer branding to social recruiting – strategic approach (2)]
A question for YOU
How do you decide which social network to use to help your recruiting efforts? Please leave a comment!
Tip: Search for more ComMetrics and CyTRAP sources on good practice, measurement, social media social CRM, reputation, ROI  (click to query).
---
The author: This post was written by social media marketing and strategy expert Urs E. Gattiker, who also writes about issues that connect social media with compliance, and thrives on the challenge of measuring how it all affects your bottom line.
His latest book, Social Media Audit: Measure for Impact, is scheduled to appear from Springer Science Publishers in Summer, 2012.
Connect with ComMetrics on Google+ or the author using: Email | Twitter | Google+ | Xing
---