Update 2012-06-10 – It gets worse, see how many Twitter bots follow brands (comment with link to paper) – Dell, Ikea, Southwest.
It certainly seems as if Twitter activities generate a low return on investment (ROI) for businesses
Is Robert Scoble right in claiming Twitter is the new ghost town and Facebook is…?
Does a Twitter chat represent value for your target audience?
Recently,
Marita Roebkes
, an esteemed colleague, wrote me an email containing several imporant insights, including:
From what I see, there is still a gap of four years between acceptance and usage between Europe and the US.
Still a lot of "blasts" and buy my stuff offers in the social web (on both sides of the ocean).
So what about Twitter chat, is it something people use to blast their messages or a tool by which chat participants thoughtfully respond to the expert or moderator's tweets?
How Twitter fails in a crisis situation
Blasted messages or a stream of thoughtful tweets?
On Twitter I do not always have the time to read people's personal replies to others, and things get especially confusing if I have not seen the previous messages that led to a thank you, and so forth.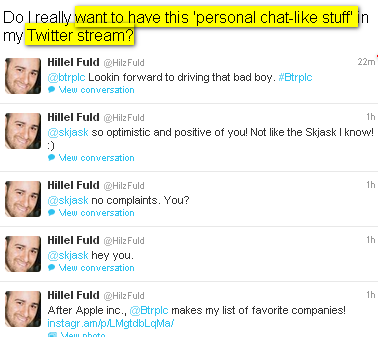 You read until here, so read the rest (just click below) but first, sign up with your email (5,000 people have already done so) to get the next blog post first in your inbox.
Sign up for our blog and get the next marketing update from Dr KPI first.
Is Twitter a news tool or social space?
The number of tweets have gone up. Unfortunately, this means that people are getting overloaded, resulting in most poeple following no more than 80 people – why follow more when you cannot keep up? Controlling the amount of 'noise' is also much more difficult on Twitter than on Facebook, for instance.
Scoble would probably reply that while Twitter may not be a ghost town yet, the more it gets used to gain insights and news, the less attractive it becomes for the majority. For me, it was and always will be more of an 'information utility', and as Scoble points out, less of a social community. Therefore, it might become more and more empty.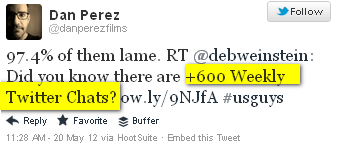 Three or four potential problems for Twitter chat
Are Facebook and Google+ going up in your world?
What about Twitter – are your numbers of followers and/or replies staying flat?
How about the time spent reading other people's content – on the up- or downswing?
Your thoughts – PLEASE click here and leave a comment at the bottom of this post.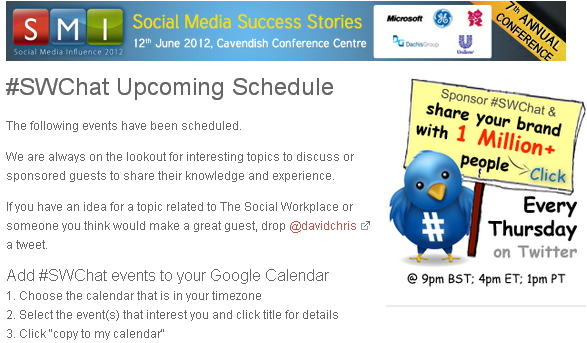 Are Twitter chats lame? What do you think?
Do people actually:
– read the material prepared by the expert beforehand (e.g., questions, slides by Bernhard Warner – see image above), and
– stay on topic during discussions?
Here are some of our results.
Event Statistics
Number of Tweets = 992
Number of Contributors = 91
Reach = 268,000
Number of Impressions = 2,600,000
People blast their message in the hope of having an impact. Of course, few stay on topic and even fewer try to engage:
– the first 110 tweets listed in the archive were sent before the chat started, telling us a bit about why people could not make it and their disappointment,
– from tweet 110 up to and including 156, people talked about getting ready for the chat;
– another 50 tweets contained random thoughts…
Fact: The first 200 out of 1,000 tweets offered no relevant content – where is the beef?
Find the archive of the 2012-05-31 chat with Bernard Warner and our discussion on Xing Social Media Monitoring about Twitter Chat.
Bottom line – take-aways: Four reasons Twitter chats can fail
Four things to keep in mind:
1. Spread the news: Chats are a good way to spread news to a larger audience about a conference, new book or other event, such as a client appreciation day. Of course, it also helps build experts' visibility and reputation.
2. Post additional insights before chat: Questions, slides, video, white papers are just a few that come to mind – they all help prepare your audience and focus the chat.
3. Secure value proposition for your clients: Chats can allow us to learn from each other. To facilitate this, keep the number of attendees relatively small. Otherwise, some clients will likely get stressed out with so many tweets every single minute for an hour.
4. Measure and tune your engagement: If you want more people to sign up and pay to attend for a conference (see above chat), see if they do. Thus, define and measure the outcome. Better to fail quick and drop Twitter chat, than continue without much success.
More resources on Twitter success and failure:
– Debra Weinstein's favorite chats and then some
– Huge chat list – all the information you need to tune in
– Company failures: Why is Twitter so difficult?
– 40 more blog posts and some with tips, tricks, Twitter tools…
A question for YOU
How do you decide which chat to attend? Please leave a comment!
Tip: Search for more ComMetrics and CyTRAP sources on good practice, measurement, social media social CRM, reputation, ROI (click to query).
---
The author: This post was written by social media marketing and strategy expert Urs E. Gattiker, who also writes about issues that connect social media with compliance, and thrives on the challenge of measuring how it all affects your bottom line.
His latest book, Social Media Audit: Measure for Impact, is scheduled to appear from Springer Science Publishers in Summer, 2012.
Connect with ComMetrics on Google+ or the author using: Email | Twitter | Google+ | Xing
---