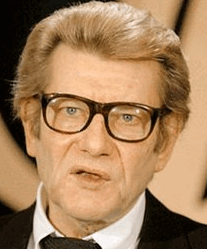 When Yves Saint Laurent died June 1, 2008, he left behind a towering legacy in the fashion world: after Coco Chanel had freed women, Saint Laurent deftly went about empowering them. Fashion mourned the end of an era in 2002 when the designer announced the closure of the Paris-based haute couture house he had founded 40 years earlier and his retirement at age 65.
In 1999, Yves Saint Laurent sold his ready-to-wear label Rive Gauche, part of the Yves Saint Laurent (YSL) 'empire', to the Gucci Group (owned by PPR, formerly Pinault-Printemps-Redoute) under Tom Ford and Domenico de Sole. While the house no longer exists, the pret-a-porter  YSL brand survives under its new owner.
How has that worked out for YSL, you ask? Some lessons we learned from this case are outlined below.

Lesson 1: Increase profit margin by changing product mix
Under Valérie Hermann's leadership as chief executive for the last four years, the product mix has been changed. Leather goods, which offer high profit margins, are featured much more prominently and now account for almost 36 percent of revenues by YSL.
Lesson 2: Integrate high profit-margin products into new designs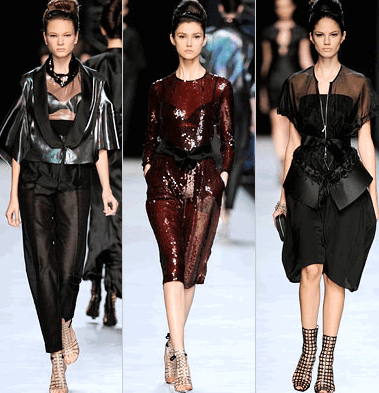 YSL designer Stefano Pelati made sure latticework leather heels and belted suits, all offering high profit-margins, would be used for this year's collection and during Paris Fashion Week, they were prominently featured on the YSL catwalk (see picture to the right).
Lesson 3: Sell part of the shop to get more
Last year, PPR sold YSL Beauté to L'Oréal, assuring a steady and significant flow of license revenue for YSL by licensing YSL Couture.
Unfortunately, not every brand is in the enviable position of being able to sell part of the shop to another corporation that can sell more than it was able to in the past. Of course, the nice outcome of this is that L'Oréal pays a great return to YSL in the form of ever-increasing licensing fees for YSL Couture.
Lesson 4: Sometimes it is just bad luck
In trying to make the brand attractive to younger clientele, under Ford and de Sole YSL embarked on a program of store openings. Unfortunately, the leases were purchased at the height of the luxury bubble.
In 2005, Valérie Hermann took over as CEO with the objective of bringing the YSL brand back to an even keel.
After 10 years of losses, the company finally reached €0.3 million in the black; quite an accomplishment considering that the financial crisis of 2008 certainly did not make this easy. However, the ever-worsening current recession will make a repeat performance difficult for Valérie Hermann, Stefano Pelati and team.
Lesson 5: One or two mistakes can cost everything
Besides going to Paris Fashion Week, YSL has neither a weblog nor a microblog to reach current and potential clients. In fact, YSL's corporate website does not appear to use social media effectively in any way.
Check it out for yourself. Which group of stakeholders is being targeted (e.g., buyers or retail clients) and what goodies are being provided to encourage repeat-visits? Plus, navigating this site is a bit cumbersome: the webpage does not
Following these principles would have indicated to the owners that something is amiss. YSL's webpage, as well as its lack of use of social media illustrates that while one can invest, failing to grasp the threats and opportunities offered by these tools tends to guarantee that you waste substantial sums of money. Worse is that one gets a lukewarm, if any, response from those one was trying to reach in the first place.
Lesson 6: Make sure you have deep pockets and a long reach
After spending lots of money on a bad webpage that does not reach any target audience and raking up losses for a decade, YSL is finally starting to recover. This case-study teaches how very expensive it is to revive an old brand, making such revivals less attractive to investors every day.
PPR spent US$ 1 billion (about € 0.8 billion) to purchase the YSL brand and managed to add up a total of € 400 million losses over 10 years. Accordingly, investing in an old brand and trying to revive it is not for the faint of heart and/or short-term investor.
Incidentally, Jeff Bezos (Amazon), Richard Branson (Virgin), Josef Ackermann (Deutsche Bank) and Patricia Russo (formerly of Alcatel-Lucent) could all tell you a story or two about how difficult it is to build a reputation and maintain trust and confidence in a brand during hard economic times.
=========>
Here's my suggestion for today. What is your take, how do you perceive this situation as a shareholder or taxpayer?
Please share your insights and write a comment below. Thanks and I look forward hearing from you.
If you're simply interested in hearing about more lessons learned (the hard way), please follow the Twitter feed I've set up.
=========>
More resources:
Why women buy black high heels – the guide to everything
Statement heels are back, or, What is marketing for social media experts?
Doing things in style – stiletto heels and Tahitian shades
---

The
FT ComMetrics Blog Index
ranks
FT Global 500
and
Fortune 500
companies'
corporate blogs
.
Please
subscribe now
so you can
claim your personal and/or corporate blog
AND
trace those that you want to compare yourself to
.
For
Twitter
, please use
#hashtag

➡

#FTCBI
---