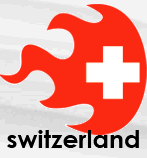 Last Saturday I attended Switzerland's BlogCamp 4 in Zurich, my first time at a barcamp (how it works). Below I discuss some of the impressions, ideas and insights gained during the day-long event, which included several streams with presentations. The summary below reflects the sessions I attended, but you can find more information in German here:
So here comes my review of the event.

Multi-thematic versus mono-thematic blogging
I started my day with a presentation from the Gedankenblitze Blogger. Among other things, he pointed out that a mono-thematic blog may be a niche blog for experts. In turn, this requires the blogger to provide in-depth content in order to satisfy that type of reader.
Lesson 1➡ Deciding to run either a mono-thematic or a multi-thematic blog is critical to map out a path to success – ideally before one starts blogging. Once the decision is made, you have to stick to your guns and post accordingly.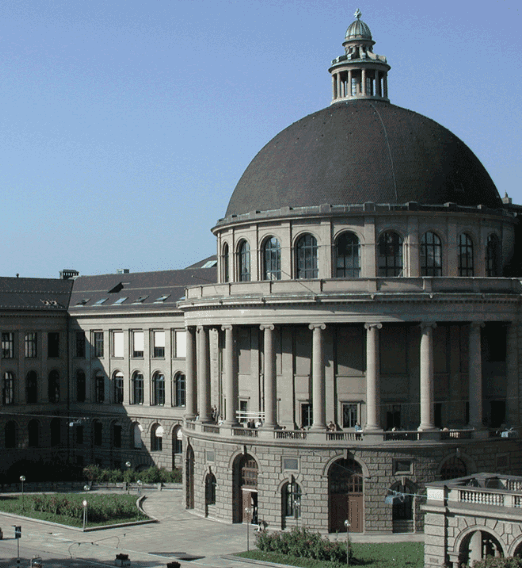 Be careful about changes
As an extension of Lesson 1, remember that when a member uses something daily (e.g., Twitter or My.ComMetrics.com), for better or worse, any change (e.g., user interface) will cause complaints from some people. Members get used to how things feel, interact and look, so change is not always appreciated. This also applies to blogs.
During my presentation about My.ComMetrics.com, delegates raised valuable points about where the user spends the most time. For instance, the home page of the blog or the product detail page of a web-based software are more important than any other. Get the slides here: download presentation.
Lesson 2➡ Make sure the product is presented and explained in a way that makes big changes after the product-release unnecessary – people do not necessarily like change.
New media – much changed but more stayed the same
Juerg Vollmer from Krusenstern talked about the social media newsroom. He started off by summarizing changes in how news content is made and distributed thanks to viral marketing, bloggers, social networks and the micro-blogging platforms, including but not limited to Naijapulse, which is open-source software.
While studying the author's blog post regarding his social media newsroom presentation, two things became clear:
1) using bullets and short paragraphs to structure the written message is important, and
2) inserting slides, images and videos in a blog post can be helpful.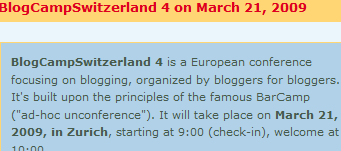 Lesson 3➡ Today's social media user wants well-structured content that allows for scanning. Slides, videos, tweets and images can enhance the message but not enough to make understanding it harder.
Effective system management, SEO and more
The last presentation I chose was given by Patrick C. Price and focused on SEO issues, particularly regarding WordPress. It was so interesting and raised so many questions for participants that it ran over time, and instead of attending the closing session, a few stayed back to continue the session with Price.
Lesson 4➡ Running several blogs makes using WordPress' multi-user software an effective choice, while using a few widgets and add-ons fosters better user-friendliness.
We hope to acquire Price's presentation slides soon, so we can provide you with a link for downloading.
Proper copy-editing is a big part of reputation management
BlogCamp 4 also demonstrates that a blog represents one's personal brand, which also influences one's reputation. Therefore, this work deserves close attention to assure quality, including editing for flow, proper spelling and grammar, as well as fact-checking before publishing content.
Being sloppy may suggest to readers, who are all potential clients or employers, that one works in a similar way.
Until recently, we were one of the micro businesses that did not use the necessary resources to improve, but that has changed. BlogCamp 4 confirmed our belief in the importance of such maintenance. In fact, some of our blog readers have mentioned how much things have changed since Christmas 2008, when we splurged on a gift for ourselves and hired an in-house editor.
Lesson 5➡ Write succinctly, clearly and without errors that could detract from your important message … Blogging is an important part of image-, brand- and reputation-building. Stop wasting it by being too cavalier about typos and factual errors, etc.
On a more personal note, BlogCamp 5 has at least one confirmed attendee from ComMetrics. We would not want to miss out on this important opportunity to meet bright people who willingly share their know-how with peers. The experience was exhilarating and stimulating, with one exception: lunch in the ETH cafeteria. Then again, nothing and no one is perfect.
What are your experiences with barcamps; care to share by leaving a comment? I look forward to reading your insights. Thanks in advance.
---

The
FT ComMetrics Blog Index
ranks
FT Global 500
and
Fortune 500
companies'
corporate blogs
.
Please
subscribe now
so you can
claim your personal and/or corporate blog
AND
trace those that you want to compare yourself to
.
For
Twitter
, please use
#hashtag

➡

#FTCBI
---