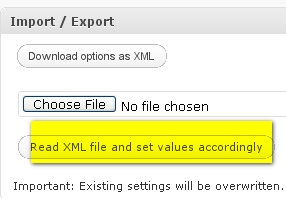 Blogs are an excellent tool for improving a site's search engine optimization (SEO). For some excellent WordPress plugins that help set the stage, we refer you to our earlier post:
However, using the wpSEO plugin will help you reach the next level. We explain our results and some other tricks we used on the way to improving our SEO benchmarks for this blog.
Step 1: Setting up wpSEO
We decided to give wpSEO a test drive – you can use it for free for ten days.
Yes, the plugin has a small price tag, but in return, after the initial learning curve of fine-tuning your work with it, time savings and more targeted traffic will come your way. This led us to conclude that the small cost was justified.
Download the wpSEO plugin here.
Tip 1:  Unless you are an SEO expert, start by using the options as described in these screenshots:
basic set-up steps. You can also download and install options on your blog (see above image).
Step 2: Title – a good one helps
Doing SEO is important, but it does not diminish the importance of a good title. An interesting title makes your target audience curious and tempts them to read the post. Because Google does not like titles beyond 65 characters (it cuts them off), you should limit your titles to around five to eight words.
Tip 2: Try to limit title length to 60 characters – 5 to 8  words.
Bonus tip: Make sure you use the right permalink set-up to further help with SEO.
Step 3: WordPress excerpt – enticing people to read
WordPress offers the use of a short description through the WordPress Excerpt Summary option. Google Alerts, for example, uses this summary.
However, search engines truncate your summary after 160 characters using an ellipsis (…) for the rest of the text. This could decrease a blog's click-through rate (CTR). A compelling excerpt of 160 characters not only entices readers, but can also be used as a meta description with wpSEO (see image below).
Tip 3: Write a compelling WordPress excerpt of 160 characters that you can also use for the post's meta description.
Bonus tip: Explaining meta tags versus meta description.
Step 4: Meta keywords
Yahoo! uses meta keywords for the description displayed in search results. While some may suggest five to eight keywords that match both content of and target for a blog post, others suggest limiting it to around 200 characters, since most databases have a default maximum size for certain fields of 255 characters. Hence, those search engines that see keyword meta keywords look at the first 255 characters. Google does not use meta keywords but Yahoo! and other smaller search engines do.
Tip 4: Choose about eight keywords and make sure you don't exceed 200 characters.


The image to the right shows the fields that should show if you have activated the wpSEO options, including the choices we made (download pdf below).
Bonus tip: Download screenshots of how we set up wpSEO to get more bang for our buck (pdf file).
Step 5: Test the set-up
At this point, it is a good idea to see if it works the way you want it to. The link below allows you to enter any URL and test it (we recommend that you test posts, pages and categories) to see what works and what needs changing in the wpSEO options or the data you entered directly to get a more optimized solution (see above image).
Bonus tip: Test your site's crawl-ability by search engine with the Search Engine Robot Simulator.
We love the wpSEO plugin and have paid for it because, after extensive testing, we believe it is worth every penny. Nevertheless, there are one or two things that could be improved a bit:
– Why defaults? The documentation is excellent – if you are a geek. Unfortunately, the explanation provided about the default chosen to optimize SEO when uploading the file (see screenshot top left of this post) is missing. For many people this might not matter, but understanding the logic behind a configuration, especially SEO-related, allows one to learn.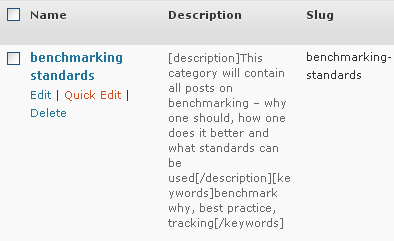 – Categories: When you go to

http://YourBlog.com/wp-admin/categories.php

, you enter the description (no brackets or anything needed) and wpSEO gets it. It would be great if keywords for post categories could also be entered using the same approach (see image at right). Currently, keywords can only be taken from titles or tags of posts. This does not allow a true fine-tuning, which would be more effective.
– Great stuff: Allowing the importing of preset options (see image top left), saving the xml file with currently set options, and a well thought-out user-interface make working with wpSEO easy. They also help provide a great user experience and make increasing targeted traffic simple.
Bottom line
WordPress does a great job of SEO out of the box. This post shows how you can improve this even further with a few tricks and the wpSEO plugin. The latter does what All in One SEO Pack does, and then some.
Above we outlined five tips that should help get your SEO work off to a great start. Sure, it takes time and effort for your work in SEO to show up. Nevertheless, once optimization is finished, maintaining SEO performance requires less time and effort. Most importantly, the Return on Investment (ROI) is substantial.
More resources on SEO and blogging:
Looking for telework as a techie? Join our virtual team NOW!
Now, it's your turn. What do you think of all this? Whether you agree or disagree, share your thoughts by leaving a comment.