Update 2011-12-01: 
Latest URL-shortener from Germany, works very well, is SEO friendly and provides anti-virus protection (checks your links to make sure). It also offers great statistics. Worth checking out for sure at SecURL.de – read the complete discussion here:  SecURL.de mit seinem Kurz-URL Dienst richtig macht im Kommentar and an abbreviated version below in the comments
Update 2011-09-29:
I just explained why Twitter does it right with its URL shortener but your service might not..
Update 2011-09-01: 
I just tested a few more URL shorteners for you.  First I re-visited Socialoomph Uand one other.  Read about how well it worked and how I used Edstorm's suggestion here.
If you have more suggestions, please leave a comment
Update 2011-08-31: 
Unfortunately, I just learned thanks to Edstorm that since Su.pr now uses the Stumble Upon overlay toolbar. Therefore, you no longer get the link juice using this URL-shortener.
Can you help us please. What shortener allows you to schedule tweets but still uses 301 re-route giving the originator of the content the link juice and provides statistics on top of that?
This post provides three tips for choosing the best URL shortener for your needs, as well as introducing the two services we use and why. I look forward to your additions and suggestions in the comment section below.
The Uniform Resource Locator (URL) shows the Internet address and URL shorteners have existed since 2002. We visit the shortener's site, log in and enter the unshortened URL in the field provided and the URL is shortened with the click of a button. This short URL is then used for a tweet or to enable people to download an eBook.
Article source – URL shorteners: Got a recommendation?
A German version of this post is also available – Die besten Kurz-URL-Dienste
To get our next tip first, enter your email address in the field below:
1. Why Code 301 – Moved Permanently matters
Google's bots only know about the permanent move of a webpage from the old (shortened) URL to the new one (your blog or webpage – the long URL) if the URL shortener service uses code 301. This means that the backlink will be credited to you or wherever the content is hosted – not the URL shortener.
Visit Rex Swain's HTTP Viewer, enter a shortened URL, check Auto-Follow and click Submit (see below).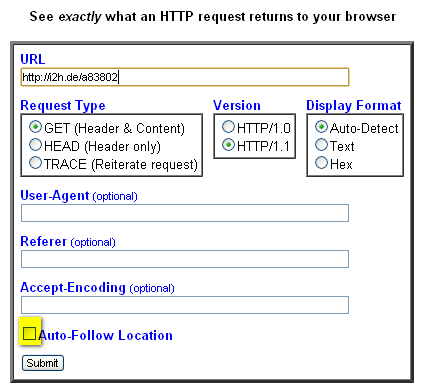 If code 301 is shown, as in the case below, it means that the backlink 'bonus' has been credited to the website with the long URL and not the URL shortener service (i2h.de).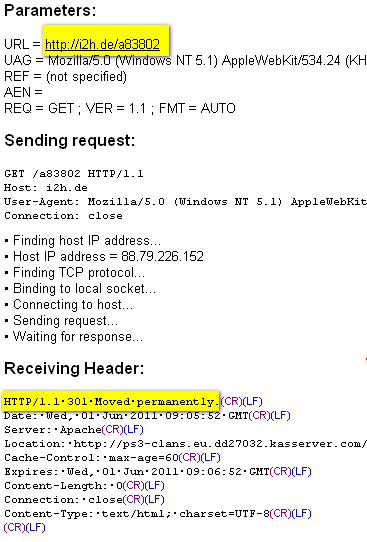 Several URL shortener services use codes other than 301 (see below for details). This helps the URL shortener service improve its Google position instead of passing on the benefits to the site hosting the content.
[…]
300: Multiple Choices
301: Moved Permanently
302: Found [Elsewhere]
303: See Other<
304: Not Modified
305: Use Proxy
307: Temporary Redirect
To illustrate, the relatively popular clig.gs uses code 200, meaning everything is OK. But results from Rex Swain's HTTP Viewer prove that clig.gs keeps the backlink juice to improve their Google ranking instead of passing it on to the content host (I created a test URL for you to try – http://cli.gs/jbAzAP).
Tip 1: Look for a URL shortener service that uses the 301 code, ensuring you receive the backlink 'juice'.
2. Statistics and archives
Most URL shortener services inclduing is.gd, TinyURL, and twURL do not provide any statistics. However, statistics mean knowing how many people have clicked on the link.
Beyond wanting statistics for each link, the question is how long they will remain available in the archive. To illustrate, Ping.fm only keeps data for 30 days. The link will continue to work thereafter, but finding out how many have clicked it in the last week becomes impossible.
Tip 2: Look for a URL shortener service that provides good statistics and an extensive, long-term archive.
3. Choose the service that is best for you
Besides ensuring the service uses code 301 and offers extensive statistics, as well as a long-term archive, you should also consider whether you will use the URL shortener for Twitter or other micro-blogging sites such as Identi.ca or Naijapulse.com.
Bit.ly and Su.pr (provided by StumbleUpon, owned by eBay) offer shortened links quickly and easily, with good tracking and posting to Twitter and Facebook if necessary.
Su.pr also offers the option of sending time-delayed tweets and serving several Twitter or Facebook profiles from one account. It even tells me how many Stumbles are added by users who see my shortened link and allows me to see who re-tweeted and how many more clicks resulted. Needless to say, I use it (since 2009)!
Tip: To find out more about the tips and tricks we provide about tools for social networking include the words ComMetrics and/or CyTRAP in your search.
I have also been using Adjix.com since 2008, which even shortens links to ad.vu for extreme space crunches. Besides statistics on number of clicks, the service also provides information about the IP address for each click and so forth. This service is ideal if you want to keep track of a free download and where people clicked from geographically.
Tip 3: Test Su.pr for Twitter and Facebook, as well as Adjix.com for a few weeks. Both provide SEO-friendly short URLs with code 301.
What is your opinion, which URL Shortener do you use? I look foward to your comments below.