We are back with another week's worth of tidbits, tools and other happenings we came across while surfing the internet, blogging and posting on Facebook or Identi.ca, Naijapulse or Twitter.
In case you missed previous weeks' memorable moments on social media, just point your browser to:
Don't miss the upcoming week! Sign up right now with your email to get it first:
So here come the highs, lows and oddities I discovered through my various social media channels.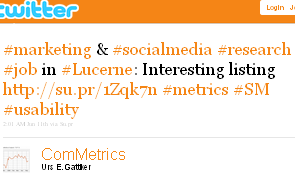 I got a reminder that the third Social Media Apéro Basel will happen on June 15. Thankfully I have already registered and marked my calendar.
=> Third social media apéro in Basel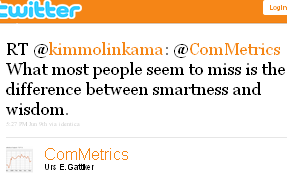 It is always an issue whether people report facts or beliefs in a survey, and whether they really did do things as they remember them.
Info Sander shared some information in the Xing Social Media Monitoring Group about how actual social media behavior data is supplemented by interviews.
Very interesting read of the discussion and the materials:
=> Single-source combination of recording Social Media behavior with market research interviews
And here is an update on the Greenpeace vs. Nestlé social media tussle. It perfectly illustrates why Nestlé's CEO Mr Brabeck-Letmathe's way of communicating may not stop the emotional tide started by Greenpeace. But it also shows that consumers are neither rational nor do they check the facts before following and supporting a cause… seems a bit like sheep.
=> Will Greenpeace see the wood for the trees next time it starts a social media tussle?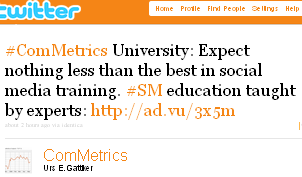 We held another successful webinar entitled ComMetrics University – Twitter: a glorified autoresponder.
It is amazing what works and what seems to fail with Twitter, especially if you are trying to use it for a company that has little to do with consumer products.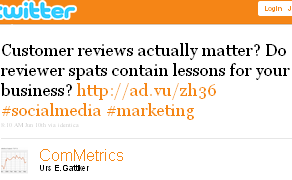 Read some of the ideas, feedback and opinions we got from attendees.
=> Want to influence upcoming webinars?
What is your opinion? Sex and the City 2 – have your say on why reviews do not matter!
It is always very interesting when somebody, like Olga Henggi, raises a question that every person wants to answer:
=> Do you think the Internet makes you smarter?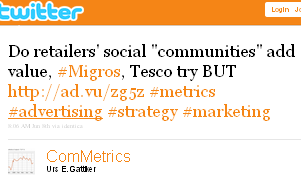 The #worldcup started today in South Africa and I found two interesting things happening in conjunction with the world's biggest sporting event. For one thing, the event has a hashtag (#worldcup), and some people have added a football (or soccer to some) to each of their tweets: 
.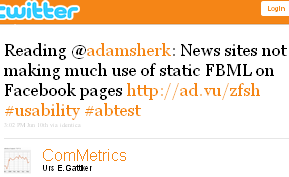 Second, on June 9 FIFA finally discovered micro-blogging and opened an account on Twitter. That's great, especially since after only two days it had over 18,000 followers (about 26,000 followers by the night of Saturday, June 12).
I'm taking bets whether it will hit two million, five million or anywhere in between by the end of the Cup. Place your bets in the comments and tell me what you think.
=> Do you really care about the @WorldCup?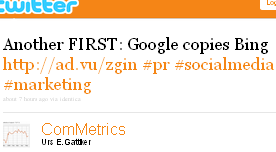 Founded in 1995 by Jack Smith and Sabeer Bhatia, Hotmail is Microsoft's web-based email provider and now also serves as a web portal for users. By contrast, Google's Gmail only just went public a little over three years ago, on February 14, 2007. While Google has exploded, Microsoft seems to have fizzled.
Google leveraged its 180 million Gmail users to launch Google Buzz, a smart attempt to integrate Twitter with Facebook's commenting and 'like' system. But while Google got all the buzz, Microsoft is now trying to catch up and offer attractive new features:
=> Trendwatch – Microsoft trying to leverage its user base via Hotmail
I just learned that FIFA has its own social-networking service called 'The Club'. It is nothing to sneeze at, with 1.6 million members, but considering that the sport has more than a billion fans, this is a rather small percentage.
=> Get facts, figures about the social media extravaganza… or is it a stillbirth?
It is also Interesting that six percent of these fans come from Britain, indicating that the website's reach is disproportionately high in certain markets.
Some social media will make less of a difference in Africa than you think. Yes, mobile is booming, but certainly not Internet browsing via smartphone. Smartphone pricing will probably fall to about US$100 later this year, but until it falls to about US$50, it remains non-viable as an option for most users in Africa.
=> ComMetrics SM Monitoring: Google loses the battle but wins the price war for smartphone consumers
=> ComMetrics – Warren Buffett: What works with social media – Internet and smartphones not an option
=> African Development Bank Group – Why broadband access via mobile is not an issue in Africa – but text messaging can make a difference
Will sponsors get enough bang for their buck from this event? At the moment, some factors suggest that Nike got a bigger bang for its gorilla campaign than Adidas did as the official sponsor.


Ambush ads by Nike and Carlsberg are generating more buzz than rivals who have paid millions to be official World Cup sponsors. The "Write the future" ad has helped Nike achieve twice as many mentions on English-language blogs, forums and social networks such as Twitter and Facebook… quite a feat and frustrating for Adidas. Watch the ad, featuring Wayne Rooney of England and Cristiano Ronaldo of Portugal, below.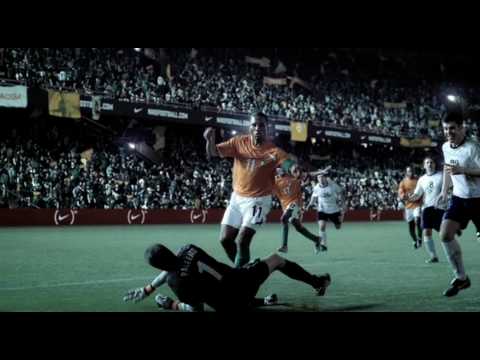 Additional resources
That wraps up this week's social media diary. Please let me know how you feel about it – your opinions matter to me!
Please leave a comment below.
Article source: ComMetrics weekly review: FIFA advertising sputters