Social media monitoring DOs and DON'Ts: social media marketing, social media metrics, social media monitoring tools, benchmark test, Twitter monitoring, luxury branding and other happenings we came across while surfing the internet, blogging and posting on Facebook, Identi.ca, Google Buzz, or Twitter.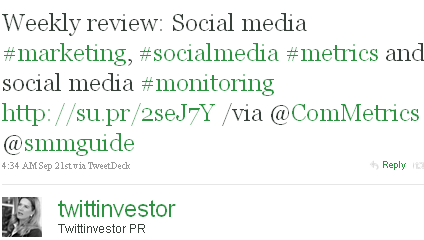 This week, our focus includes a master thesis about social media monitoring, tomorrow's webinar about Google, the social web's encroachment on our privacy, how the iPhone supposedly hampers learning in the classroom, and other heavyweight brands' trials and tribulations.
In case you missed previous weeks' memorable moments on social media monitoring, just point your browser to:
Enter your email address to receive live blog updates in your mailbox… You'll be glad you did.
Top off your subscription by visiting the ComMetrics University and signing up for our latest webinar:
Tuesday, September 28 – 8:30 Uhr in German, 16:00 hours CEST (7:00 am PST) in English.
So here come the highs, lows and oddities I discovered through my various social media channels.
Fabian Rangol was kind enough to mention Stephanie Assmann's excellent Master thesis in our Social Media Monitoring group on Xing, which contains an extensive literature review of social media monitoring, including both online and offline publications such as white papers, journal articles and books.
=> Masterarbeit über Social Media Monitoring ist online (Master Thesis on Social Media Monitoring is online, see page 3 for English summary)
It's a real tour de force that provides interesting tidbits, facts, and mentions interesting research (I found the European stuff particularly relevant for PR and social media experts).
Definitely recommended reading! Please have a look.
Over the weekend, I had come across an article in the Guardian Weekly entitled, English language teachers connect to mobile learning – A survey shows internet-linked phones are being embraced in the classroom.
"More than 70 percent agreed that mobile learning would play an important role in the future of English language teaching, with only 6.7 percent disagreeing (the remainder were unsure).
"A striking 34 percent of respondents claimed to be already using mobile learning with their students. Accessing dictionaries, either online or dictionary applications they had downloaded, was a common activity."
Author Nik Peachey later states in a blog comment,
"I was actually very surprised by the range of countries where mobile learning is being used and the survey showed that many developing countries were leap frogging the more developed ones in this area."
This got me wondering if the data collected by Mr Peachey really allowed such a wide-sweeping conclusion.
In an effort to answer that question, I studied the
Two questions seem most important:
– Do you think mobile learning will play an important role in the future of English language learning? (number 1), and
– Do you ever use your mobile device as a teaching or learning tool? (number 4).
But even if the majority says yes to both questions,
How can teachers apply smartphones to mobile learning when many of their pupils may not have internet-linked mobile devices?
The author's conclusions do not appear to be supported by the data collected, do they?
How can we test this while ensuring that all students have access to an internet-linked device? The iPhone project at the Projektschule Goldau in Switzerland did just that by giving each fifth grader (11-12 year olds) an internet-linked iPhone in August 2009.
The project addresses a few exploratory research questions about how the iPhone might affect the learning process in and outside school, as well as learning environment.
By the way, the Swiss own fewer SIM cards than other Europeans, with only 1.3 per person. However, their mobile data usage growth is strong. Hooking school pupils into a data-heavy lifestyle is, of course, the objective of all mobile operators. The sponsor of this project is Swisscom, which has a 60 percent market share.
The Goldau project is now in its second year and some preliminary data was published in Personal Smartphones in Primary School: Devices for a PLE? (by Döbeli and Neff, a teacher – paper presented at PLE conference in Barcelona, July 2010). On page 5, we find the following:
"Important usage in the first nine months were:
– Search for information on the web, using the web browser or the Wikipedia app.
– Learning words in a foreign language (English, French) with a dedicated app.
– Mental arithmetic training with a dedicated app (Neff, 2009b).
– Look up spelling with a dedicated app.
– Listening comprehension and pronunciation practice in foreign language learning (English, French) with sound files from the official teaching material provided as podcasts by the teacher.
– Dictation practice and assessment with sound files recorded by the teacher enhancing equal practice opportunities for students with non German speaking parents.
The smartphone is also used as a personal information manager (PIM)…"
Interesting, but sound files recorded by the teacher could be posted as podcasts accessible by kids on school computers, MP3 players and so forth. Spelling can be looked up using a print dictionary at school or home (or using a digital version on the school's internal network), and of course, searching the Internet can be done using a computer.
While the above activities are important, they can be done just as easily by other means.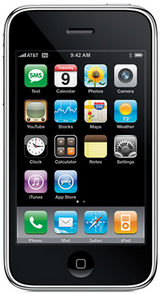 I gave further thought to the iPhone test and Nik Pechey's study.
While smartphones may cost as little as $100 later this year, they will remain out of reach for most people in Africa until they cost around $50 (i.e. why broadband access via mobile is not an issue in Africa – see Sunday).
Moreover, the average South African user spends three percent of their monthly income on a mobile phone, while in countries like Kenya, Tanzania, Rwanda and Niger it's between 25 to 60 percent (see Tuesday to download ICTU report).
Resource: South Africa M4lit = mobiles for literacy project – affordability AND learning effects? — Unesco site: Book-Poor, but Mobile Phone-Rich? Look to M-Novels
Even in Switzerland, few schools could afford to provide each student a smartphone (assuming none are lost, broken or stolen during the year) and the €50 to €100 monthly charge for mobile Internet. Would this even be money spent wisely?
Believing that, "mobile learning will play an important role in the future of English language learning" is one thing, confirming it with data is much tougher, because we must answer four questions:
1. Would five additional laptops in each classroom achieve more to improve learning than the expensive smartphone option?
2. Does using a smartphone really improve children's reading, writing and math skills, including learning foreign languages?
3. How exactly can the iPhone help improve learning in and outside of school, as well as learning environment?
4. Is learning performance positively affected by having an iPhone in fifth grade compared to not having one?
While the above studies provide important insights, I am still waiting for research that provides data to answer these questions one way or another. If you know of any studies that do, please let me and other readers know with a comment and link below.
And yes, I believe computer literacy is as important as being Internet and Web 2.0 literate.
Finally, if you want to smile, watch my presentation at Pecha Kucha in Basel (in German). I had a tough time managing the required 20 seconds for each of my 20 slides.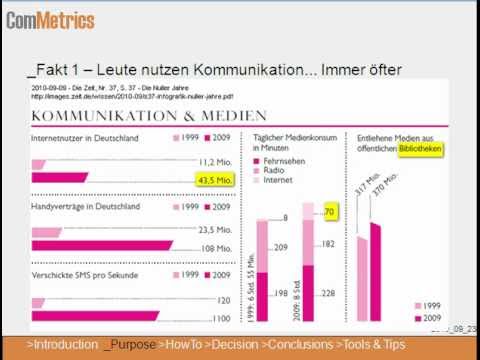 Have an opinion on this? Did we forget a DO or DON'T for social media that you know about? Please share in the comments; I love to hear what works for you!
Article source: ComMetrics weekly review: iPhone and mobile learning stumbles