This week's social media DOs and DON'Ts: Social media measurement, marketing buzz tidbits, tools and other happenings we came across while surfing the internet, blogging and posting on Facebook, Identi.ca, Naijapulse or Twitter.
Our focus includes Hollyoaks or, how TV producers got more lather from their soap using multichannel approaches, Internet and mobile penetration and accessibility in Africa, domain name sales, how Twitter influencers try to overcome their followers' passivity, Google Wave's failure and other heavyweight brands' trials and tribulations.
In case you missed previous weeks' memorable moments on social media monitoring, just point your browser to:
Don't miss the upcoming week! Sign up right now with your email to get social media metrics insights first:
So here come the highs, lows and oddities I discovered through my various social media channels.
Hollyoaks is an example of how television producers are learning to broaden their appeal in a digital multichannel world:
1. Hollyoaks, the teenage television soap opera that began in 1995, captures the lives of aspiring young Britons.
2. The Hollyoaks Music Show airs during the Saturday morning T4 youth programming slot on the UK's Channel 4.
3. Hollyoaks Freshers, an online only series launched in August 2010, follows the characters about to enroll at Hollyoaks Community College (the 16+ school around which much of the action is centered).
When the show began there were only four terrestrial TV channels in the UK; now there are hundreds. As a result, the program's TV audience that once hovered at about 3 million has dropped to only about 1.2 million, half of which are between the ages of 16 and 34.
Nevertheless its brand extension began in 1997 with a website and today, about 40 percent of the TV audience regularly visits the various web destinations. In turn, the show has managed to improve engagement with its audience.
Also, the Hollyoaks Music Show is sponsored by Matalan.co.uk, which offers the audience an opportunity to purchase whatever the performer is wearing in just one click => classic cross-channel marketing.
Evaluation. The show is a classic example of how an idea can be cross-marketed using different channels, moving from TV to music show to online series and soon, online games.
TV professionals understand how the revenue stream works in their business, so the Hollyoaks team is still experimenting, trying to find their way on the Internet to improve that channel's revenue stream.
Nevertheless, it is obvious that television producers are learning to get more lather from their soaps by using multichannel approaches, including online episodes, fashion and perfume sales, as well as online gaming.
Hollyoaks also remains ahead of most in the race when it comes to using the Internet and/or eCommerce to leverage the TV show's revenue potential. Well done. However, navigating between those different destinations is still not easy; some A/B testing would help.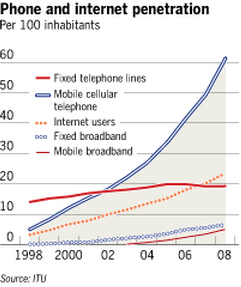 Some would argue what a sad state of affairs it is that more people have access to mobile phones than flush-toilets.
Information from the International Telecommunication Union and others indicates that Africa is an interesting market with facts that make one pause, such as:
– penetration of mobile phones has jumped from 2 to 45 percent over the last decade,
– the average user in South Africa spends 3 percent of their monthly income on a mobile phone,
– the average user in countries like Kenya, Tanzania, Rwanda and Niger spends 25 to 60 percent of their monthly income on a mobile phone, and
– to get the necessary electricity, 99 percent of base stations require a diesel generator in some countries' rural areas.
This indicates that focusing solely on so-called penetration rates (i.e. the number of mobile or Internet broadband subscribers) may well be completely inappropriate.
In the last year, median prices for .com domain names have risen by 25 percent to US$510 in 2010.
2004 – US$100 million paid by SBC-BellSouth joint venture or yellowpages.com
1999 – US$7.5 million paid for business.com domain
2009 – US$16 million paid for insure.com
Some claim that the importance of such domains should fall, since search engines are becoming increasingly important, thereby making human memory less critical for finding information. Nevertheless, easy-to-remember domain names make sure I come back… by allowing me to enter the information in my browser from memory.
Twitter is an interesting subject and I have previously mentioned research about it, such as:
This week I came across another interesting study that tries to address this matter by using an algorithm instead of re-tweeting or mentions… and one of its conclusions is:
=> "This study shows that the correlation between popularity and influence is weaker than it might be expected…
"The study found that a large majority of Twitter users act as passive information consumers and rarely forward ("retweet") content to the network.
"To become influential, users must not only catch the attention of their followers; they must also overcome their followers' predisposition to remain passive."
Also interesting was the finding that high popularity does not necessarily imply high influence…
Download research paper:
What is your opinion? Do you think your tweets make a difference for your readers?
Watch this 2-minute video summarizing the study – nicely done: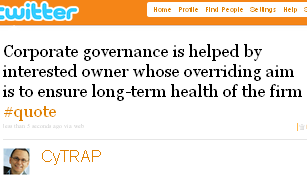 It's official – finally: Google Wave will no longer be offered as a unique service after 2010, as posted by Urs Hölzle on the Google blog.
There are a few lessons to be learned here:
1. Have the added-value down pat: Google Wave was meant to replace emails by combining the latter with document creation/editing and file sharing. But the added benefit of Wave versus other social networks and online tools remained unclear for most users.
2. Usability is critical: Gmail is easy to use while Google Wave was always a challenge, both figuring out the options and understanding why some things failed to work properly.
3. Social networking is a tough racket: linking social networking with search functions and information retrieval is where Google can excel and give Facebook a run for its money – if lessons 1 & 2 are taken care of, that is. The product must be attractive, with easy-to-use features and less about online collaboration. Leveraging Google's strengths is critical and definitely Google Wave did not do this.
By the way, Google Buzz is also a 'me-too' product but it is easy to use and allows Google to collect and make use of my Twitter and Google Buzz tweets. Even better for Google, it is a clever way to leverage their search strengths AND the 180 million Gmail users (see Saturday).
Article source: ComMetrics weekly review: Hollyoaks excels as Google stumbles
What is your opinion? Please share, discuss and leave a comment below.