Just last week we launched the My.ComMetrics 2011 trend briefing, consisting of 25 blog posts and 7 webinars.
This post is the second in the series about trends to watch and social media monitoring DOs and DON'Ts:
social media marketing, social media metrics, social media monitoring tools, benchmark test, Twitter monitoring, luxury brand, Facebook strategies, trends, etc.
Check out the additional information for this post in an upcoming webinar on November 16, 2010:
The phone is no longer just for making calls, nor does the computer need to have a keyboard. Tablet PCs, netbooks and smartphones are simple, purpose-built devices that connect or provide access to the 'cloud'.
So what does this mean for social media and our bottom lines in 2011?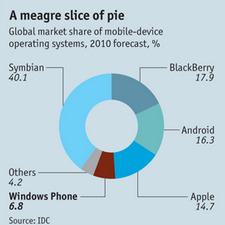 Apple's iPad sold 3.3 million units in the first three months after its April launch. Samsung released its own tablet PC in the middle of October, looking to fight it out with the iPad.
Sales of tablet PCs could grow from an expected 19.5 million this year to as many as 50 to 60 million in 2011.
Not all products turn out to be such successes. For instance, Microsoft's Kin 'social phone' was taken off the market shortly after launch, just seven weeks into a smart cross-media marketing strategy. Users simply did not like it.
Apple controls 95 percent of the tablet market, while Arm dominates the semiconductor market for tablet PCs, netbooks and smartphones. Arm's semiconductor chips are known for their low power consumption, making them an attractive solution for tablet and smartphone manufacturers.
All these devices require instant-on capability, great battery life and being able to remain on standby for 30 days and more. Using a flash-memory solid-state drive helps achieve a quick start-up, and as the MacBook Air illustrates (launched 2010-10-20), notebooks released during 2011 better top all this with thin and light design for a hope of success.
Resources: Smarthone pricing (see Sunday)
Trend 1: People increasingly want to use their smartphones for work and leisure. Prices for smartphones could fall to about US$100 in early 2011 and about US$50 in 2012. Until then it remains a non-viable option for most users in Africa, India and elsewhere.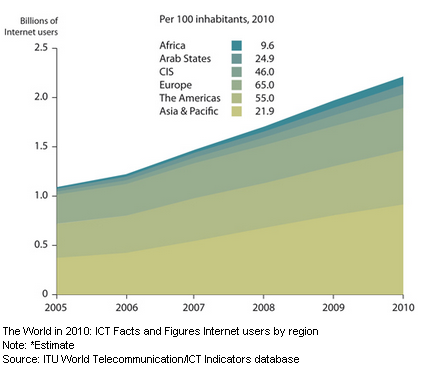 The International Telecommunication Union (ITU) estimates that two billion people will be online by the end of 2010. ITU also points out that over 90 percent of the world population has access to mobile networks and 143 countries offer 3G services.
The number of text messages (SMS) sent during 2010 – 6.1 trillion. This means close to 200,000 text messages are sent every second.
In 2009 an entry-level fixed (wired) broadband connection cost a monthly average of:
– 190 PPP$ (Purchasing power parity in US Dollars) per month in developing countries, but only
– 28 PPP$ in developed countries.
This partly explains why fixed broadband penetration is less than 1 percent in Africa.
Resources: Internet and mobile phone penetration (see Tuesday)
Trend 2: By the end of 2011 we can expect 2.5 billion to be on the Internet, but high-speed, high-capacity Internet access will remain unaffordable for most in the next five years.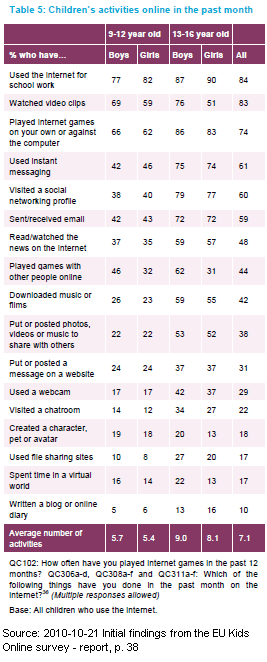 Children and teens are most likely to use the Internet for school work, watching video clips, playing online games and connecting with friends using instant messaging, visiting a social networking profile and sending or receiving email (see table at right).
But getting status updates and being informed about a friend's purchase of Tasti ice cream thanks to location-based services is, unfortunately, further indication of how the information superhighway is getting cluttered with unimportant 'noise'.
A telephone survey found that 4 percent of online Americans used location-based services in August and September 2010, compared to 5 percent in May 2010. Obviously, Internet-based location services have yet to catch on, but Facebook could help this technology become mainstream.
Resources: The World in 2010: ICT (Information Communication Technology) facts and figures – download pdf file
Trend 3: The 'digital divide' increasingly manifests itself between those kids who do not get broadband internet access at home and those who do.
D. Usefulness and usability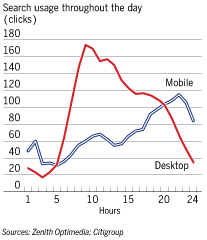 A trip with an iPad or other tablet can be frustrating when one discovers that there are no roaming agreements between European operators yet, and having to buy a German or Italian SIM in order for my device to work is definitely inconvenient.
Nor was I aware that the iPad was unreadable in bright sunlight. As far as usability is concerned, this indicates that there is still room for improvement.
But how useful are these devices? As the study indicates (see table), there is ample evidence that children will, if asked, indicate that they use smartphones or the Internet to help them with their studies. But there is virtually no evidence based on experimental methodology capable of testing the validity of using the mobile Internet or iPhone in schools… Does it help improve literacy levels such as reading, writing and arithmetic?
Anecdotal evidence aside, how these potentially anarchic devices may find a place in a company's IT strategy or the school curriculum remains to be seen. Further penetration of tablets in the business arena and educational settings is a given.
Resources: 4 strategies to leverage usability tests, Using great visuals = Failing your customers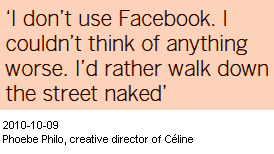 Trend 4: 2011 will mark the start of an increasing group of users cutting down their 'connected' time and removing the 'noise'-type offerings from their email or RSS-feed inbox. Moreover, beyond a few technophiles, the use of  location-based services will fail to take-off in 2011.
What changes do you think we will experience in 2011? Will the increasing use of tablet devices in business and schools improve our productivity and learning?
Please share your thoughts with a comment below!
For more insights about these four trends, see the video below: