This week's social media measurement, social media metrics, ambush marketing and marketing buzz tidbits, tools and other happenings we came across while surfing the internet, blogging and posting on Facebook, Identi.ca, Naijapulse or Twitter.
Our focus is on Adidas, Nike, Toyota, Emirates, Visa and other heavyweight brands as well as the 2010 FIFA World Cup South Africa.
In case you missed previous weeks' memorable moments on social media monitoring, just point your browser to:
Don't miss the upcoming week! Sign up right now with your email to get the social media metrics insights first:
So here come the highs, lows and oddities I discovered through my various social media channels.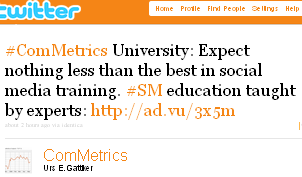 We had another webinar entitled ComMetrics University – Turning social media metrics into money.
Visit ComMetrics University – webinars held and download the podcast and slides – all you need is a free login.
Late Thursday we got around to releasing Beta version 0.3 of My.ComMetrics.com – benchmark smart – improve performance for your blog. The screenshot below shows improvements to graphics that are produced depending on the blogs tracked.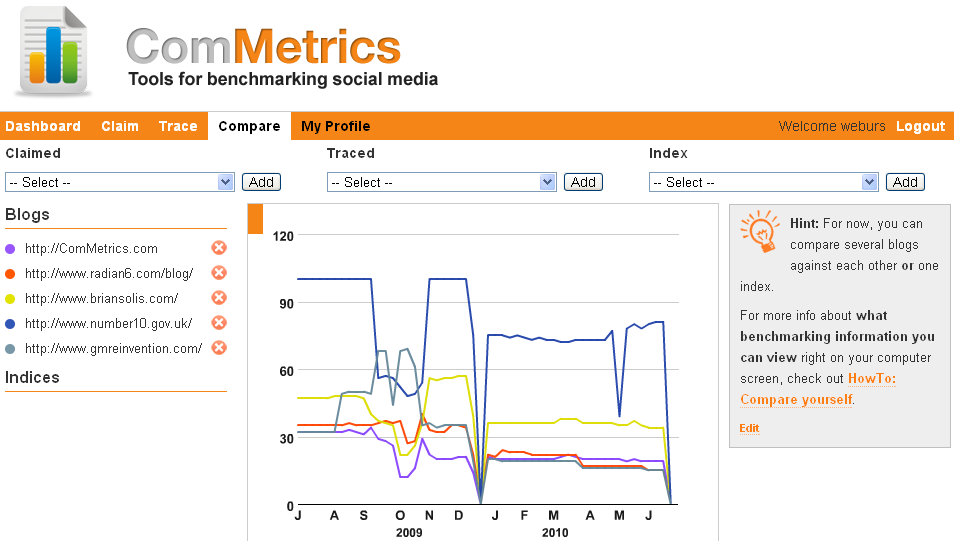 A few more services will be released sometime during the summer. Have a look and check out your blog's data.
The 2010 FIFA World Cup South Africa is in full swing and we have previously reported on it on this blog and our XING SM Monitoring group.
Official sponsors have used this event extensively to push their product(s), but ambush marketing by Bavaria beer and a clever advertising campaign by Nike have shifted the limelight away.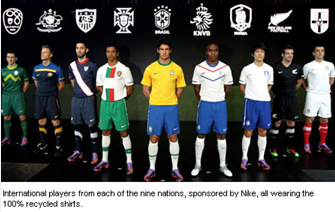 While sportswear company and FIFA partner Adidas has won regained marketing ground since the World Cup began, Nike is trying to create some buzz for its environmental efforts. Nike's bottles-to-T-shirts operation is one example. Apparently, each shirt consists of:
=> 100 percent recycled polyester, and approximately 8 plastic bottles.
The result of this effort is that:
– 13 million plastic bottles are used to produce jerseys for fans, resulting in
– 254,000 kg of polyester waste NOT getting dumped in landfills.
While this campaign is a laudable initiative, we all learned about the three R's, namely: recycle, reduce and reuse.
Hence, glass bottles with a deposit get re-used 16 to 22 times, and do not create the recycling challenge or environmental menace of PVC bottles.
In a recent story, The Guardian quoted Nina Stevenson from the Centre for Sustainable Fashion at London College of Fashion as saying that Nike's choice of material could be considered genuinely 'green':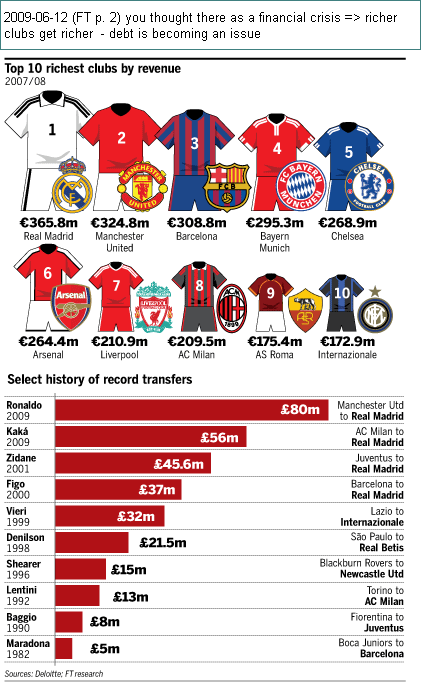 But Ms Stevenson is probably incorrect in claiming that Nike's approach is innovative because:
– already in 1993, Patagonia started manufacturing fleece out of post-consumer bottles,
– in 2007, Coca-Cola started producing its Drink2Wear series of t-shirts from recycled bottles, and
– in 2010 – using the 2010 FIFA World Cup South Africa sports event – Nike a Johnny-come-lately is letting the world know that the technology is worth our attention.
You can read more in the press release from the Information Office of the Republic of China (Taiwan). It also indicates how much energy it takes to transform PVC bottles into t-shirts for Kaka and friends.
=> 2010-06-09 Made-in-Taiwan products to help Brazil win the 2010 FIFA World Cup South Africa Carbon Footprint battle – three-page pdf file (139 KB)
Incidentally, heavy investing for new players by Barcelona and its rival Real Madrid are continuing their epic war during the 2010 FIFA World Cup South Africa tournament. As the chart above shows, a new record will likely be set after the #WorldCup 

, making us mortals wonder once again.
Saturday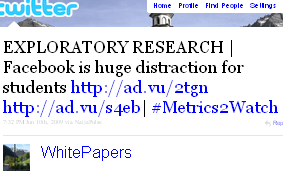 We all know that media use by teenagers and young adults is continuously increasing and has been for the last few years.
An exploratory study was recently conducted using college students at Ohio State University as subjects. Those who use Facebook spend less time studying and have lower grade point averages than students who have not signed up for the social networking website.
=> Using Facebook – if a student – watch your grades go down
This week I came across another study that indicates that extensive use of social networks and high media use (e.g., computer, watching TV, using Facebook) lowers a student's high school grades.
The study proves once again that there is such a thing as too much of a good thing.
I wonder when we will get the first study that shows that people's work performance drops if they use social media too extensively? What about negative effects to one's career prospects by being iPhone-, BlackBerry-, Facebook- and/or LinkedIn-addicted?
Finally, are you addicted to Facebook, or do you maybe fail to do your job properly or spend too much time online instead of taking care of your family?
=> Facebook addiction vs Twitter geeks – which are you?
Sunday
FIFA has six partners (e.g., Sony, Emirates – the airline, Adidas, Coca-Cola, Visa and Hyundai/Kia Motors). In addition, the 2010 World Cup South Africa has six national supporters and eight international sponsors. The latter includes such companies as India's Mahindra Satyam, South Africa's MTN, South Korea's Yingli Solar and America's Budweiser, Castrol – one of BP's brands, Continental and McDonald's as sponsors. So what do we know:
– approximately €88 million (US$110 million) was paid by each partner, giving them access to 9 minutes of advertising time per match;
– international sponsors get 4.5 minutes of TV advertising per game; and,
– the 8 national supporters pay less for less coverage.
The tournament, Africa's first World Cup, attracted nearly US$1 billion in sponsorship. Emirates claims that the sponsorship deal allows it to reach 2 billion people and provides online exposure worth about US$3 billion. Whether the 2 billion people exposed to Emirates will ever fly with the airline is unknown. How can Emirates prove its claims of increased exposure through social media measurement?
We would love to know, because according to a quick analysis we did around our office, the company gets much less than it claims… Of course, telling us otherwise would certainly have resulted in Emirates' CMO (chief marketing officer) and ad agency having their contracts promptly terminated.
Incidentally, Nike's pre-tournament ambush marketing campaign against rival sportswear maker Adidas apparently fizzled between June 11 – 25, if we were to believe the NM Incite folks. But how the buzz was measured is unclear:
The NM Incite follow-up study compared the share of online buzz between World Cup sponsors and their major competitors in relation to the World Cup in the run up to the event (month-long period ending June 6th) and during the first two weeks of the tournament (11th -25th June). English language World Cup-related messages on blogs, message boards, groups, video and image sites – including Flickr, YouTube, Facebook, and Twitter – were monitored for the study.
I prefer more simple and less convoluted approaches to measure whether something works, like this South African restaurant owner, who said:
"Two years ago I sold three cases of Coca-Cola a week in my restaurant in Soweto, now it is more than three cases. I attribute it in part to me having been kitted out as site to allow my customers to view World Cup games. As you can see, Coca-Cola provided myriad decorations including the flat screen with frame in the drinkmaker's colors to help push its brand. Looks as if it is working…"
Final note
Toyota is still damaging its brand, having been forced to recall more than a quarter of a million Lexus cars after discovering that an engine component was susceptible to cracking, which it said could cause the vehicles to stall.
That wraps up this week's social media diary. Please let me know how you feel about it – your opinions matter to me!
Please leave a comment below.
Article source: ComMetrics weekly review: Sponsors get kick out of World Cup