3 questions about the Social Media Examiner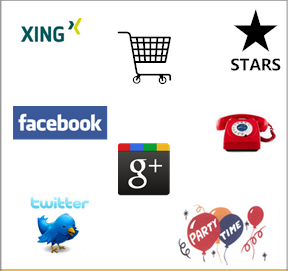 Do blog comments add value?
Are buzz-type comments good enough?
How helpful is the Social Media Examiner's content really?
Keywords: Social Media Examiner, cost, marketing mix, ROI, return on investment, strategy
Please answer my questions at the end – I need your feedback to decide.
2013-11-03 Update: If you read German – here are some examples of GREAT corporate blogs in Austria, Germany and Switzerland.
The first entry in this series of blog posts about corporate blog strategy can be found here:
Daimler blog: Reader comments ROI, anyone?
By the way, do what 5,000 other subscribers have done – sign up for our FREE blog newsletter!
1. Corporate blog comments – do they add value?
In our previous blog post, I pointed out:
Unless we want to just broadcast our news, disabling comments is not an option in today's Web 2.0 world. The challenge is to manage possible comment and trackback spam. Moreover, you must decide how long you will allow comments on your corporate blog.
But before we can hope for comments we need to address the following questions regarding how much interest our content will inspire among our primary target audience, namely:
Why should they care? ===> about the content, silly!
Will they be inspired to share? ===> your content with their friends.
Will they be motivated to engage? ===> to write useful comments about your content…
Will this result in sales? ===> or at least build more trust in, and recognition of your brand.
As the example below shows, the Social Examiner is very successful in getting its users inspired to share their content (sometimes from guest bloggers) on various Social Network Systems (SNS). The shares on Twitter and LinkedIn for the post below are impressive and show that their readers must love this content. Why else would they share, right?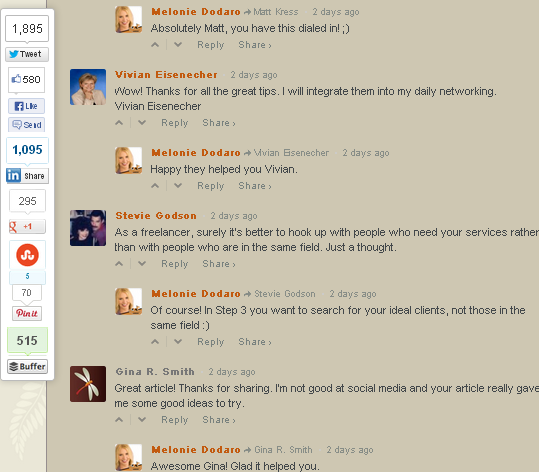 2. Corporate blog comments – is buzz good enough?
As the above shows, readers of the content posted by The Social Media Examiner love to share it. Most blog entries on the Social Examiner get a lot of buzz, and many readers comment about the content. But how well does this type of engagement compare to other social media blogs?
As the table below suggests, the Social Media Examiner scores 88 points out of a possible 100 in its category of social media blogs (WOW – hats off). Compared to all US blogs – this includes NFL and NHL blogs – it scores 68 points, well above the average score of 50 points.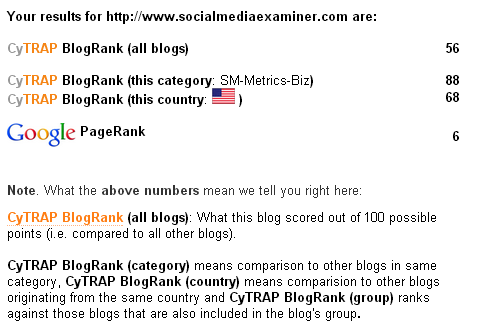 As the graphic below shows, however, the ranking the Social Media Examiner blog achieved improved markedly during September 2013 and then fell continuously again from the middle of September until late October 2013 (when we released this blog post – for the latest graphic – just click the image below).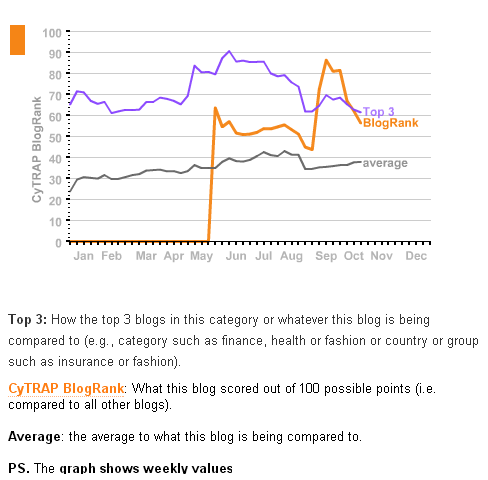 One reason for this drop is that comments have recently become shorter. Also interesting is that authors' replies to readers' comments have become somewhat less in-depth than previously (see above). Who knows why…
Checking the statistics about commenting also shows authors have been less forthcoming with responses compared to early September.
Recommended: CyTRAP BlogRank – Check quality of engagement on The Social Media Examiner
3. How helpful is the content on the Social Media Examiner?
As the graphic below suggests, to get readers interested means offering practical content on the blog. This helps your audience solve a problem or use your information to improve their golf score, for instance.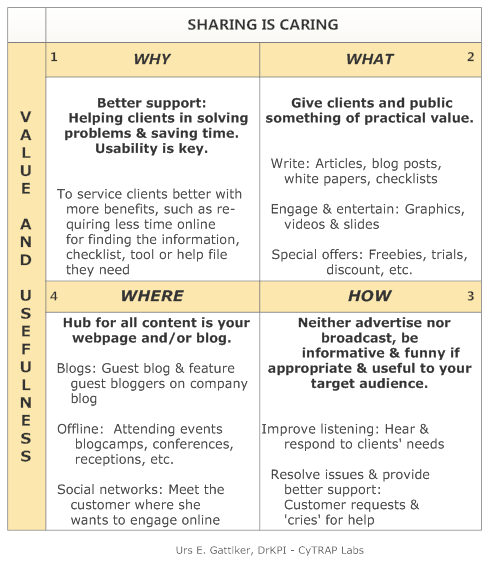 The above image shows that the Social Media Examiner produces and offers its readers both valuable and useful content, passing any test of this kind with flying colors.
Can you top them? Well maybe not, but you can improve by tracking your corporate blog's reader comments for comparison. This is a tall order, of course, but the quality and quantity of your blog's reader engagement will nevertheless improve – guaranteed!
Recommended: Urs E. Gattiker: Social media ROI: 3 things we usually do wrong (in German), 3 golden rules for social media marketing
What is your opinion about The Social Media Examiner?
Did I forget something important that you like about that blog?
What strategy have you been using to increase social sharing of your blog's content?
How do you make sure that you get reader comments – maybe not in the numbers the Social Media Examiner does, but still… what tips could you share?
Thanks again for sharing your thoughts and insight – I appreciate it, as always.
Find more on Google – corporate blog, KPI, ROI, metrics, conversation, engagement
---
The author: This post was written by social media marketing and strategy expert Urs E. Gattiker, who also writes about issues that connect social media with compliance, and thrives on the challenge of measuring how it all affects your bottom line.
His latest book, Social Media Audit: Measure for Impact, appeared in November 2012 (Springer Science Publishers), and he is currently hard at work on the next one.
Connect with ComMetrics on Google+ or the author using: Email | Twitter | Google+ | Xing
---