Social media monitoring DOs and DON'Ts: social media marketing, social media metrics, social media monitoring tools, benchmark test, Twitter monitoring, luxury branding, and other happenings we came across while surfing the internet, blogging and posting on Facebook, Identi.ca, Google Buzz, or Twitter.
Check previous ComMetrics weekly review posts for more tidbits, insight and intel.
In this post, we share some interesting things we learned about who owns your LinkedIn or Xing connections and what about your online bio on Ziggs and why geo-tagging or geo-location services are still struggling to attract mainstream users.
Who owns your contact list once you leave?
Connecting with a person or group of people you know through work after leaving an employer can result in claims of violating the employer's trade secrets. But things quickly get convoluted. For instance, who owns an employee's LinkedIn connections if many of them pre-date the employee joining the firm?
I simply find it impractical to put any claim on an employee's LinkedIn, Xing or Facebook connections. When the individual leaves our employment they take their contacts with them, benefiting the new employer. By the same token, our company benefits when new employees bring their contacts with them.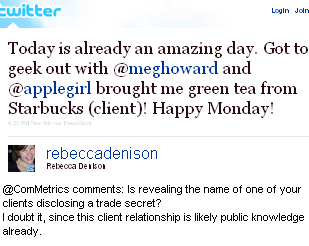 I find our company does most things right, so we have little to fear if our secrets get out. There is no magic ingredient to success to be found in a person's network of contacts.
Of course, if one were to get customer details this way, we could have a problem. On the other hand, we all know who our competitors and their major clients are, so what is the big secret here?
The fuss over social network contacts and information shared with one's social network or groups (e.g., LinkedIn) suggests that a great prize is awarded for gaining access to such data. Really?
Having a long-term relationship with a client that has purchased and been satisfied with our product and services for years should be worth something. It usually makes it impossible for a competitor to just call them and snatch the contract out from under us.
Finally, regarding our social media guidelines for staff and clients, we note:
"… their spirit must be observed as well as their letter."
How using social networks and connecting with a person or a group of individuals could result in a claim that a particular connection of a former staff member in and of itself violated the employer's trade secrets remains a mystery to me.
What is your opinion? Share please! Surely a social media savvy court would see that this makes no sense… but who knows?
We advise colleagues and team members who leave our company to negotiate clear terms relating to their contact network before signing on the dotted line for a new job, but we are happy to have them take their social network connections with them. Go in peace and stay in touch…
In case you wondered: How can I delete a LinkedIn account? The answer is:
1. Log into the account you wish to close.
2. Click on 'User name' found at the right hand top of the home page.
3. Click on 'Settings'.
4. Go to section 'Personal Information' – click  'Close Your Account' .
5. Select a reason for closing your account.
6. Click on 'Continue'.
Just to be clear, once an account is closed one has no longer access to any information that was previously stored including one's contacts.
If you closed the account by mistake, contact Customer Service to have it re-opened.
Resources: Who owns an employee's LinkedIn account?, Is social networking disclosing your trade secrets?
Stay ahead of the competition, enter your email address below and get the next blog post first. You'll be glad you did.
Geo-tagging or location-based services – not so popular
If you believe venture capitalists or retailers, location-based services are wonderful things and everybody wishes to use them as extensively as possible. Various companies have started offering loyalty or reward programs using location-based services; one of the first was Tasti ice cream.
We tell our team not to use geo-based location networks for privacy reasons and to protect clients. To ensure this works, we have carefully set up our Facebook options:
Now a study conducted using phone interviews to collect information from a representative sample of American online users reports:
– 1 percent of adult Americans use a location-based service, such as Foursquare or Gowalla,
– 4 percent use this service at all, down from 5 percent in May 2010, and
– 6 percent of people using social networking sites also used location-based services.
Since Facebook has now entered the fray, they may go more mainstream than they have so far.
Nevertheless, it seems many users still wonder. Moreover, the amount of useless 'noise' one gets while using such a service makes it nearly impossible to monitor these feeds carefully besides Twitter, LinkedIn and Twitter. And yes, location-based discounts have little to do with social networking.
Trend: There will definitely be a group of early adopters continuing in using these services. But simply announcing to the world that I am downtown, hungry or at Starbucks and lonely gets boring fast. Thus, I doubt that more than 20 percent of social network users will starting using geo-tagging or location-based services within the next five years.
What is your opinion? Share your thoughts; I will reply to your comments.