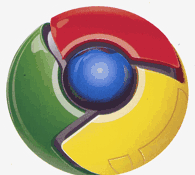 When it comes to data services, social networks, cloud computing, mobile and music, market concentration is constantly on the rise. Could this mean the burst of another bubble, once again requiring taxpayers to foot the bill?
Below, we discuss this from a Web 2.0 perspective. In the meantime, to keep up with our latest posts, why not just enter your email below to get the information first?
2010 will bring more players: Defend your turf!
Once upon a time, Nokia released a mobile phone that was basically re-sold by various operators in numerous countries and any subscriber revenue stayed with the operator. Apple's iPhone revenue sharing deal has changed all that.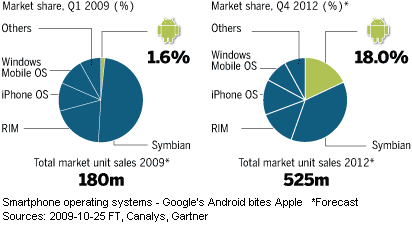 Google's mobile operating system Android is also challenging Apple's dominance. With this, Google is attempting to make sure that consumers continue to use its search function from their mobiles.
THE BATTLE IS ON: Who owns the customer?
The one that 'owns' the customer can provide mobile data transfer, services and devices as well as data storage, music files and so forth. The giants are moving into each others markets and the fight for survival is on.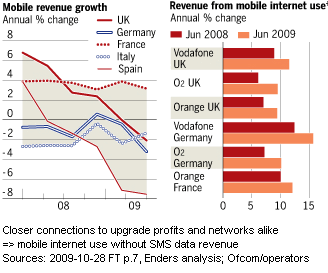 For instance, mobile operators like Spain's Telefonica need to protect their healthy revenue growth in the mobile internet use business (see image at right).
Given the above, mobile phone providers certainly did not appreciate the Apple revenue sharing deal they had to submit to.
Nor are retailers and booksellers smiling about Amazon and Wal-Mart stealing away market share by sometimes selling at deep discounts just to gain market share in countries they operate in.
2010 will bring more customer rights and choice: Really?
Google has leveraged computing in the cloud by offering ever more services for 'free'. Amazon is riding the increasing demand for e-readers as bibliophiles around the globe turn to digital books.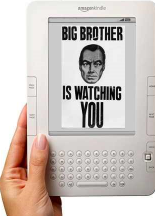 But market dominance can result in consumer rights being violated. For instance, Amazon erased copies of a book title from its clients' Kindle device in July 2009 (think YOU own the data – think again).
Take-aways: 4 ways to prepare for the inevitable data bust
1. Oligopolies are a bad idea – as the credit card market has demonstrated, having a few players only increases the costs for end-users. Therefore, a wider choice of online booksellers beyond Wal-Mart or Amazon is in the best interest of consumers.
2. Systemic risk increases as a small group of companies become too big to fail – remember the 2008/2009 financial crisis… the case of too big to fail seems to repeat itself in the Web 2.0 world, or can we afford to let Google shut off its servers?
3. Dependability and availability of data are threatened – what happens if a company goes bankrupt or your data have been erased? What impact will this have on a country or economy if the cloud computing infrastructure is out of order for a few hours or a day? Regulators need to get onto this act quickly, because companies and consumers cannot manage this risk alone.
4. Data protection and privacy laws – with cloud computing, nobody knows exactly where data are stored anymore and which national laws apply. Neither the EU nor the US have negotiated an agreement on this issue with such important outsourcing countries as India. If regulators continue to fail to see the writing on the wall in 2010 as the Securities and Exchange Commission (SEC) did in 2006 regarding financial markets in the US, a real data disaster is just waiting to happen.
More resources about cloud computing, power shifts in mobile data usage, and more:
Bottom line
With only a few large players, the systemic risk of a crisis increases. Sometime, somewhere this data-bubble-in-a-cloud will bust, leaving us to pick the pieces. Accordingly, if we want to avoid having to turn off the power on server farms or paying for another government bailout involving digital data and cloud computing, we must take action in 2010.
This unraveling may not occur for some time, as easy money and excessive global liquidity will push the value or share prices of these corporations for a while. But the longer we wait to grab the bull by the horns and deal with it, the bigger the fall-out will be from possible digital data losses that will be huge and extremely costly.
Your turn. Are you ready and is your company compliant regarding cloud computing? Do you worry about your rights regarding your e-reader or your cloud-stored data? We look forward to your comments, insights AND opinions on this issue.