This ComMetrics post focuses on why social media marketing usually is not social and illustrates this with examples from Melitta, Electrolux, Apple and others.
1. Correct procedures – the KISS principle (keep it simple, stupid)
There has to be an easy way for clients to get in touch with customer service. Electrolux is a good example: some divisions give clients the opportunity to send a question in via email.
The fact that not all divisions do this is a lost opportunity, because as point 4 below shows, getting a request via email helps channel the question to whoever can best and most completely answer the customer's request.
For instance, I left an email on the webpage about vacuum cleaner bags at Electrolux Germany last Friday and had an answer in my my email from the Swiss subsidiary by Monday morning. I was told not only which bag to buy, but most importantly, which stores had it in stock in my neighborhood.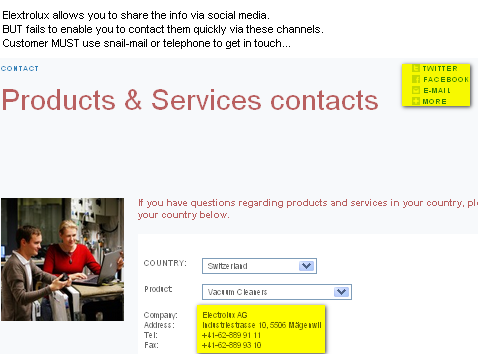 2. Limit the need for inquiries
Remember that filling out an online form with a request for support or allowing emails with questions (e.g., Lex Column – Financial Times) does not mean things go right and the client gets what they need.
For instance, the Lex Column recently stated that, "UBS calculates that while Wal-Mart takes almost 12 percent of US retail sales falling outside the 50 largest metropolitan areas, it accounts for only 6 percent of sales in the urban half of America." (FT 2010-09-20, p. 12).
First, neither the print nor online versions of the article provide a link to the sourced UBS white paper. Emailing and failing to get support also illustrates that the Lex Column people apparently have no proper internal procedures in place to enable responding to such a request.
Incidentally, emailing UBS analyst Neil Currie did not produce any response either, which is rather unusual, because other analysts from UBS have information very quickly in the past, including links for downloading content.
Take-away: To save everybody time (i.e. not have the client to call or email you), make sure you systematically anticipate whatever the client may need, and provide support such as FAQs, operating manuals or a hyperlink for downloading a white paper up-front.
But before learning more about essentials 4 through 6, why not enter your email to get the next post first; you will be glad you did:
Let us illustrate this with an example from Apple and Apps: "We have over 250,000 apps in the App Store. We don't need any more Fart apps. If your app doesn't do something useful or provide some form of lasting entertainment, it may not be accepted."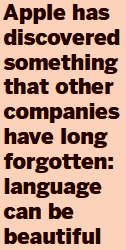 Some, like FT columnist Lucy Kellaway, find this kind of writing, "…direct, comic and elegantly threatening."
"We will reject apps for any content or behaviour that we believe is over the line. What line, you ask? Well, as a Supreme Court Justice once said, I'll know it when I see it. And we think that you will also know it when you cross it."
Take-away: Being elegantly direct if not threatening does save time, but for most brands and cultures such abrasive language may not help build a dedicated following of clients. And yes, Apple is an exception and Lucy Kellaway's advice is disastrous for smaller companies.
Most staff must be trained to follow this mantra:
Interact and connect with clients. If you cannot help someone directly regarding any of your services, products and so forth, send them to the appropriate department, person or social media channel.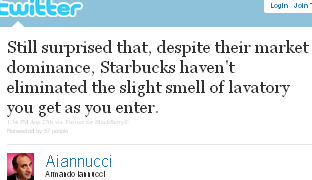 Follow up personally or make sure a colleague does so within 24 hours. Please read the client's email, instant message or tweet carefully, then collect the information you require to give a complete answer. Often, calling saves time and instantly provides the client with the answer and details they need (i.e. avoid back and forth emailing, messaging, or tweeting).
In today's virtual world time is of the essence and your public holiday or weekend may be a client's normal workday!
Note: Above excerpted from the ComMetrics (a division of CyTRAP Labs GmbH) social media policy resource page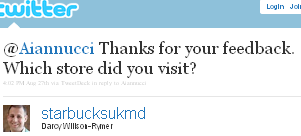 Take-away: Starbucks UK's manager answering tweets about service or bad smells at the local shop might not be the most efficient use of his time, nor will it resolve the root of the problem. It might be smarter to give the person a call (see example below).
6. Beware of the scalability challenge
The fact is that globalization has made best communication tough with people from around the globe, in different time zones and from vastly different cultural backgrounds.
When Steve Jobs told a journalism student off last week via an email, the media had a field day:
2010-09-27- Google search: Chelsea Isaacs "Long Island University" "our goals do not include" "Steve Jobs"
Most worrying to me was that some media people, like the Guardian's journalist, failed to see the bigger picture:
2010-09-20- The Guardian – Steve Jobs: not what you'd call helpful to a trainee journalist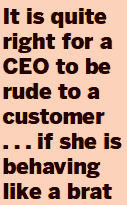 Let us be clear: a CEO like Steve Jobs has better things to do than help a student write her paper for a university course. Of course, if this had happened with my company's CEO, the student would have gotten an answer. But at most, we get one such request a month AND we enjoy giving an answer since it allows us to gain some more insight.
Let us be frank, unless Apple has a procedure to deal with thousands of requests every hour of the day (see points 1 & 2 above) and it truly wants to engage with its clients (remember, this company neither has a blog nor engages with clients on social networks and removes negative comments from its online community), why would any student expect a response from the media office, much less Steve Jobs?
By the way, even the ABC News people thought it was worth a two-minute segment, showing an indignant student and another journalist who fails to see the bigger picture.
Take-away: If you are Apple you can afford not to answer and, most importantly, may not be inundated with such requests. A smaller company must focus on somehow managing this scalability with proper procedures as outlined in points 1 through 5.
Bottom line: More take-aways
Following the above six hints reduces the chances of students such as Chelsea Isaacs getting indignant when a CEO like Steve Jobs does not answer her questions due to lack of time or legal obligations to corporate responsibility.
If all else fails, a client may need to send an email with the pertinent information. Just make sure that they get an appropriate reply or at least a URL for a source to solve their problem in return.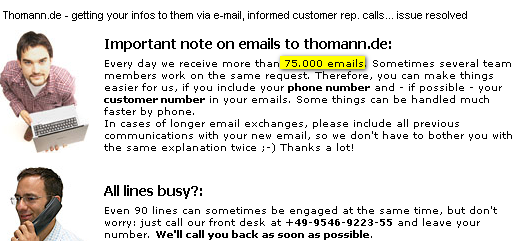 The fact is that unless you consider the above, you will likely be unable to answer customer requests from around the globe. The result is lost sales and disgruntled clients, something nobody wants.
What is your experience in these matters as a customer or employee? Tips, war stories; please share with a comment!
Below is a short 3 minute video about this blog post: