Summary
Vodafone takes over Groupon as mobile revenues from average Android users drop dangerously low, and a takeover seems imminent at RIM (Research in Motion, manufacturers of the Blackberry).
By the end of Quarter 3 of 2011 Android had a 52.5 percent share of the global smartphone market, up from 25.3 percent in Quarter 3 of 2010.
In contrast, iOS's share has declined from 16.6 to 15 percent, and BlackBerry's from 15.4 to 11 percent over the same period.
More often than not, predictions are wrong or obvious. For instance, it is obvious that netbooks – introduced in 2008 with a 10-inch screen for about €400 – are being replaced by notebooks with more computing power for hardly more money, so netbooks will disappear in a year.
And Facebook's failure as a retail platform will persist in 2012, defying retail experts' recent excited predictions that 'social commerce' – jargon for shopping via social media sites – would be the next big thing.
Finally, it is clear that Apple may well begin offering television sets in 2012.


However, the above predictions seem obvious and fail to threaten or challenge your business model. But here are three trends you should keep in mind.
1. Handset manufacturers continue expansion into value added mobile services – big time
Apple showed us how it is done by forcing mobile operators into revenue-sharing deals for iPhone. Now, small handset manufacturers have discovered that there might be more money to be made by providing users with value added mobile services.
For instance, Xiaomi's Mi 1 handset sells for half the price of other devices with similar processing power (about US$315). Despite not making a profit at this price, the company has introduced mobile messaging tool Michat, as well as other free (so far) applications. Xiaomi hopes to increase profits through accessories sales and value added mobile services in China, as well as abroad.
Prediction 1: Handset manufacturers' response to continually shrinking profit margins will increasingly include offering smartphone users value-added services and accessories, in a bid for a bigger slice of telecom providers' revenue pies.
2. Blackberry falls further behind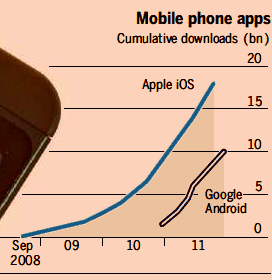 Android recently hit the 10 billion mark, narrowing the gap with Apple. Nevertheless, Apple users download twice as many apps, making them more engaged.
In 2010, we stated that smartphone pricing would fall to about US$100 by the end of the year, and the market for low-price smartphones continues to grow in 2012.
Some firms have even publicized that, in a typical month, they make 10 to 20 times more revenue from an iOS user than an Android one!
By contrast, BlackBerry has had a terrible year. First, a service outage that infuriated customers; second, its PlayBook tablet has flopped since its April 2011 launch, selling just 800,000 units globally in the first nine months of the 2011-2012 fiscal year. In comparison, Apple has sold over 11 million iPads globally during the quarter ending September 2011, forcing RIM (Research in Motion) to offer steep discounts on its tablet (India enjoyed a 50 percent discount until the end of 2011).
BlackBerry used to be more than a device; it was cool and addictive. One reason was that it allows users to send free text messages (SMS) to other BlackBerry users (all you need is their PIN), making it especially attractive to youth.
Third, RIM had to delay the release of BlackBerry London, the first unit to run on RIM's new BBX mobile OS, until Quarter 3 of 2012. On top of all that, RIM's stock price fell from US$80 to about US$18 from March to December 2011.
Prediction 2: BlackBerry is falling further behind the competition, so unless RIM's newest device becomes a hit with corporate customers around the globe (release scheduled for late 2012), we predict that RIM will collapse or be taken over.
3. Swisscom and Co. take on Groupon in m-commerce
Telecom companies have faced consistent regulatory pressure, resulting in two things: profit margin erosion and others encroaching on their territory, including cable companies.
To gain market share, telecom providers have offered mobile Internet at competitive prices that have further reduced profit margins. Plus, increasing bandwidth use by smartphone users have made network upgrades a must.
The industry has pursued a three-pronged strategy to counter this:
A. Lobbying Brussels in the hope of gaining permission to charge Google or Spotify for bandwidth (zero success so far).
B. Offering users various add-ons and product bundles, which provide a discount when ordering more than one service (working, but at the expense of profit margins).
C. Getting into the m-commerce business, such as paying a yearly fee of CHF20 for a 30-35 percent discount at the movies (looks very promising).
Instead of taking over, Swisscom, Telefonica and Vodafone might just begin dominating Groupon's business space.
Prediction 3: Groupon-type deals offering subscribers out on the town hot deals for the evening or weekend (e.g., get 30 percent discount for up to 10 friends if ordering at restaurant X within the next hour) will bring increasing revenue for telecom providers.
More than encroaching on this business model, telecom providers will begin dominating this space, thereby making their mobile Internet services more profitable.
Since you have read this far, we suggest you enter your email below and join our 5,000 subscribers who get updates about ComMetrics direct to their inbox:
Bottom Line – the more things change, the more they stay the same
The trends we foresee for 2012 indicate the increasing integration of communication, entertainment and mobile Internet and the increasing cost associated with switching from Facebook to Google+ or iPhone to BlackBerry, etc.
Article source – 2012 trends: What makes a failure?
Even Google learned that it had to work harder to convince consumers to switch from Internet Explorer to its Chrome browser. 
It has succeeded in overtaking Mozilla Firefox as the number two browser
, assisted in the US with TV ads, for which its spending leaped from US$6 million in 2010 to US$38.1 million in the year to September.
The video below features Muppets Kermit the Frog, Miss Piggy etc. promoting the Google+ video chat component, and was aired in the US during primetime shows in the week before Christmas.
The above reminds us of two important business realities or lessons:
1. Google's fight to get your Facebook friends illustrates the winner-take-all syndrome, whereby many consumers see little benefit from switching services; because it is time-consuming to re-connect with Facebook friends on Google+, few users will try.
2. Whoever controls access to the consumer (e.g., telecom provider, handset manufacturer, Amazon, Apple, Skype) has the best chance of creating, growing and controlling new revenue streams.
How do you see it? What are your predictions for 2012?
See also, ComMetrics poll: Key trends for 2012
From all of us around the world at ComMetrics and CyTRAP Labs
We wish everyone a Safe and Happy New Year!
Tip: Search for more information about mobile communication, video and music trends in 2012 from CyTRAP and ComMetrics (click to query).
Please share your thoughts with a comment below!
TL:DR
@ComMetrics trendwatch: 2012 trends: What makes a failure? | Tweet This
"I'm thinking more and more that our technology is hindering our ability to experience the life in front of us." As this hilarious video asks, who needs Siri?