This post is about monitoring metrics to get results EVERY time.
Several weeks ago we launched the ComMetrics social media cost classification model (see also 2011 trends: The social media cost-benefit pyramid). Previous posts have addressed
We also outlined how to achieve better cost control of your Facebook activities as a whole and promote your brand on Facebook while staying on budget (watch another of our award-winning webinars and check out the slides). Now, we offer several posts that address the engagement issue:
Get the next post in our series about Facebook engagement, impact and ROI – and how to measure them – by signing up here with your email:
These days, everyone focuses on engagement and tools to improve customer relationship management using social media. In July 2009 I stated that Twitter is really not scalable and most of us will not gain clients through such interactions. Engagement can still happen in social business, but you have to go beyond the numbers to figure out what it means in the context of your organization.
The table below suggests what to look at when getting feedback in the form of a Facebook Like, blog post comment, tweet or re-tweet of something you shared.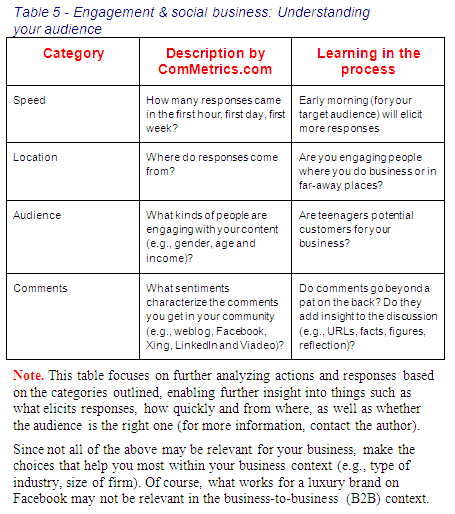 All else being equal – Understanding to engage
We are more likely to engage our target audience if we have a better understanding of them. However, this does not always work as planned and in some cases little of the hoped-for engagement will be forthcoming. In other instances, you unexpectedly get tons of comments that add great value and insight. Here are some tips and hard-learned truisms:
1. The more difficult the subject of a post, the fewer people will add a comment, so follow the KISS principle whenever possible.
2. The longer your post the fewer people will read it, so try to explain calculus in 140 characters or less.
3. Playing devil's advocate, and being counter-intuitive increases the number of audience responses, so provoke without upsetting.
4. Talking about a subject your audience craves knowing about helps, so discuss the latest and add a twist.
5. People increasingly get their information via smartphone or iPad, so make sure the headline and first two lines of each post entice readers to reach the finish line.
6. Unless all this engaging helps improve your bottom line, it is just a hobby – engage to help people develop enough trust to be willing to do business with you.
In spite of that, your context may be such that provocation fails. Your clientele might be so conservative and cautious (remember your local banker) that they will rarely if ever risk commenting on something you posted. In this case, the 900-98-1.5-0.5 rule applies, which states that maybe 1.5 out of every 1,000 people will click Like on Facebook and only every second person will take the time to write an insightful comment. If you do better than that, congratulations!
In light of this, who are your clients? What kind of image, brand and reputation are you or your organization pursuing (e.g., being hip and part of the zeitgeist or trustworthy and conservative)? This will determine what your posts look like, and as the research paper below demonstrates, fewer close social ties may be more helpful in fostering engagement and building relationships than many weak ones.
Okay, here are the questions I have for you:
1. How has engagement increased your product sales or donations to your cause?
2. Have you stopped engaging on Facebook? If so, have there been any consequences?
The comments, as always, are yours!
Include the word ComMetrics in your search query to find more information about customer engagement and relationship management and watch the video below.