Versace, the Italian fashion house beloved by Hollywood celebrities, unveiled a sweeping restructuring in late October that included shedding 26 percent of its workforce.

Recently, a fashion celebrity asked us what changes to their social media strategy would most help during the financial crisis and in 2010. We consulted our crystal ball and present you with our 2010 brand and blogging predictions for 2010. This is what we told our luxury-brand fashion designer over dinner.
Awareness and consideration of data bias: Test failed
Using data from services like Alexa, Omniture, WebTrends, Coremetrics or Unica requires addressing some basic statistical issues. For instance, it is important to identify any possible biases and keep them in the back of your mind when interpreting data and findings from any one of these services.
Some have gone on record suggesting:
"…the goal of third‐generation digital analytics is to bring rigor and mathematical precision to a practice that has otherwise been somewhat sloppy and imprecise."
=> The coming revolution in web analytics
While we agree with this statement, the fact is that statistics have been correctly used by many web analytics experts for ages. But we must understand what the bias in our data could mean. To illustrate, unless you have the Alexa toolbar installed in your web browser, your visit to a webpage tracked by Alexa is not registered by the service. Because companies do not allow the installation of the toolbar, those users are excluded from its data.
So, is Alexa data useless? Not if you are focusing on those who are most likely to have installed this toolbar: home users in the US.
TREND: Putting a greater focus on data bias in social media.
Biased data is not necessarily a problem if you know what the bias is and how it might effect your data. For example, users of the Firefox browser are quite likely to have a no-script plugin installed that makes tracking by cookie a bit more difficult.
The above could result in data bias, since more security savvy Firefox users may not be part of your sample. You would certainly want to know what this means for sales of your brand's perfumes or the latest fashions.
Listening to your customers and building trust: Hit or miss
We will see clients put more emphasis on understanding the basic assumptions and biases in data about social media usage. Besides this trend, systems and processes have to be created that can empower consumers and facilitate their participation and attachment to your luxury brand or company.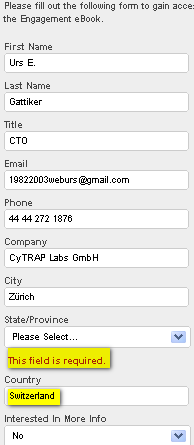 But this requires that engagement is a smooth and painless experience for the client. SNAFUs (Situation normal, all f*cked up), such as requiring one to choose a US state or Canadian province in order to access a white paper even if you live in Japan does not qualify (see image at right).
Listening to the voice of the customer would also require that you not send very polite emails seven days after the white paper was downloaded by the customer. Such a hard sell hurts the company's reputation, unless the client opted to get such emails.
TREND: Defining your audience and learning to join conversations are key.
Your real and true reputation is built by being an engaging and transparent provider of information that people can trust.
But building trust requires that the company refrain from using hype. For instance, reporting that 64 percent of consumers made a first purchase of a certain brand because of the digital experience is interesting. But our fashion designer immediately asked about the demographics of those users, including their level of Internet experience.
Listening to clients and giving them a voice requires respecting them which, in turn, enables their trust of the brand or fashion label. But this takes careful work and not respecting privacy or making the online experience cumbersome does not help.
More resources about 2010 social media trends, including customer voice, engagement and data bias:
Bottom line
By New Year's Eve we will once again have resolved that in 2010 we will exercise more and lose weight. But our fashion designer was not willing to wait and has started implementing a few of the things below before the year is out.
Take-aways
1. Managing data bias – starting in December, the company will compare this year's monthly data with last year and management will request information about possible factors that could influence results (e.g., press coverage, blog post, success in viral marketing – being lucky, and so forth).
2. Listening to the customer – to improve engagement, the company will put more emphasis on responding to comments made on blog posts and if helpful, approach clients directly to address their concerns. Results will again be reported to the public via the blog.
3. Building trust – the company intends to better enforce its opt-out policy, whereby white papers, pictures of dresses and so forth can be downloaded by clients, while divulging a minimum of personal information to the company.
Some top-end brands have been trying to make better use of social media to help sales during this economic downturn. By implementing the above three take-aways our fashion executive hopes to improve the bottom line.
P.S. – And for those who always want data, generally we end up with more data than we need, but probably not the right data to get the answers we are looking for.
Your turn. Are you ready for 2010 and how will you address data bias in your web analytics and Key Performance Indicator(s) (KPIs) to benchmark your blog? What will you do to improve customer engagement? We look forward to your comments, insights AND opinions on this issue.