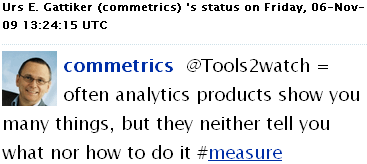 Every week we tweet about a lot of fascinating stuff, highlighting great content that is of interest to social media folks and corporate bloggers. The best way to keep track is by simply following us on Twitter. If you already follow too many people to keep track of, however, this weekly compilation provides you with our top tweets for the previous seven days.
Our top stories include how Barcelona's Picasso Museum and the Museum of Modern Art are blazing the social media trail, a great Webinar you'll definitely want to fit into your schedule, why Google's Dashboard is not alleviating the European Commission's concerns about user privacy, and why cloud computing means trouble for Amazon, Microsoft and YOU. Plus, check out some free Twitter tools, to better manage your brand on social networks.
In case you missed the last six weeks' best links:
Very useful links: Audi to Ecofootprint via PlayStation for week 39.
Very useful links: Toyota to Razorfish via PRSA for week 40.
Very useful links: FTC to marketing via Twitter for week 41.
Very useful links: Pepsi to iPhone via Google for week 42.
Very useful links: BarCamp to Morgan Stanley via eBay for week 43.
Very useful links: White House to Google Groups for week 44.
Don't miss the upcoming week! Sign up with your email right now to get it first:
If you are a #Xing member (if not, you can join for free): this weekend, we launched the Social Media Monitoring group – be one of the first 100 inaugural members! Your personal invitation is here #measure #publicrelations
B2B – Luxury Labels, Manufacturing
#things2read => Monetizing social networks: Four dominant business models and how you should implement them in 2010.
Straight to the Point – Webinar: Using Social Media to the C-Suite and Close Deals… #csuite2watch
Webcast => Determining the Value of Social Media for B2B Comp. Wednesday, November 11, 2009 at 10:00. Please register now!
FREE Tools for Twitter and Facebook: Tips and tricks
How to add re-tweet buttons in your pdf documents. Help readers share your great work! #tips2follow
#tips2follow => Twitter Lists 101: Etiquette & Strategies – or how to do it so it helps you as much as possible.
Get Your API Right – ropes to skip, API 101 #things2read#tips2follow
Trends to watch – museums, not-for-profits, WOW
#casestudy => Museu #Picasso Barcelona – great use of Facebook = engagement, thanks! @innova2
@MoMAlearning => the Museum of Modern Arts launched its blog with a great show: benchmark its progress at MyComMetrics and watch its impact – free tool.
Push aside barriers to Social Media Marketing #csuite2watch
White and research papers – trendwatch
#trends2watch => 2009 Business Social Media Benchmarking Study or what drives web traffic #metrics2watch
Social media trends for 2010 – some are obvious, but still a good read #trends2watch #things2read
#things2read #trends2watch The fog over the Grimpen Mire: cloud computing and the law: Are you compliant?
Make the c-suite believe – measurable social media and marketing is key #csuite2watch
Social Media – information security, privacy
Firefox and Chrome updates spike stability bugs #threats2watch
#Google dashboard: shows what kind of data each service keeps about you – better but… #privacy quo vadis
#things2read – 2010 trends: Data and mobile communication – Apple and Wal-Mart versus Amazon and Nokia – why you should worry about cloud computing and your social media strategy.
How To Spam #Facebook Like A Pro: An Insider's Confession #threats2watch
What did we miss this week? Please add your tweet that we missed in a comment below. Thank you.