This week's social media DOs and DON'Ts: Social media measurement, marketing buzz tidbits, tools and other happenings we came across while surfing the internet, blogging and posting on Facebook, Identi.ca, Naijapulse or Twitter.
Our focus includes UEFA upsetting fans, US consumers' worries, BP's oil spill, Italy hitting the brakes on 90,000 vehicles, the New York Times' digital ad boost, Facebook's continuing rapid growth and other heavyweight brands' trials and tribulations.
In case you missed previous weeks' memorable moments on social media monitoring, just point your browser to:
Don't miss the upcoming week! Sign up right now with your email to get the social media metrics insights first:
So here come the highs, lows and oddities I discovered through my various social media channels.
Today I came across some news that Syria has banned women from wearing the hijab, or full face veil, at its universities. Officials have been quoted as saying that this move is intended to protect the nation's secular identity.
Just a reminder: Last week, France's National Assembly backed a bill banning the wearing of the full face veil in public places. In turn, this took France a step closer to becoming the first democracy to ban women from wearing the hijab when shopping for groceries.
UEFA flexed its muscles again, but managed to upset fans in the process and anger the Swiss and French football associations. What is the issue, you ask?
Apparently UEFA believes that, "the organisation of football on a national territorial basis constitutes a fundamental principal and a well-established characteristic of the sport" (quote from FT.com).
Therefore, UEFA quashed Évian Thonon Gaillard FC's (ETGFC) hopes of playing its games in Geneva, a decision which has elicited scorn from many, including local politicians and fans.
France's Evian club had won promotion to the second division but had no venue befitting its new status or meeting UEFA regulations regarding security and capacity, etc. But just 35 km away, Geneva's new stadium (built for the 2008 European Cup) meets the highest international standards, including a train station.
In rugby, Biarritz regularly plays its home games across the border in Spain, but on June 8, UEFA decided this will not work for soccer.
Instead, Evian must now make more than €1 million in repairs to the Annecy stadium, which is much further away than Geneva, and play there. All because of an arbitrary line drawn on a map.
So far social media backlash regarding this decision has been limited for UEFA. And yes, considering increasing cross-border cooperation, this UEFA decision seems incomprehensible.
PS. There are precedents in the UK which would suggest that Evian should be able to play in a stadium in Geneva. For instance, Berwick (England) play in the Scottish League, and both, Cardiff and Swansea (two Welsh teams), play in the English leagues. Naturally, all with the approval of UEFA.
Consumer spending in Canada and the US is the biggest single contributor to economic growth. Now two studies report that consumers on both sides of the border are losing confidence in the recovery.
In fact, a majority of consumers believe that their economic situation has gotten worse. Accordingly, Canada and the US are unlikely to experience higher consumer demand in the upcoming months.


The Canadian data shows dropping confidence across the board, including expectations for the economy, income and future buying intentions.
In the US, the University of Michigan study reports that both the current and future expectation components of the survey were down about 10 points, to their lowest levels in a year or two.
By the way, measuring consumer sentiments, also called consumer attitudes, is interesting because these are correlated with consumers' spending decisions. Accordingly, rising consumer attitudes lead to higher consumer spending or at least a maintenance of current spending levels, while falling consumer sentiment tends to predict the reverse.
US government stimulus will fade in the second half of 2010 and consumers losing faith in the recovery suggests a drop in spending for the coming fall. How this will affect global spending… we can only guess.
Running an idle oil rig costs about US$500,000 a day. The US renewed and revised its ban on deep-water drilling to apply to any deep-water floating facilities with drilling activities. Some rig owners are now sending their idle equipment from the Gulf of Mexico to the Republic of the Congo.
While Representative Ed Markey is quoted as saying, "if we are going to drill in ultra-deep waters, we have to ensure it is ultra-safe and response to a spill is ultra-fast," oil executives feel it is once again business as usual, (see graphic).


As the above shows, Shell, ExxonMobil and Chevron are pretty confident that the mess that happened to BP will not happen to them. Only Total and ConocoPhillips are a bit more cautious and suggest that more work needs to be done on their side to improve their risk-management in deep-water drilling.
Some oil executives are already getting cocky again. How else could one explain Shell Alaska vice-president Pete Slaiby's statement to the BBC that, "The Gulf of Mexico may have been a wake-up call for some, but not for Shell."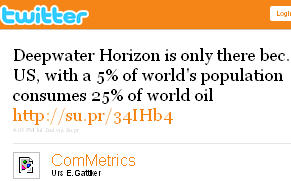 This week, four of the world's biggest oil companies announced that they are pooling US$1 billion to form a joint venture to develop a deep-water Gulf of Mexico oil spill response and containment system. Of course, this does not mean that Shell is finally cleaning up its act in Nigeria, where the environmental damage continues and has done for years.
Huh.
In July, Facebook announced that it reached 500 million members. This came five and a half months after it reached 400 million, with most of the growth in non-English speaking countries.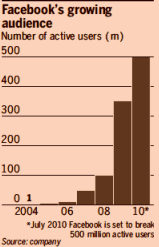 Over the past year, use of Facebook among Portuguese internet users went from 10 to 63 percent while in Brazil, user numbers have risen from 1.3 to 6 million.
Facebook's member numbers are on par with other big sites:
– 500 million (annual revenue generated by user = $2)
– 932 million users visit Google's search engine and other sites, including YouTube and Orkut (Google's social network) every month ($22.50),
– Microsoft draws 789 million users ($2.65),
– Yahoo has 633 million ($7.65), and
– about 140 million people visit a FriendFinder site in any given month (no revenue numbers available).
In June we also shared some trends and graphics that indicate print media's drop in revenue in the US.
=> Wall Street Journal, New York Post, New York Times, Le Monde – Dropping ad revenues and continuing losses
The New York Times (NYT) reported this week that it enjoyed a digital ad boost that increased its online ad revenue by 21 percent, year-on-year, off-setting a 6 percent decline in print advertising revenue. More than a quarter of its advertising sales now come from online businesses.
The NYT plans to begin charging readers of NYTimes.com in a so-called metered model that would offer a limited number of free articles, similar to FT.com and others.
Italy has decided to hit the brakes on some 90,000 limos, 10,000 of which – including drivers – are used by elected politicians, 20,000 by appointed officials and 65,000 'grey cars' for general transport, such as deliveries. Of course, police cars and so forth are excluded from these numbers.
The cost of this 'auto blu' is estimated at €4 billion of taxpayer money. Prime minister Silvio Berlusconi's office has reported that it has 30, some of which are Maseratis. Under pressure from the public, Italy's minister for cutting public sector waste Renato Brunetta is walking these days.
Will we see Mr Berlusconi walking around Rome too? Don't hold your breath: he talks about cutting the budget deficit but fails to show the way when it requires tightening his own belt.
Additional resources
Article source: ComMetrics weekly review: UEFA screws up as Berlusconi walks
What is your opinion? Please share, discuss and leave a comment below.