Companies using social media marketing as part of brand management require staff to do the job right. In theory, engagement requires web relations specialists who constantly monitor the channel, meaning staff spend their time on Twitter or Facebook engaging with clients and helping them find solutions when problems arise.
An increasing number of companies has accepted social media as part of their public relations and communications strategy. These tools can drive sales and help you reach new markets; they can also create public relations nightmares.
So while social media has gone mainstream, quite a few companies continue to struggle with achieving effective engagement. This post addresses the social media DOs and DON'Ts for companies that want to keep up with their engaged community.
==> Update 2010-07-28 – ComMetrics – Social media policy DOs and DON'Ts: 8 essentials
If you missed a few of these posts, please check:
But first, sign up with your email to be among the first to get our next blog post.
Effective social media use that achieves desired results: How to get there
Here are some tips on how companies can use social media smartly as part of their business strategy.
1. Answer the critics: It is important to listen and respond to all clients, not just those who rave about your company and product(s).
2. Empower users to engage: This means giving them a voice and content to work with; allowing them to comment on blog posts and NOT removing negative comments from user forums, blogs, etc., but responding respectfully with facts.
3. Be personable: It is a delicate balance to strike between being a personable social media user and representing the brand in a professional way on personal Twitter or Facebook accounts.
4. Empower your staff: Everybody is a social media evangelist and to make it work properly, staff across the enterprise must be empowered to leverage social media in support of the brand and its product(s).
5. Tend your garden: Social media takes effort and time, whereby better customer service and client engagement help build a dedicated following – word-of-mouth marketing supports the company's sales efforts.
6. Start, set and re-assess proper objectives: Do not expect to do it perfectly right from the start, but rather start today than tomorrow and watch the trends in order to make adjustments as needed.
7. Provide staff with guidance: Decide what guidance to give all staff on expressing their own, and their company's opinions through their personal social media channels. Corporate social media guidelines are a prerequisite.
8. Connect with your audience: Whatever tool or channel you try, social media content is read by people from different countries, cultures, religions and levels of education, requiring that you write like the average wise and polite person on the street, and speak the lingua franca (universal language) so people get the message right away.
Bottom line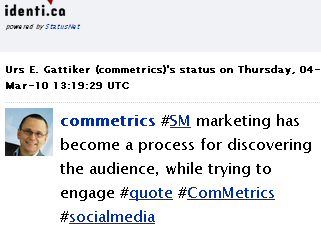 If the company follows the above DOs and DON'Ts, a level of savvy and understanding can be attained that allows the effective use of this technology to leverage your brand.
We will continue our DOs and DON'Ts series throughout the summer, so please join us.
Have an opinion on this? Did we forget a DO or DON'T for social media that you know about? Please share in the comments; I love to hear what works for you!
Article source: ComMetrics – Social media DOs and DON'Ts: 8 pivotal tips