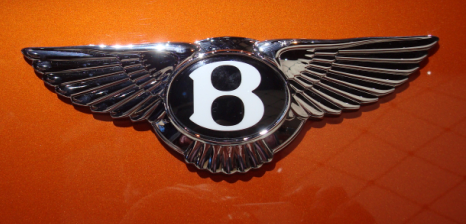 This blog entry focuses on two issues:
Does social media play well at a car show?
How big a difference can staff make?
For this article, we went to the Geneva Motor Show / Genève Salon de l'Auto last week, and put brands like Bentley, BMW, Bugatti, Ferrari, Ford, Lamborghini, McLaren, Maserati, Mercedes, Peugeot, Suzuki, Tesla, Volvo, and many more to the test. Read about our findings below.
Keywords: Bugatti, Bentley, BMW, content marketing, engagement, DrKPI, Ferrari, FordStore, KPI, Land-Rover, marketing buzz, measurement, Mercedes, Mini, ROI, strategy, Volvo, #SIAG, #SocBiz, word-of-mouth marketing.
Get blog entries via email – Marketing strategy, trends and measurement
How do these brands interact with the public?
Ferrari is considered the world's most powerful brand, but my son considers it totally unattractive. Why? Well, when he wanted to inspect those fancy pieces of road equipment he was told by the Ferrari guard that access is granted, "by invitation only". My son's reply in broken English – "I am a kid, how could I have gotten one?" – left the Ferrari employee speechless. But instead of recovering and letting him in while I waited, he just mumbled something about "sorry." My son's reply: "I don't want to be a fan of a car that treats kids like this. It sucks…"
And if you thought Ferrari was the only one with bad social skills, you would be wrong: Bugatti is quite similar. The VW brand has lots of people standing around – both men and women – but nobody is approachable for a kid to ask any questions. Bummer.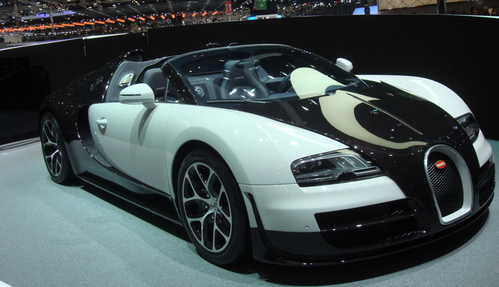 Interesting read:  Foy, Henry (February 19, 2014). Exclusivity helps Ferrari roar away. Financial Times, p. 14. Retrieved February 19, 2014 from http://www.ft.com/intl/cms/s/0/48c59732-9891-11e3-a32f-00144feab7de.html
Check your messages or serve clients? Pick one.
Another challenge is smartphones. While most booths have staff, they are generally busy texting with their iPhones, as we found at Koenigsegg Automotive AB, a Swedish manufacturer of high-performance sports cars (also known as hyper cars). The lady was barely willing to look up from her screen to answer my son's question with, "We only sell Koenigsegg fan items, no catalogues." My son was not amused, but politely thanked her – and she went back typing.
What about others? Some companies are much more responsive, polite and helpful. Mercedes-Benz and Smart did very well, based on my son's evaluation criteria. They were approachable and took their time. So did Jeep and others.
What surprised him was how differently brands of the same group did things. While Jeep did well in my son's eyes, Ferrari failed at approachability – both are part of Chrysler Automobiles NV.
Skoda tried hard, Bugatti failed, while Bentley again excelled – all part of Volkswagen. Bentley amazed my kid because the tall guy took the time to show him a few neat features, let him try out things, sit in the cars and so forth. The place was full of people, but he took the time and when asked explained:
"I am here to help people learn more about our cars. For me this means taking the time to share with you the unique features and other things our cars offer."
He got bonus points with my kid by explaining a few things about how the logo differs on two cars they exhibited, and how he could distinguish a V8 from a larger Bentley engine (tip: check out the exhausts, they differ in shape – one is like an eight…). What did my son do? He helped spread this information the next day by telling his pals during half-time of an exhibition soccer game he played. To me that is classical example of word-of-mouth marketing happening off-line.
Bottom line: This illustrates that producing great cars does not mean companies are wonderful when it comes to interacting and being social with potential clients (e.g., my son). Those brands that stumbled at the Geneva Car Show (e.g., Koenigsegg and McLaren) were far outclassed by others (Smart, Mercedes, Bentley, Skoda, etc.).
But what about social media?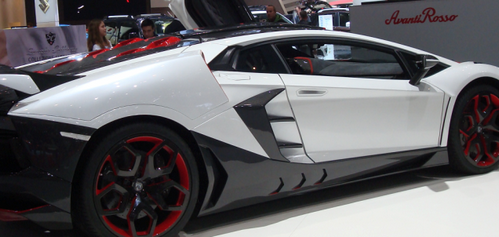 Geneva Car Show and social media
Many tried to do something with social media. For instance, Land Rover offered that old standby of taking a 'selfie' and posting it to one's Facebook account or emailing it to friends. But in the 15 minutes we spent there, not one person took advantage of this offer to produce yet another 'selfie'.
Then we went and explored the FordStore that was proud to state on one of its brochures:
"Share your thoughts for a chance to win some great Ford prizes – just ask the Social Media Team for more details!"
My son made two attempts to get the social media team's attention to no avail. They were sitting behind their counter staring into their screens and monitoring the social media channels (i.e. mentions on Twitter)…

I wanted to see if their monitoring work was up to standard, so I put them to the test and tweeted about our lacklustre experience some time later (see above). Unfortunately, they failed to even catch our tweet and the re-tweet by @WEFdavos. Yes, we used the right hashtags, etc. to make it easy for Ford's social media team to find the tweet(s).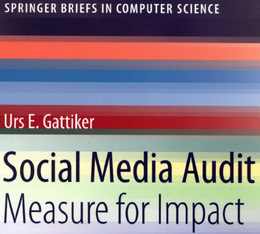 If I knew the person responsible for Ford's Social Media team I would send them a copy of my 2013 book (see right). For next year, I am convinced that Ford needs to set some objectives for having a staff of up to five hang around the social media desk. What are they supposed to accomplish? How will we measure their success or failure? What is quality performance? And much more…
Being a social media officer is one thing, but acting unsocial at a car show is a sure indicator that something is not working well for the brand.
Bottom line: Ford's social media efforts failed. Judging by the line-up, however, the old standby of offering clients a decent cup of coffee was a success. Incidentally, having somebody clear empty coffee cups while listening to their mp3 player was another example of how Ford struggled to be social.
Interesting read: Coca-Cola's social media efforts
Rest assured Ford will do better soon!
How do you foster engagement at a trade show booth?
Did you recently encounter an excellent use of social media at a car show?
Thanks again for sharing your insights – I always appreciate your very helpful feedback.
---
The author: This post was written by social media marketing and strategy expert Urs E. Gattiker. His book, Social Media Audit: Measure for Impact, appeared in 2013 from Springer Science Publishers. His latest book about social media fashion with passion will appear in March 2014 – grab your pre-publication 25 percent discount with free shipping now.
---