Below we outline the four steps required to nurture and maintain a group's momentum on any social networking site, making the effort worth the time spent (see also 3 golden rules for best practice: LinkedIn and Xing).
Me, Inc.
Almost 12 years ago, management guru Tom Peters came up with the idea that each of us is CEO of Me Inc. Each individual has a personal brand to build up and promote and with a third of the US workforce being self-employed, and increasing job insecurity, people believe self-promotion is required to stand out from the rest.
Further discussion by Nils Montan on LinkedIn: Self-absorbed is not a personal brand
So what does it take to make sure that a group still adds value, besides everyone pushing their own brand?
Rule 1: LinkedIn and Xing groups require care
LinkedIn, Viadeo, and Xing groups have been around for a while, allowing people with similar interests to share news, start discussion questions and so on.
In "What's your experience of LINKEDIN Groups?", my friend Nils Montan puts it this way:
"Many of the Groups I belong to are kinda 'dead'. The owner starts them and and then just lets a thousand flowers bloom without rhyme or reason. Usually people seem to get bored and stop posting and the featured discussions stay up for months. Not a good situation."
Just as you would in your garden, a group moderator needs to fertilize the ground and tend the flowers to make sure they blossom.
Rule 2: Stay focused to avoid your group becoming a step-child
Many groups initially flourish, especially if they are started in a niche. However, if after the initial phase moderators no longer work in the garden, the group becomes an abandoned child.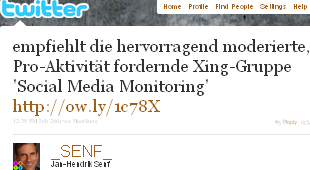 What successful groups have is members that post thoughtful questions to generate real dialogue and thereby advance the collective knowledge of the community. In fact:
Thriving communities, understand the purpose(s) of the group's existence, sharing its aim and objectives with other members while actively contributing to achieve its goals.
Further discussion by Daphne R. Raban & F. Maxwell Harper: Motivations for answering questions online. Working Paper, 23 pages (not dated, around 2007).
Rule 3: Networks can be global but local ties are stronger
One of the interesting things we discovered on Xing is that many groups use it to arrange events. For instance, our SM Monitoring group might meet for happy hour in Basel or elsewhere. Groups form geographically and organize events such as mini-conferences or luncheons to get to know each other better in person.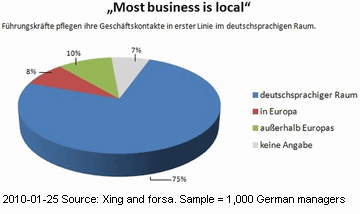 Xing recently published data (see graphic at right) that shows German managers' contacts are primarily local.
This indicates that while networking is virtual, people want to build stronger social ties before trusting the other party to do business with them.
Find out more about this Xing-sponsored study conducted by Forsa.
==>  Why not connect with us at LinkedIn, Viadeo, Xing or Ziggs.
Bottom line
Social networks like LinkedIn or Xing have some groups that thrive and others that seem to die a slow death. But besides following the preceding three rules, there are four steps you can take to help your group thrive:
1. Provide structure and focus: The better the structure of the group (e.g., clearly defined and labeled categories to make posting in the appropriate forum easier), and the clearer the focus (e.g., we address social media metrics and little, if anything' else), the easier it is for members to participate and contribute valuable content.

2. Support and nurture: Send people a welcome message as soon as they join, respond to discussion items, comments, etc. Show members that you are glad they have joined by acknowledging and appreciating their presence and valuable contributions.

3. Share the gardening duties: Having several active co-moderators makes a real difference. A garden that is not given some love and dedication (e.g., 15 minutes a week) is just weeds. And yes, this takes time so sharing the burden helps significantly improve members' experiences.

4. Continuity is king: Better to have four contributions over a four-day period than four postings in a single day. Regular content that is valuable to group members will keep them coming back.
Even as moderators and members are challenged to tend these gardens and help their flowers flourish, so are the providers of these platforms. Facebook, Xing and LinkedIn fail groups and their moderators in two ways:
a) Give credit where credit is due: Xing and LinkedIn thrive in part because their groups keep members coming back, but moderators get little appreciation from the providers (e.g., a free Premium Membership might be good).

b) Prune the garden: Platform providers should keep better track of group activity and nudge absent moderators to tend their garden regularly. Inactive groups should be dissolved.
Finally, group moderators know that quite a bit of effort is required and results are not always immediate. If things do not seem to be working, you may have to shake things up to find your way.
Please, leave a comment! We love to hear your thoughts: how do you feel about Facebook, LinkedIn, Viadeo or Xing groups? Do successful groups share the same ingredients across platforms? Do you think groups are worth the time and effort spent by moderators and members alike? What is your experience? Please share your insights.
Gain insight by registering for our Free webinar: Benchmarking with the right metrics, or attend the German version: Wie messen Sie den Erfolg: 5 wichtige Schritte für Weblogs
P.S. – Visit My.ComMetrics (register yourself – benchmark your blog(s) => improve performance). You can get updates for this blog on Twitter by following @ComMetrics or get a free subscription by RSS, or get new posts via email:
Article source: Why social networking groups fail