You have bad luck. Your boss rejects your budget requests and expenses for social media marketing activities you planned, you never get the good social media projects, you have co-workers without a clue about social media marketing and measurement…
Or maybe – just maybe – the fact that things never seem to work out has something to do with you, not them. Here are three clues that you are the problem.
1. Social media management is primarily a marketing function
Of course, this is INCORRECT and if you believe that, you must return to the drawing board.
The social media audit encompasses the analysis and evaluation of an organization's marketing objectives, operation and effectiveness. More specifically, it often consists of:
– an external marketing audit: looking at economic, political, infrastructure, market issues and organizational context (e.g., market share), AND
– an internal marketing audit: evaluating strategy, objectives, culture, product development, advertising, sales staff and processes.
Taking your audit information you have a great tool to improve upon your processes and spend your limited resources smarter. But you have to audit first and look beyond the obvious before you know where things have gone awry (e.g., does your Facebook page really pay-off or is it just a navel-gazing exercise?).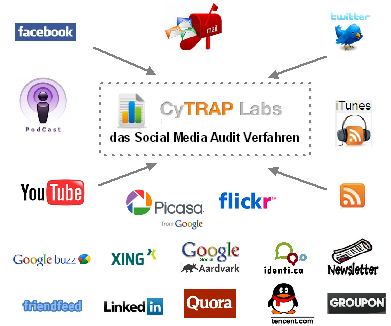 If they only want your freebie and never become paying clients, who cares if you reach 10,000 people?
Unless people share your content with their friends, leave a comment you reply to or tell you on the phone that they appreciated it, a blog post is still a MONOLOGUE.
Of course, relevant content might also help potential clients find you through their favorite search engine.
Therefore, search engine optimization (SEO) – the art of coaxing automated search engines like Google to prominently place a website within a list of search results – helps your social media marketing efforts.
By the way, many modern website building tools – called content management systems (CMS) – do a good job out of the box of setting pages up for SEO. A good example of this is WordPress, a blogging tool.
Sign up with your email to get our latest trend-setting blog posts first:
3. You forgot to take a baseline measurement
You MUST take note of the baseline to know how well you do with owned (e.g., webpage, blog), paid or earned (e.g., mentions in blogs and newspapers) media. Unless you took a baseline review, you have nothing to benchmark against. How will you convince management that things have improved since you started working on social media marketing performance?
Of course, clear objectives – including Key Performance Indicator(s) (KPIs) – are needed and must be agreed upon when setting the strategy. Nevertheless, taking the baseline seems key. Without a baseline there is little to compare against, is there?
Bottom line and take-aways
I disagree with those who believe that social media marketing and social sharing can work without linking with your overall marketing strategy. This becomes increasingly important as we spread ourselves too thinly across too many social networks and media channels.
We want to be in re-selling, not sales making cultivating my best social media hub more effectively to engage my current clients better increasingly important. Without a baseline, we have nothing to measure against, and we must link our social media efforts to our overall marketing strategy. Finally, auditing our social media efforts to find out what works and what fails is a must to enable taking required action!
So before you blame your boss next time, ask yourself if you have done your homework properly by addressing the three issues mentioned above. You'll be glad you did!
More resources
As always, the comments are yours!
How we help
CyTRAP Labs helps non-governmental organizations (NGOs), non-profits, governments and brands engage their target audience through social media by assisting with development of an effective social media strategy and mentoring through the implementation process, conducting social media audits and supporting your efforts regarding corrective actions and improvements.
Start a conversation! Email us at info [at] CyTRAP [dot] eu or call us at +41 (0)44-272-1876.