Succeeding on Twitter means avoiding making some of the most obvious mistakes, such as:
Mistake 1 – let us wait
Mistake 2 – NOT moderating the aggregate Twitter feed,
Mistake 3 – focusing on absolute number of followers
we explained this here: social media – ropes to skip – Twitter – FAQ #1
Mistake 4 – believing everybody's mother tongue is English
Mistake 5 – forgetting that behaviors speak louder than words:
Mistake 6 – telling me that you are going out with a client to have lunch

we explained this here: social media – ropes to skip – Twitter – FAQ #2
Mistake 7 – biz tweets are the same as those from individuals
Mistake 8 – Europeans tweet as much as North Americans
Mistake 9 – response rate to your tweets asking questions is high
we explained this here: social media – ropes to skip – Twitter – FAQ 3 why should I join and use Twitter?
Today we bring you some more mistakes that you can easily avoid, thereby saving yourself some time and your followers much grief. Go ahead and do us all a favor, please.
J remember too much is too much
We all know that ever more we are getting technology that helps us find the tweets we are interested in. For instance, whenever people use a #GoingSolo or #SMIuk08 tag, their post will come up when searching various tools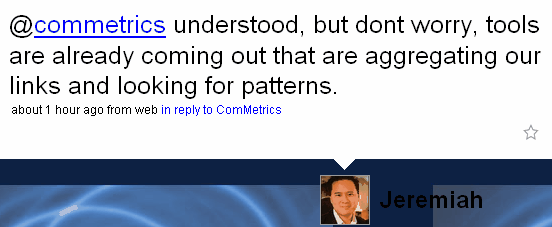 Jermiah helping us out, see it in full
But the difficulty remains that whenever you get a tweet from one of the people you follow, you get distracted. Most of us then immediately check what the person wrote.
Unfortunately, if the indvidual or the brand then tells you that he, she or it is getting ready to go on a plane to fly home, do you really need to know this. Maybe this is not information but just noise?

If you cannot see the ComMetrics image to the right, see ComMetrics thanks Abdur see
what people say when they tweet
Just remember, following 150 people and each one of them releases one tweet about the weather each day can help you waste valuable time. Having to scan all these for nothing is a nuisance.
Mistake 10 – believing Twitter is scalable: If you follow more than 150 people you can no longer really read their tweets. Instead you scan and hopefully find the gems. So following fewer people, while choosing them carefully is a good strategy.
K Status updates are for the birds
Every day I can a few of these messages:
– I am getting coffee,
– getting up and doing some gardening work before going shopping, or
– catching a flight to SF, will go out for dinner with @abdul this evening.
Sure, I am glad that person's x flight finally left LA so he can make it home for supper with wife and kids. Last night while being delayed at Brussels Airport waiting for the plane to take off to Geneva, I wondered should I send everybody a tweet. Then I arrived in Geneva and had four minutes to spare to grab my luggage from the conveyor belt to make the last intercity train to Zurich that evening. I got on the train and the doors closed behind me…. big event for me since it got me to bed earlier but is it for you or my Twitter followers. I don't think so, just part of my life but of little if any interest to you.
My point is that such tweets represent chit chat for my follower in London or Dallas. It would detract them from whatever else they are doing right now. So I did not send out a tweet. However, I called my wife and told her. Rest assured, she was interested in hearing that I got on the train
Mistake 11 – believing that people focus on real content instead of chatter: Status updates are the 2nd most popular way of using Twitter, so again, be careful whose feed you choose — too many chatter boxes will result in as much clutter on Twitter for you as you might already have in your e-mail in-box thanks to spam.
Please do yourself and your followers a favor, cut the updates to zero, especially if you use Twitter for business or career purposes.
L Special Twitter feed for an event or conference.
So called memes can go on for the event of the day, the TV show or else there is some buzz before the event as well as after.
Memes can evolve during a conference when people use so-called hashtags, such as #SMIuk08. This way they find other people's post, respond to each other and discuss a presentation that is happening as you see the tweets come in.
Some conferences use hashtags but, as importantly, create special feeds for the conference, such as this:
SMIuk08 – Social Media Influence conference in London – Twitter feed
In other cases, a company may go forward and create a special Twitter account for an upcoming conference that is than being managed by its people and followed by a few individuals interested to see what they have to say.
Creative Cannes conference – feed from the Microsoft advertising team
Nevertheless, whenever creating a dedicated feed, as the above two examples show, maintaining quality throughout the event is a real challenge.
Mistake 12 – establish a Twitter account for your conference or workshop and you will make a mark with your quality tweets -NOT necessarily: Generating quality tweets during a conference and each presentation or symposium is a tough job and requires hard work, concentration and some luck – that is presenters who do a great job, of course.
So remember this before going ahead creating a Twitter account for your next workshop or conference.
Bottom Line
Less is better
Remember, too much jogging is bad for your ankles, too much food means the risk for gaining weight and watching too much news on TV does not mean you are more informed just that you have maybe wasted more of your time?
In short, generally less tends to be better…. focus on quality.
Accordingly, one great tweet each day is the aim. This assures that your followers carefully scan the tweets they get for your gems amongst much low quality tweets.
Tidbit did you know?
This week Creative Lions Cannes 2008 -advertising conf. 2008-06-14 – 21 is happening. Checking Twitter I found:
– CreativeCannes on Twitter is run by the Microsoft advertising team- surprise…
– the organizers forgot to tell everybody that they should use the hashtag #CannesLions when sending out tweets about the conference, in turn, this would enable us to find all the tweets about the conference on Summize, Tweetscan, etc.
I am puzzled about this oversight from the advertising gurus. Was not coming up with an appropriate hashtag an oversight? Ignoring Twitter on purpose or did I miss something. Can you give me the inside story on this? Care to enlighten us? Leave a comment.