People love gossip. Last week's story in the UK was Manchester United football star and supposed family man Ryan Giggs' outing as a philanderer. He was previously granted a super-injunction regarding his affair with model Imogen Thomas. According to the Independent newspaper, some 333 injunctions have been granted over the past five years.
In the UK, super-injunctions are a kind of legal gag order that can be issued as long as the courts agree that the details of any situation violate a person's right to privacy and are not matters of public interest. In turn, media cannot report about the case or the injunction itself.
Twitter user @InjunctionSuper posted six personalities' cases in an apparent effort to undermine the super-injunctions, including Jemima Khan, who tweeted that she had NOT requested any injunction.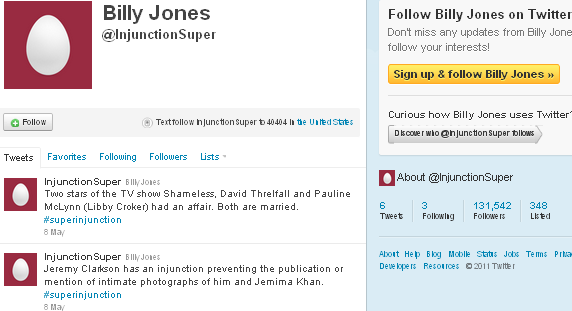 At the same time, a woman seeking to withdraw life-support from her brain-damaged daughter asked for a super-injunction preventing the identification of those involved.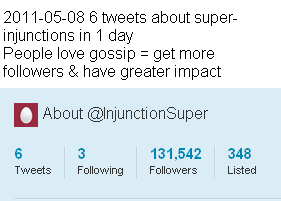 The order was issued in the Court of Protection on 2011-05-12 and is the first injunction specifically banning the publication of information on Facebook and Twitter.
Britain's mainstream media have been reluctantly inhibited by such super-injunctions, but social media and their users have proven almost impossible to police.
Do we jail 75,000 Twitter users?
On Friday 2011-05-20, it became public knowledge that the High Court Queen's Bench Division had issued a disclosure order earlier in the week, against Twitter and "persons unknown regarding the publication of information on Twitter accounts" by a claimant identified only as CTB. If the person with the super-injunction decides to pursue contempt of court proceedings, the individual(s) responsible face(s) a prison sentence of up to two years.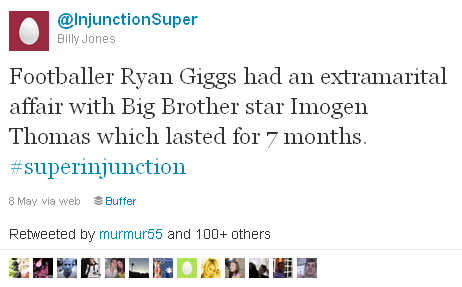 Liberal democrat Member of Parliament John Hemming used parliamentary privilege to identify Giggs, thereby putting on the public record a legal secret previously revealed on Twitter.
Some felt his actions challenge the courts.
This case illustrates three important points:
1. How to balance protection of privacy with freedom of expression: It seems absurd for websites, blogs and social media sites to report facts while print media remains gagged. The web's ubiquity challenges our understanding of the public realm.
2. User policies are often worthless: Under Unlawful Use, Twitter's user policy states, "You may not use our service for any unlawful purposes or for promotion of illegal activities. International users agree to comply with all local laws regarding online conduct and acceptable content." @InjunctionSuper violated this policy, so shouldn't Twitter to give them a red card?
3. Tackling the borderless nature of Web 2.0 is a necessity: This British resident violated the law, illustrating that national jurisdictions cannot tackle this challenge. We must create procedures to implement regulations across multiple jurisdictions. International assistance similar to that agreed upon in cases of suspected tax evasion or drug trafficking would be a good first step.
Keep abreast of the latest Twitter and Facebook trends, by subscribing to our blog:
More resources
Tip: You can get more insightful posts from us about customer engagement, Twitter, privacy and free speech by adding ComMetrics and CyTRAP labs to your search query.
Bottom line and take-aways
Obtaining information from Twitter is difficult, since the company is subject only to US jurisdiction. Things are different in Facebook's case things, since it has an office and plenty of staff in London.
On Sunday 2011-05-23, Prime Minister David Cameron admitted that Britain should review its privacy laws, saying that, "it is rather unsustainable, this situation where newspapers can't print something that everyone else is clearly talking about."
The really interesting situation would be one in which Twitter or Facebook were to comply with these laws:
Will the tweet or Facebook update be removed for UK users only or for everyone?
By the way, Manchester United lost Last Saturday's European Champions League final at Wembley Stadium to Lionel Messi and his friends with FC Barcelona.
What is your opinion? As always, the comments are yours.
How we help
CyTRAP Labs helps NGOs, non-profits and brands engage their target audience through social media by assisting with development of an effective social media strategy and mentoring through the implementation process, conducting social media audits and supporting your efforts regarding corrective actions and improvements.
Start a conversation! Email us at info [at] CyTRAP [dot] eu or call us at +41 (0)44-272-1876