How does your favorite American football blog rank?
Coca-Cola encourages second screen interaction for Super BowlWill this result in measurable success or more silly engagement?
Will Coke's ad even stand out from the crowd of nearly 70 commercials?
According to Las Vegas bookmakers, the San Francisco 49ers are favoured to win against the Baltimore Ravens by a whopping 4.5 points, and it looks like this could be the most heavily-bet title game ever.
Keywords: viral marketing, Word of Mouth (WOM) marketing, Key Performance Indicators (KPIs).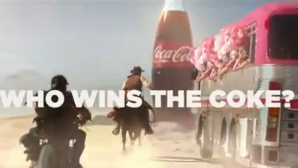 Brands are willing to pay an average of US$3.8 million for just 30 seconds of airtime (over US$130,000 per second). Last year, for example, all people could watch was the Coke polar bears – cute, but no engagement.
By the way, sign up for our blog – it is FREE! Get the next installment of this series first.
This year's Coke ad is all about "Who wins the coke?" The buzz is supposed to create active engagement, such as consumers watching videos, voting, getting access to real-time updates and more.
This time, Coke created hundreds of pieces of content specifically for social media. Fans' actions via social media will determine how the storyline plays out (click on image above to vote for who wins the bottle before February 3, 2013).
A. Measuring the success of this kind of engagement beyond how many vote is very difficult.
1. Coca-Cola ad turns audiences off
Imagine for a moment that the above happened – you would probably wonder what went wrong, as would the folks at Coca-Cola, and they would try to improve things for 2014.
If the campaign works, consumers will engage with it and vote, but as with people's social network profiles, if the audience gets bored, they will ignore the commercial or abandon their digital real estate.
What would cause users to abandon their Facebook page or Twitter microblog? Is it because they have decided it is not worth it, or just due to an overdose of social media?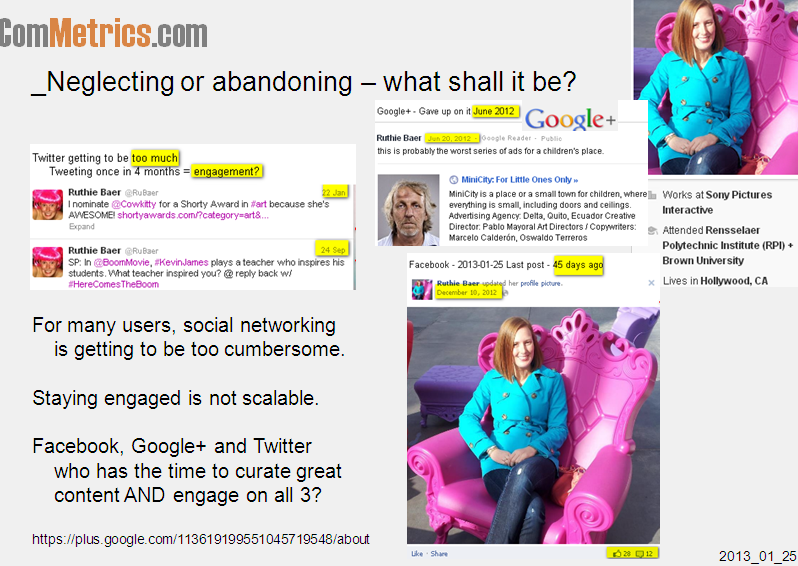 From everything I have seen and read as posted by Ruthie Baer, she seems like a very nice person. But given her abandoned profiles, including her Tumblr blog, I have to conclude that she has more important things to do than waste time on social networks.
Navel-gazing on social networks is out. Instead, keep busy producing the next movie trailer…
B. People are getting tired of social media – the excitement is nearly over.
2. Football teams and Super Bowl advertisers no longer care about key stats
UNTRUE, of course. People love rankings and statistics (see the ESPN statistics blog), and sports statistics are only getting more important. In American Football, coaches focus on outcomes such as scrimmage, third-down conversions and rushing yards.
Fans and coaches care about numbers like:
– Colin Kaepernick (San Francisco 49ers) has the better statistic on "interceptions on first down",
– Joe Flacco (Baltimore Ravens) has "most yards per passing attempt on third down".
Imagine that San Francisco 49er's coach Jim Harbaugh suddenly decides to select his players for the Super Bowl 2013 based on:
– how many Facebook fans or Likes,
– the number of Twitter followers and/or re-tweets, and
– how many people included them in their Google+ circles.
Key drivers are those stats that influence the team's chances for the ultimate outcome – touchdowns.
C. Simple explanations of what a metric accomplishes are required to satisfy the 10-year-old emperor.
Bottom line: First-down performance sucks
We already know that the team that wins Super Bowl 2013 will be more successful at holding opposing players on the first down. This is a key metric that tells us who overpowers whom. It is nearly impossible for social media monitoring to come up with such a simple, straight-forward, clear statistic. And remember, there are plenty more metrics football afficionados use to help predict Super Bowl outcomes.
We need a digital rethink
1. Why should one focus on measuring activities as exhibited by engagement (see the Coke commercial vote)?
2. Does focusing on things like number of Facebook fans or Twitter followers give us any special insight?
3. How does all this brand awareness tally with transactions at the till?
Try answering that in a way that a 10-year-old would accept. As the Emperor learned long ago, children are the best and toughest inquisitors out there.
Finally, brands are paying for the rare chance to reach an audience of nearly 160 million people during Super Bowl XLVII, so measuring success will be a challenge. Worse, returns on their investment could so easily disappoint.
What is your favorite football metric?
Who will win the Coke bottle, the cowboys (#CokeCowboys, led by Ringleader Lushwill), the sexy showgirls (#CokeShowgirls, led by Miss Latrobe), or the unruly scavengers (#CokeBadlanders, led by Altus)? Do you remember any of last year's Super Bowl commercials?
Leave a comment below.
---
The author: This post was written by social media marketing and strategy expert Urs E. Gattiker, who also writes about issues that connect social media with compliance, and thrives on the challenge of measuring how it all affects your bottom line.
His latest book, Social Media Audit: Measure for Impact, was recently published by Springer Science Publishers.
Connect with ComMetrics on Google+ or the author using: Email | Twitter | Google+ | Xing
---