Today we address three challenges with Google+ (see also 4 things to know about Google+):
Why should you use Google+ (purpose, objectives)?
How will Google+ change the SEO (search engine optimization) business?
Most of us must address these challenges when budgeting to manage a Google+ page for our brand and/or company. One way Google eggs us on to use its platform is by integrating it with other Google services, such as Google Reader. Some SEO pundits have also suggested that search results are already affected by how much your blog post may be shared on Google+.
Article source – Google+ brand pages: Why SEO is dead
Before we continue, enter your email below and join our 5,000 subscribers who get updates about ComMetrics direct to their inbox:
Below is a summary of some issues I have discussed with you.
1. Why use Google+?
Before a company launches its Facebook page or Xing group, its team has hopefully defined the purpose behind it. Deciding to use social media to reduce costs is a non-starter, because that puts the focus on a negative thing, costs. Instead, it makes more sense to focus on revenue, customer retention, client engagement, satisfaction, and so forth.
Does Google+ help with the above? So far, we know that Google+ pages are very similar to Facebook pages, but with some improvements, such as my ability to segment who sees the updates.
Nevertheless, there are currently no statistics for Google+ pages. Moreover, unlike on Facebook, neither ComMetrics nor Coca-Cola have a vanity URL on Google+ to make it easy for clients to find them.
However, Google will likely make Google+ increasingly useful for businesses by adding and/or integrating services, such as
– Google Places and Local Deals, making Google+ a more localized social network,
– Google Analytics, allowing you to get a better handle than Facebook Insights on what works and what fails, and
– Google Wallet, making it easier to leverage your e-shop activities and Google+ pages.
Once Google starts serving up even better value to its Google+ users, it will become another destination businesses cannot afford to ignore.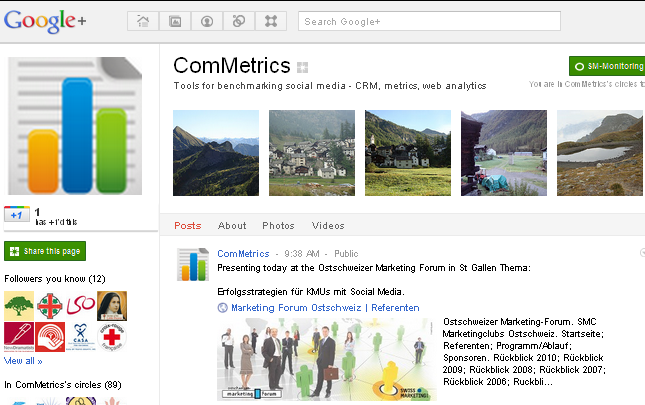 2. How does Google+ affect your business' key drivers and outcomes?
When a social network gets its users to a 'point of no return', it has won. Google+ is still trying to get there, but integrating the above will definitely help make Google+ more useful for you.
ComMetrics – please befriend us on Google+ – we definitely follow back and share!
I have discovered for myself that, for various reasons, using Google+ is different than Facebook, but most importantly, the users are different: there seem to be more business people with engineering and management-type backgrounds on Google+.
Will businesses add their pages to Google+ – Discussion on Xing – Social Media Monitoring group
However, how this helps my consulting and social media analytics software firm improve customer retention and client engagement remains to be seen.
3. How will Google+ change the SEO business?
There is little doubt that Google will use its ubiquity to ensure that Google+ pages rank higher in searches. Some possibilities include
– Your brand's Facebook page will rank lower on Google than your Google+ page (already happening in some cases),
– Links from Google+ to your webpage and blog posts will provide a higher search rank and more relevant traffic than those from Facebook, LinkedIn and so forth, and
– Google's algorithm will give Google+ Likes/+1, re-sharing and so forth a higher impact on search results (i.e. rank them higher) than those from other platforms.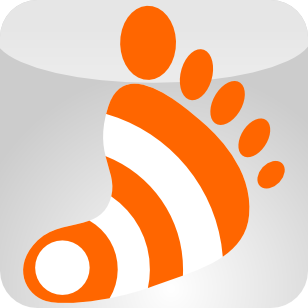 Don't forget! My.ComMetrics.com has released some additional features in version 0.4. We at CyTRAP Labs will be glad to schedule a demonstration for you. You can also get more information on our blog – My.ComMetrics.com update: Release 0.4.
One thing Google+ offers is searching for hashtags. For instance, using Ostschweizer Marketing Forum's hashtag from this week #OMF11 ensures that all posts on Google+ using this term show up. To illustrate, compare the search on Twitter for #OMF11 with that on Google+ for #OMF11. Unfortunately, it fails on Google itself, but this will definitely be changing soon.
By the way, our next blog post by guest poster Debra Askanase will likely discuss another interesting feature, the Google+ ripple effect.


Bottom line – take-aways
Unlike Lior Levine (see guest post, SEO is dead: Long live social media), I do not believe SEO is completely dead and buried, but Google+ certainly has the potential to radically change the landscape.
We feel comfortable betting that the more effectively you use Google+, the more likely your blog and/or webpage performance will improve when it comes to micro conversions (see My.ComMetrics.com update: Release 0.4). Micro conversions include pageviews, job applications submitted, new subscribers, Print This Page rate (assuming an in-store purchase), and number of product information requests.
1. Never ignore +1: These are seen by many websites and most Internet users are putting social media at the heart of what they do, whether YouTube videos, adverts, blogs or social network pages. Further, your search results are already different from a few months back, based on what your friends have +1'd. Make sure you get them for your content as part of the changing SEO landscape.
2. Don't forget Facebook: For SMEs (small and medium-sized enterprises), using both Google+ and Facebook may be drain scarce resources. The key question is what you want to accomplish on either platform. Dabble a little on Google+ if you can, just to see where Google is going and how it could affect your micro conversions.
Tip: Search for more information about social media and more effective marketing, Google+, Facebook & Co from CyTRAP – ComMetrics (click to query).
For now, all we can do is wait and see what Google does, and hope we're not left eating their dust. An uncomfortable feeling, isn't it?
Disagree? Sure. Leave a comment and befriend us on Google+!
More information about this topic:
Google's effort to digitize books
How the traditional search landscape is changing in front of our eyes
Why a Google+ brand page could be more important than your Facebook page
Summarizing Google+ pages: The good, the bad, the possible
What will Google + mean for your organization?